Macron's bodyguard investigated after beating student protester at rally
Prosecutors considering charges against Alexandre Benalla after video emerges of May Day incident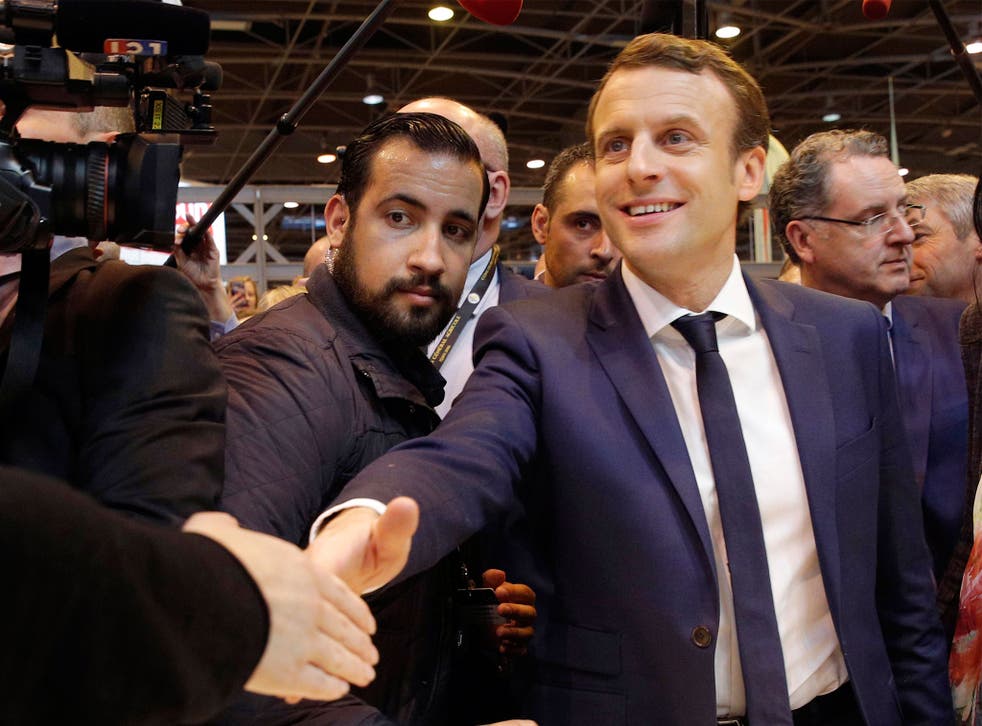 French president Emmanuel Macron has come under fire after his office suspended a bodyguard who was caught on camera beating a protester, but did not inform police.
A video from a May Day rally released by Le Monde newspaper showed a man wearing a police helmet and identification tag dragging a woman away and then striking a student demonstrator.
The man in the footage was later identified as Alexandre Benalla, an Élysée Palace security aide, not a serving police officer.
The bodyguard, who had previously worked as Mr Macron's head of security during his presidential campaign, was suspended for 15 days without pay over the incident.
Presidential spokesman Bruno Roger-Petit said in a statement Mr Benalla had been given permission to attend the demonstration as an "observer".
"Clearly, he went beyond this. He was immediately summoned by the president's chief of staff and given a 15-day suspension. This came as punishment for unacceptable behaviour," he added.
Paris prosecutors, who were only made aware of the situation on Thursday, have launched a preliminary investigation into the incident.
Mr Benalla could potentially face a raft of charges including violence by a public official, impersonating a police officer and the illegal use of police badges.
Critics of the president claim the incident reinforced perceptions of a leader out of touch with ordinary people in France,
This fresh scandal comes on the heels of controversies over government spending on official crockery, a swimming pool built at a presidential retreat and cutting remarks by Mr Macron about the costs of welfare.
On a trip to southwestern France on Thursday, Mr Macron declined to answer questions from reporters on the subject.
The Élysée Palace's handling of the matter was condemned by opposition parties, which argued that not only was the punishment too lenient, but that the incident should have been reported to prosecutors.
"This video is shocking. Today we have the feeling that in Macron's entourage one is above the law," Laurent Wauquiez, president of the conservative Republicains, told Europe 1 radio.
Far-left leader Jean-Luc Melenchon told reporters: "If we accept that anybody can be a policeman alongside the police then we no longer have the rule of law.
World news in pictures

Show all 50
"This man is the eyes and ears of the prince [Macron]."
Labour unions hold demonstrations every year on 1 May in France and clashes with police are not uncommon.
After the 15-day suspension, Mr Benalla was brought back into the president's immediate entourage, appearing in multiple photos alongside the French leader during public events.
He also helped organise the festivities surrounding the return of France's national football team after their victory in the final of the 2018 World Cup in Russia.
Additional reporting by Reuters
Register for free to continue reading
Registration is a free and easy way to support our truly independent journalism
By registering, you will also enjoy limited access to Premium articles, exclusive newsletters, commenting, and virtual events with our leading journalists
Already have an account? sign in