Emmanuel Macron vows to lead the 'rebuilding' of the EU
Speaking in Athens, the French President warns 'sovereignty, democracy and trust' are all 'in danger'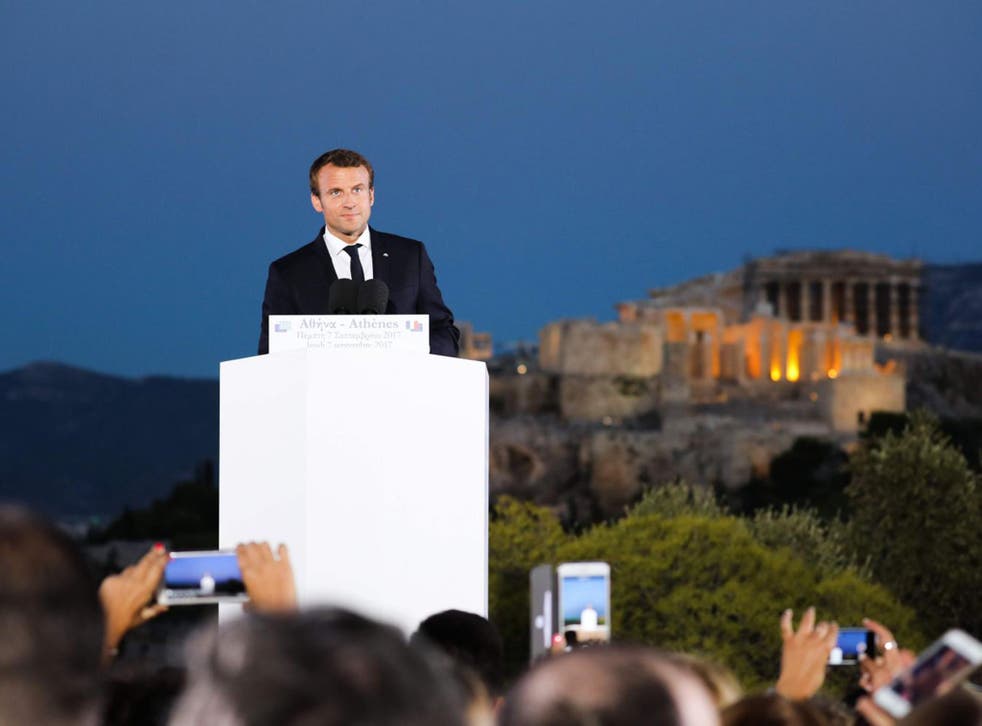 Emmanuel Macron, the President of France, has vowed to lead the "rebuilding" of the European Union.
Speaking in Athens, Mr Macron warned that "sovereignty, democracy and trust" were all "in danger" as he called for greater cooperation and solidarity among EU members.
The French President also reiterated his beliefs that Europe needed its own parliament, finance minister and budget to fight off any potential crises.
Elected four months ago, the 39-year-old said it was important for the EU to become more democratic, or face the risk of subjugation to China and the US.
"In order not to be ruled by bigger powers such as the Chinese and the Americans, I believe in a European sovereignty that allows us to defend ourselves and exist," Mr Macron said at the top of the hill of Pnyx, with the spectacular backdrop of the Parthenon temple in the background.
"Are you afraid of this European ambition?"
Mr Macron added that he plans to unveil a "road map" for the EU in the next few weeks, after Germany's election, and wanted European leaders to agree before the end of the year to launch public debates in the first half of 2018 during which citizens will be able to discuss their vision for the bloc.
"I don't want a new European treaty discussed behind closed doors, in the corridors of Brussels, Berlin or Paris," Mr Macron said.
World news in pictures

Show all 50
These debates, so-called democratic conventions, which he proposed during his French presidential campaign, would help lay the foundations of Europe for the next 10 to 15 years, he said.
Interestingly, Mr Macron noted that he supported the idea of giving Britain's 78 seats in the European Parliament to pan-EU representatives elected by all of the EU's citizens after Brexit.
Join our new commenting forum
Join thought-provoking conversations, follow other Independent readers and see their replies