Macron compares calls with Trump to sausages: 'If we knew how they were made, we wouldn't eat them'
'I'm not convinced the kitchen commentary helps with delivering the meal,' says French president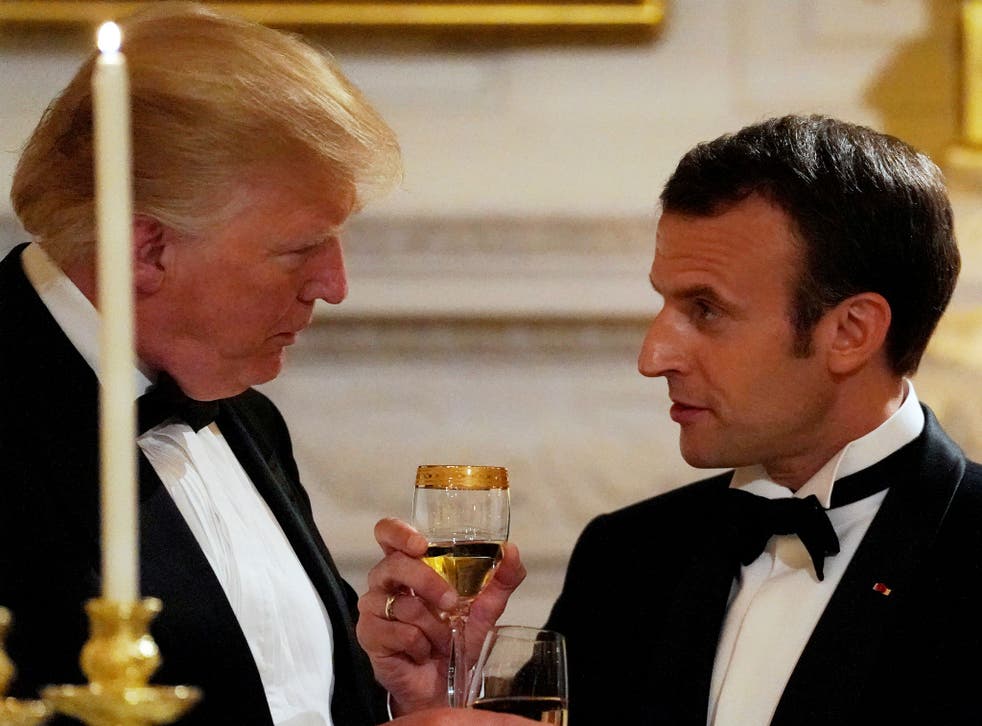 French President Emmanuel Macron has compared telephone conversations with Donald Trump to making sausages, saying it is better to experience the finished product than examine the contents.
During a news conference with Israeli Prime Minister Benjamin Netanyahu in Paris, Mr Macron was quizzed about US reports that Mr Trump thought a recent phone call with the French president was "terrible".
Mr Macron borrowed a famous quote he attributed to 19th-century Prussian statesman Otto Von Bismarck to illustrate his personal policy of refraining from making off-the-record comments about his conversations with world leaders.
"As Bismarck used to say, if we explained to people how sausages were made, it's unlikely they'd keep eating them," Mr Macron told reporters.
"So I like it when people see the finished meal, but I'm not convinced the kitchen commentary helps with delivering the meal or eating it," he said.
A readout from the French presidency of Mr Macron's call with Mr Trump last week said the 40-year old president had told his US counterpart that his decision to slap tariffs on the exports of US allies was both "illegal" and a "mistake".
The shorter White House readout of the same call said the conversation had focussed on trade and immigration, without elaborating.
"Macron thought he would be able to speak his mind, based on the relationship. But Trump can't handle being criticised like that," CNN quoted an unidentified source familiar with the call as saying. "Just bad. It was terrible."
Mr Macron has kept the press at a distance after he was dismayed by his predecessor Francois Hollande's frequent off-the-record comments to reporters during his presidency.
"You can go and ask the people who make comments, but here in Paris we don't make comments on how it went, or how hot, cold, warm or terrible things are. We just go ahead and do things," Mr Macron said.
He added that he would have a "useful" and "frank" exchange with Trump at the G7 summit in Canada on 7-8 June about both issues on which they agree and those where they disagree.
Donald Trump's first year: in pictures

Show all 29
The quote about sausages is in fact frequently misattributed to Mr Bismarck. It is thought the American poet John Godfrey Saxe was the first to make a similar remark: "Laws, like sausages, cease to inspire respect in proportion as we know how they are made."
Agencies contributed to this report
Register for free to continue reading
Registration is a free and easy way to support our truly independent journalism
By registering, you will also enjoy limited access to Premium articles, exclusive newsletters, commenting, and virtual events with our leading journalists
Already have an account? sign in
Register for free to continue reading
Registration is a free and easy way to support our truly independent journalism
By registering, you will also enjoy limited access to Premium articles, exclusive newsletters, commenting, and virtual events with our leading journalists
Already have an account? sign in
Join our new commenting forum
Join thought-provoking conversations, follow other Independent readers and see their replies