Falling tree kills 12 people at Madeira religious festival
The downed tree was reportedly a 200-year-old oak 
Chloe Farand
Tuesday 15 August 2017 18:48 Comments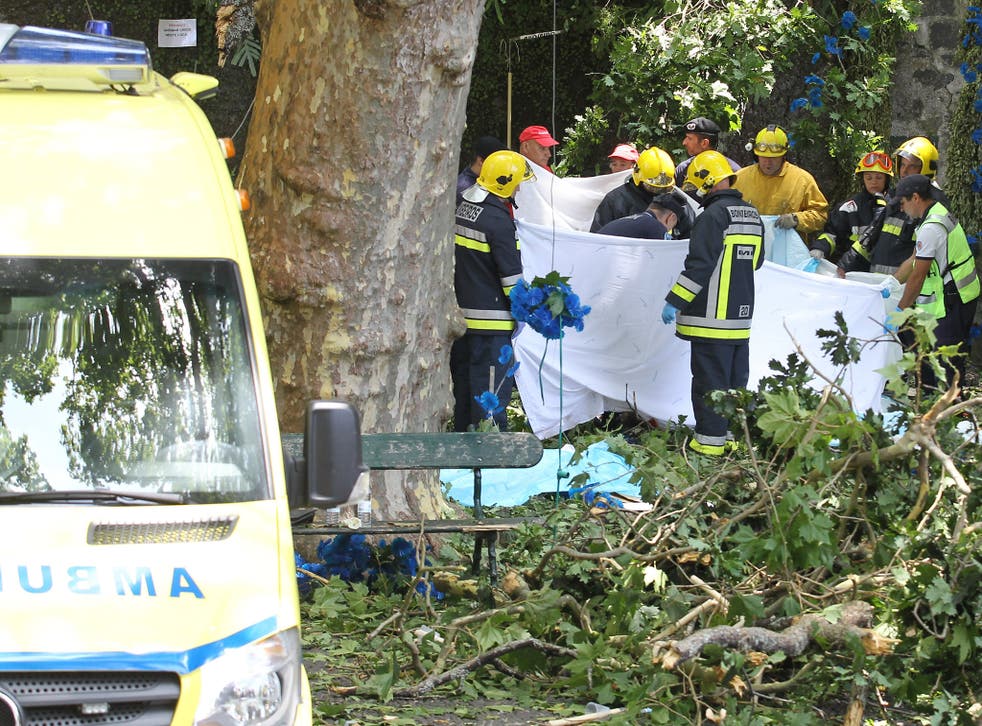 At least 12 people have been killed when they were crushed by a falling tree during a religious festival on the island of Madeira, local media reports.
Portuguese media say the large 200-year-old oak tree came crushing down on a crowd outside a small church during the Nossa Senhora do Monte festival, which attracts thousands of visitors from all around the world to the island every year.
A live stream of the event shows the moment the tree fell down on the crowd of families and children enjoying the festivities.
In the video, people are heard screaming and quickly scatter.
Television footage from the scene showed images of emergency workers and Red Cross workers flooding to the area and helping those injured around a tall tree on the ground.
Regional health chief Pedro Ramos said 10 people were killed when the tree fell down, a child died while being transported to a hospital and a woman died in hospital.
Speaking to reporters, Mr Ramos also said 52 people were suffering from serious injuries as a result of the incident.
Miguel Albuquerque, the head of the regional government of Madeira, declared three days of mourning for the victims.
The tree came down just after midday local time on the village's Fountain Square, where there is a Catholic shrine. Worshippers were then preparing for the procession of Our Lady of the Mount.
According to newspaper Jornal de Madeira, local authorities had previously been warned about the condition of the tree and were urged to chop it down but only a few branches were reportedly cut.
Portuguese President Marcelo Rebelo de Sousa travelled to Madeira on Tuesday.
In a message posted on the President's official website, Mr de Sousa expressed his condolences for the victims of the accident.
"I will go to Funchal today to learn more about what happened, and, of course, to bring words of encouragements and comfort to those who have lost loved ones," he said.
Crowds are drawn to the village of Monte, a suburb of Funchal, the capital city of the Portuguese archipelago, for this major Roman Catholic festival which marks the Assumption, or the entry into heaven of the Virgin Mary.
Nossa Senhora is the patron saint of Madeira.
Register for free to continue reading
Registration is a free and easy way to support our truly independent journalism
By registering, you will also enjoy limited access to Premium articles, exclusive newsletters, commenting, and virtual events with our leading journalists
Already have an account? sign in
Join our new commenting forum
Join thought-provoking conversations, follow other Independent readers and see their replies