Mafia 'attaching flaming rags to cats' to start Sicily forest fires
'Not possible for the whole of Sicily to go up in flames at the same time by chance', authorities say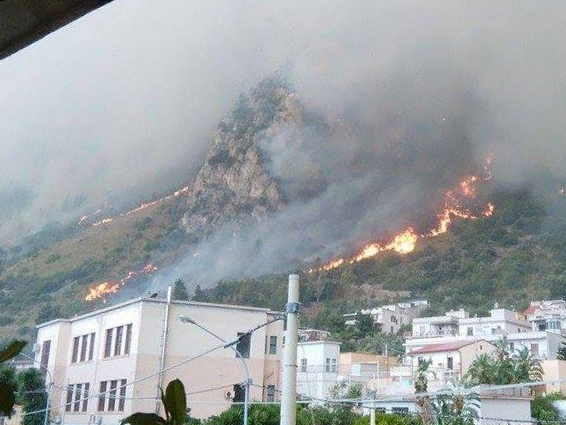 Cats in Sicily could have had petrol-soaked rags attached to them by people linked to the Mafia before being set alight and released into forests to start huge fires, according to the island's national park officials.
Dozens of forest fires which broke out within hours of each other in Sicily on Thursday are believed to have been begun by mobsters or their collaborators.
Firefighters had to tackle at least 30 blazes in national parks and woodland. Schools and homes have been evacuated and water and power supplies cut. Several children have been treated for smoke inhalation.
The fires all broke out at around the same time on Thursday, which has led the island's national park officials to suggest a co-ordinated plan was behind the blazes.
The effects have been exacerbated by temperatures of up to 40C while the 'sirocco', a strong wind which comes from Africa and affects parts of Europe in the summer, has fanned the flames.
Sicilian authorities have pointed the blame at various groups they say have motives for starting the fires, including the mafia, property developers and disgruntled former forest rangers.
"We don't yet have the proof but we suspect that there are criminal interests behind these fires," said Rosario Crocetta, the governor of Sicily. "It horrifies me that criminals in Sicily would set fire to national parks and centuries-old woodland, but there are speculative interests behind the fires."
The mafia recently attempted to assassinate the director of the island's Nebrodi national park, Giuseppe Antoci, following his efforts to crackdown on the organised criminals making millions of euros through defrauding EU funds set aside for farmers in the park.
Meanwhile, much of the land affected is in areas targeted by developers looking to build homes and holiday villas.
Mr Antoci believes the fires were started deliberately. He said: "It is not possible that the whole of Sicily can go up in flames at the same time simply by chance.
"One of the mob's arson techniques is to tie a petrol-soaked rag to the tail of a cat and set fire to it," he added.
According to the Telegraph, there is speculation on the island that forest rangers fired after their links to the mafia were discovered could be responsible.
World news in pictures
Show all 50
Despite being a small island that is not densely forested, Sicily employs around 23,000 full-time and auxiliary forest rangers.
This has long been argued to be the result of cronyism and political corruption. In Canada, which has colossal tracts of forest, the state employs a total of around 4,200 rangers.
Italian interior minister Angelino Alfano has promised a "tough reaction" to anyone found to be responsible for arson. He said: "I will provide all the resources to the police and Carabinieri (paramilitary police) to catch those responsible."
Join our commenting forum
Join thought-provoking conversations, follow other Independent readers and see their replies