Malaysia Airlines flight MH17 crash: 'Nine Britons, 23 Americans and 80 children' feared dead after Boeing passenger jet is 'shot down' near Ukraine-Russia border
US officials believe the plane was hit by a surface-to-air missile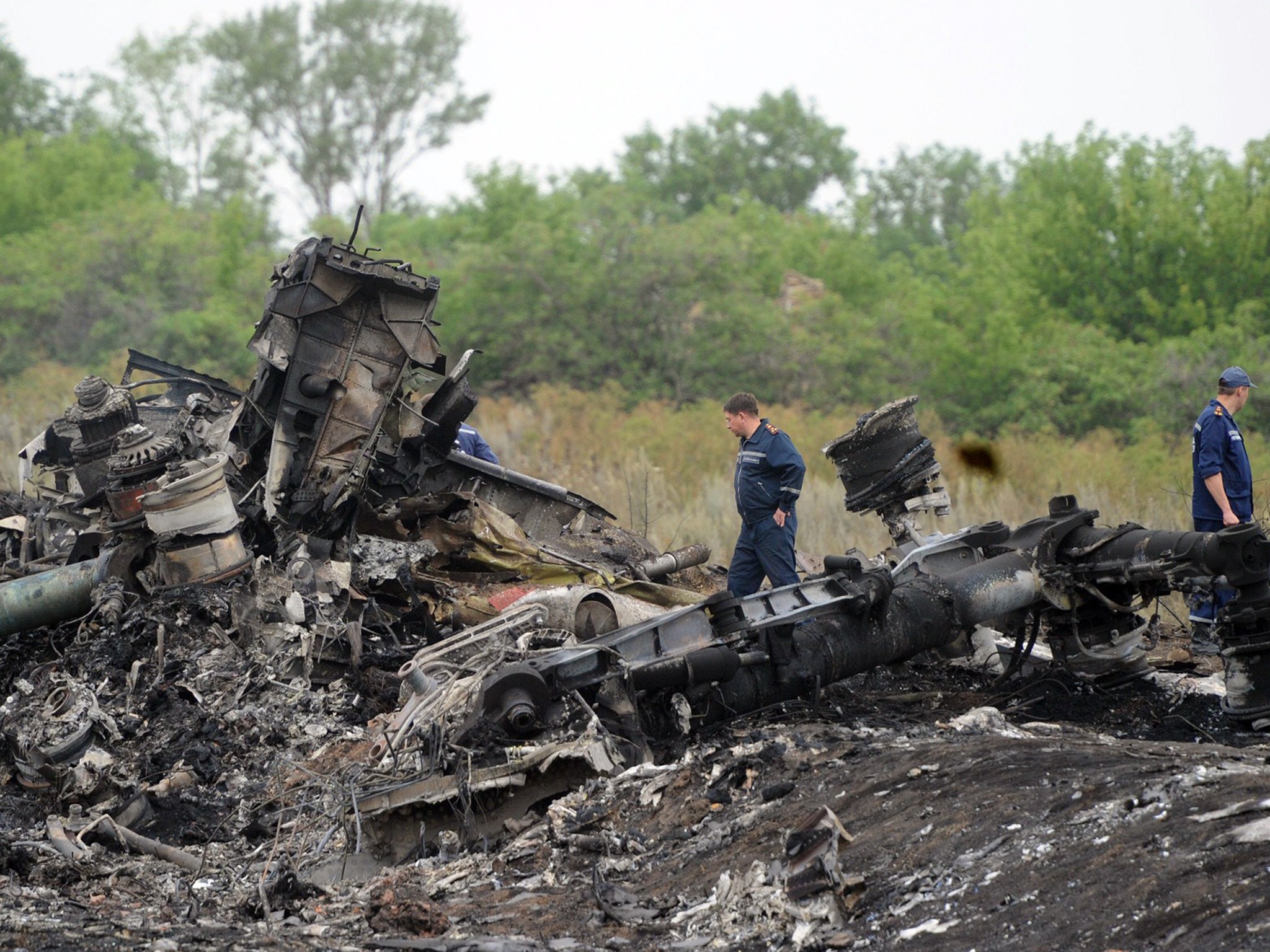 Nine Britons, 23 US citizens and 80 children are reported to be among the 298 people killed when a Malaysia Airlines jet crashed near the eastern Ukraine border on Thursday.
Both pro-Russian rebels and the Ukrainian government denied shooting the aircraft down after US authorities said intelligence analysis showed it had been hit by a surface-to-air missile.
Pictures and video from the scene showed bodies strewn around the site of the crash amid the charred wreckage of Malaysian Airlines flight MH17, which fell to Earth near the town of Grabovo, about 50km from the Russia-Ukraine border.
The area has seen fierce fighting between Ukrainian forces and separatist rebels, who have shot down several military planes and helicopters in the past.
The passengers on the flight included 154 Dutch, 27 Australians, 38 Malaysians - including 15 crew, 11 people from Indonesia, four Germans, four Belgians, three from the Philippines and one Canadian.
The Ukrainian Interior Ministry said 23 US citizens were travelling on the aircraft and nationalities of the remaining passengers were still being confirmed.
A spokesman from The Foreign and Commonwealth Office said it was working to identify any British victims of the tragedy. "We are aware of the reports and are urgently working to establish what has happened," he said.
Malaysia's Prime Minister Najib Razak said on Friday that the Malaysia Airlines jetliner did not make any distress call, adding that its flight route had been declared safe by the global civil aviation body. He added investigators "will leave no stone unturned".
While the cause of the crash has not been determined, US Vice President Joe Biden cautiously suggested the crash was "not an accident" and that the jet had "apparently blown out of the sky", while a US official said that, while its origin was unclear, a surface-to-air missile was probably responsible.
"I say 'apparently' because we don't actually have all the details. I want to be sure of what I say. Apparently, shot down. Shot down, not an accident. Blown out of the sky," he said.
It should have arrived in Malaysia at 6:10am local time, but did not enter Russian airspace when it was expected to, a Russian aviation source told Reuters.
The Eurocontrol organsiation, which co-ordinates European air traffic control, closed air routes in eastern Ukraine on Thursday evening.
The incident came one day after US President Barack Obama levied broad economic sanctions on Russia as punishment for its threatening behaviour towards Ukraine.
Amid tensions in the region, Russian President Vladmir Putin blamed Ukraine for the crash, the Kremlin said in a statement early on Friday.
Putin opened a meeting with his economic advisers by calling for a moment of silence over the crash, but added: "This tragedy would not have happened if there were peace on this land, if the military actions had not been renewed in southeast Ukraine. And, certainly, the state over whose territory this occurred bears responsibility for this awful tragedy."
Russian-backed Ukrainian rebels and the Ukraine government have accused each other of carrying out the ground-to-air strike, with both issuing firm denials of any involvement in the disaster.
Ukrainian President Petro Poroshenko responding by calling the crash a "terrorist" attack which posed a challenge to the whole world, his website said.
In pictures: Malaysia Airlines flight MH17 crash
Show all 109
"Today's tragedy showed again that terrorism is not localised, but a world problem. And the external aggression against Ukraine is not just our problem, but a threat to European and global security," he said.
Shortly after the crash, rebel leader Alexander Borodai told the RIA-Novosti agency that discussions were under way with Ukrainian authorities on calling a three-day cease fire for humanitarian reasons.
He added that international organisations would be allowed into the region.
Prior to the suggestion of a truce, the Poroshenko rejected claims by Ukraine rebels that Kiev was responsible and said his country's armed forces did not shoot at any airborne targets.
"We do not exclude that this plane was shot down, and we stress that the Armed Forces of Ukraine did not take action against any airborne targets," he said.
"We are sure that those who are guilty in this tragedy will be held responsible," he added.
An official statement from the Ukraine government blamed Russian air defence systems it claimed are protecting "terrorists" in the area.
It said: "A large passenger aircraft Boeing 777, performing a flight between Amsterdam and Kuala Lumpur, was shot down in the eastern part of Ukraine. According to the General Staff of Ukrainian Armed Forces, the plane was shot down by the Russian Buk missile system as the liner was flying at an altitude of 10,000 meters.
"Ukraine has no long-range air defence missile systems in this area.
"The plane was shot down, because the Russian air defence systems was affording protection to Russian mercenaries and terrorists in this area.
"Ukraine will present the evidence of Russian military involvement into the Boeing crash.
"The leader of the terrorists Igor Girkin (Strelkov) immediately commented on the catastrophe, believing that it was the Ukrainian jet that crashed: 'In Torez An-26 was shot down, its crashes are lying somewhere near the coal mine "Progress". We have warned everyone: do not fly in our skies,'" the statement read.
Anton Gerashenko, an aide to the Ukrainian Interior Minister, wrote on his Facebook page that the Boeing airliner, which was flying from Amsterdam to Kuala Lumpur, was at an altitude of 33,000ft when it was hit by a missile fired from a Buk launcher and crashed near the city of Donetsk - a stronghold of pro-Russian rebels.
But Russia's military said that none of its military planes had been flying close to the Russia-Ukraine border on Thursday, RIA Novosti reported citing a military official.
Earlier, Aleksandr Boroday, Prime Minister of the recently established Donetsk People's Republic, denied the jet had been shot down by the rebels and called the incident a "provocation by the Ukrainian military".
"We confirm that the plane crashed not far from Donetsk," Boroday said. "Representatives of Donetsk People's Republic have headed to the scene."
"Self-defence forces have no air-defence, which could target transport aircraft at that height," he told Interfax.
In separate reports by Interfax, an unidentified pro-Russian separatists said they had found the jet's black box flight recorder.
The Ukrainian Prime Minister Arseniy Yatsenyuk has ordered an investigation into what he has called an "airplane catastrophe", his spokeswoman Olga Lappo said on Thursday.
Elsewhere, world leaders issued statements expressing their shock, and calling for potential culprits to be brought to justice.
President Obama called the crash a "terrible tragedy", and said his government's priority was to determine whether any Americans were killed.
During a pre-planned phone conversation, Obama and Putin discussed the crash, the White House and Kremlin both confirmed.
Meanwhile, US senator John McCain warned that there will be "hell to pay" if the Russia military or Ukrainian separatists are deemed to have had any involvement in the 'incident'.
"If the Malaysian plane was shot down, this is obviously a game changer and has horrific consequences," he warned.
"It has the earmarks of a tragic mistake made by someone who had the capability to just shoot down an aircraft, and we know at least from the last couple of weeks that that could be Russian or separatist Russian capability."
"But if it is the result of either separatist or Russian actions mistakenly believing this was a Ukrainian war plane, I think there's going to be hell to pay and there should be," he said in an interview on MSNBC, citing previous reports of separatists shooting down Ukrainian fighter planes.
His comments followed a tweet by the Malaysian Prime Minister, following his later statement, in which he said he was "shocked" by reports of a plane crash, and that an investigation was being launched into the incident immediately.
This video posted online purported to show the aftermath of the crash
As pictures emerged showing loved ones of those on board the flight gathering at both Kuala Lumpur International Airport, Sepang, and Schiphol airport in Amsterdam, Netherlands Prime Minister Marke Rutte also said he was "deeply shocked" by the crash, NL Times reported.
"I am deeply shocked by the tragic news about the crash of Malaysia Airlines flight MH17 from Amsterdam to Kuala Lumpur via Ukrainian territory," he said.
"Very much is still unclear about the facts, the circumstances and the passengers."
Late on Thursday, newly appointed Foreign Secretary Philip Hammond called for an UN-led international investigation to establish what caused the flight to crash, with a meeting of the Government's emergency committee - Cobra - expected to meet on Friday.
"I'm deeply shocked by this appalling incident and I send my heartfelt condolences to all those who may have lost family and friends. We're determined to get to the bottom of understanding what has happened here," he said.
Australian Prime Minister Tony Abbott said in a statement that if the plane crash was deliberate, it constituted an "unspeakable crime" for which the perpetrators must be swiftly brought to justice.
"It is a very, very sad time, made worse by reports that it might be a crime rather than an accident," Abbott said.
Shortly after the crash, Malaysia Airlines posted a tweet on its official account confirming it had "lost contact of MH17 from Amsterdam".
"The last known position was over Ukrainian airspace. More details to follow."
It said early on Friday that all of its European flights will take routes avoiding Ukraine.
Virgin Airlines, Lufthansa and British Airways have confirmed that they are diverting most of their flights away from Ukrainian airspace.
A spokesman from BA said: "The safety and security of our customers is always our top priority. Our flights are not using Ukrainian airspace, with the exception of our once a day service between Heathrow and Kiev."
Join our commenting forum
Join thought-provoking conversations, follow other Independent readers and see their replies