Man sparks outrage by taking selfie at scene of train accident in Italy
'We have completely lost a sense of ethics,' writes journalist who captured the scene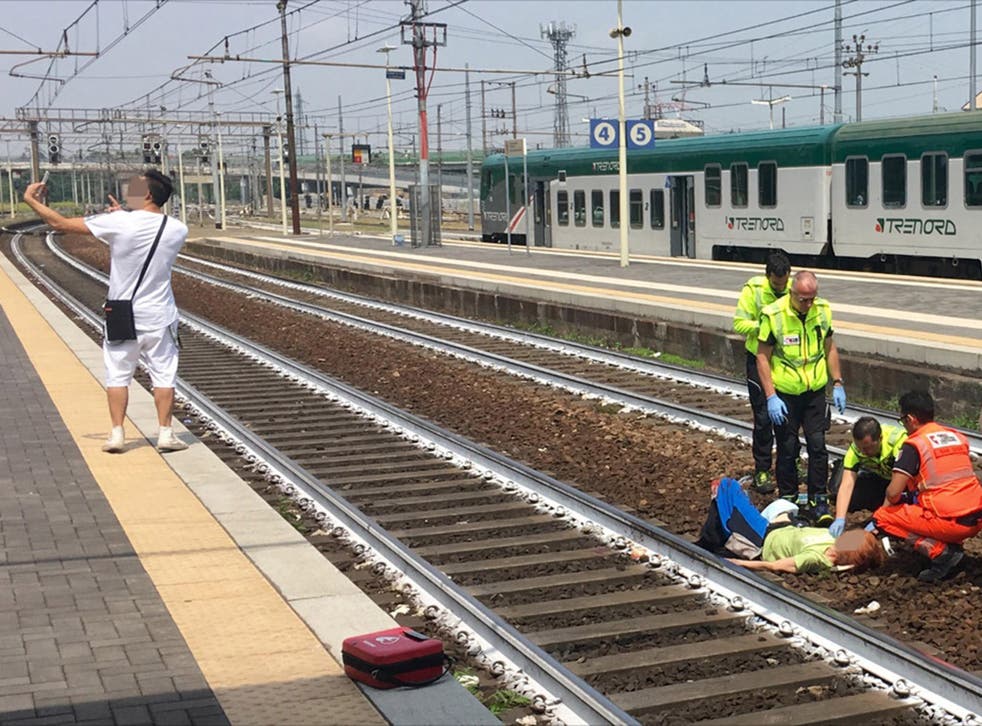 The image of a man taking a selfie while a woman lay seriously injured after being hit by a train has caused an international outcry.
Paramedics were treating the elderly Canadian tourist on the tracks when the man posed for a photograph next to the scene in Piacenza, Italy.
He appeared to giving a "V for victory" sign as he stood on the side of the platform in white shorts and a t-shirt.
The woman, who has not been identified, reportedly had to have her leg amputated as a result of the accident on 26 May.
Giorgi Lambri, the journalist who captured the image of the selfie-taker which was published on front pages across Italy, wrote about the incident in the Liberta newspaper.
"We have completely lost a sense of ethics," he said. "The most terrible thing is that guy [doesn't] understand absolutely the badness of his behaviour. I am a veteran journalist who extensively covered crime, and I have seen many terrifying scenes, but this made me really sad."
His story was titled: "The barbarism you don't expect: the selfie in front of a tragedy."
Other Italian newspapers described the scene as "a cancer that corrodes the internet" and "a portrait of disheartening exhibition".
After the story made headlines worldwide, social media users have joined in condemnation of the unidentified selfie-taker.
"The world has gone mad," said one Twitter user, while another criticised the man's "ghoulish sense of ego."
Others questioned the ethics of Mr Lambri for publishing the photograph of the man taking the selfie.
World news in pictures

Show all 50
The selfie-taker was spoken to by police at the railway station and told to delete the photo before being released without further action.
Similar outcries have followed stories of a British stag party taking selfies at the 9/11 Ground Zero memorial, disaster tourists taking selfies at the scene of the Grenfell fire, and a man taking a selfie in front of victims of the Westminster terror attack.
Join our new commenting forum
Join thought-provoking conversations, follow other Independent readers and see their replies