Marcial Maciel: Catholic priest abused at least 60 boys as founder of conservative religious order, report says
Investigation by Legionaries of Christ finds sexual abuse of minors was rife in Catholic order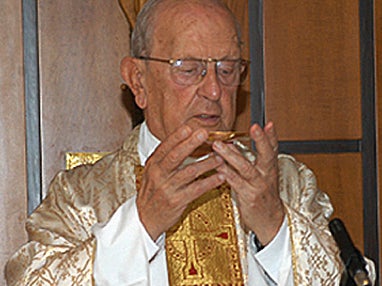 At least 60 boys were sexually abused by prominent Catholic priest Marcial Maciel, according to a report by the ultra-conservative religious order he founded.
An investigation by the Legionaries of Christ Catholic religious order has found sexual abuse of minors was rife among superiors, with 175 minors abused by 33 priests in the order between 1941 and 2019.
The report said most of the victims were boys aged between 11 and 16 years old.
It also warned there were probably more cases of abuse than the number found in the investigation.
Until 2006, the Vatican dismissed allegations by students in the order that Maciel had sexually abused them.
World news in pictures
Show all 50
"We deplore and condemn the abuses committed in our history, as well as those institutional or personal practices that may have favoured or encouraged any form of abuse or re-victimisation," the report said.
"We ask forgiveness of the victims, their families, the Church and society for the grave harm that members of our Congregation have caused."
Maciel, who died in 2008 without facing his accusers, was potentially the Roman Catholic Church's most notorious paedophile and may have even abused children he fathered secretly with at least two women.
The priest had given huge contributions to the Vatican during the papacy of Pope John Paul II and had been praised during his life by Church conservatives.
Cardinal Angelo Sodana, who was for years one of the Legionaries' biggest protectors in the Vatican, resigned as dean of the college of cardinals on Saturday.
When the Vatican first acknowledged Maciel's crimes in 2006, former Pope Benedict ordered him to retire to a life of "prayer and penitence".
However, Pope Benedict resisted calls for the Legionaries to be dissolved and the order was taken over by the Vatican in 2010.
Nearly 43 per cent of those who committed abuse were in positions of authority, making it difficult to report or punish them, according to the investigation.
"(Abuse) was linked to the abuse of power and conscience on the part of some who took advantage of their posts to abuse," it said.
Of the 33 abusers, six have died, eight have left the priesthood and one has left the order.
Of the 18 who remain as members of the order, four have "ministerial restrictions" to keep them away from minors and 14 have no public priestly ministry.
Former members have said the order was run like a cult, with rules forbidding any criticism of the founder or questioning of his motives.
Additional reporting by Reuters
Join our commenting forum
Join thought-provoking conversations, follow other Independent readers and see their replies