Margot Wallström: Can Sweden's feminist foreign minister be both radical and influential - and make the country a 'moral great power'?
Critics say Margot Wallström is squandering her country's clout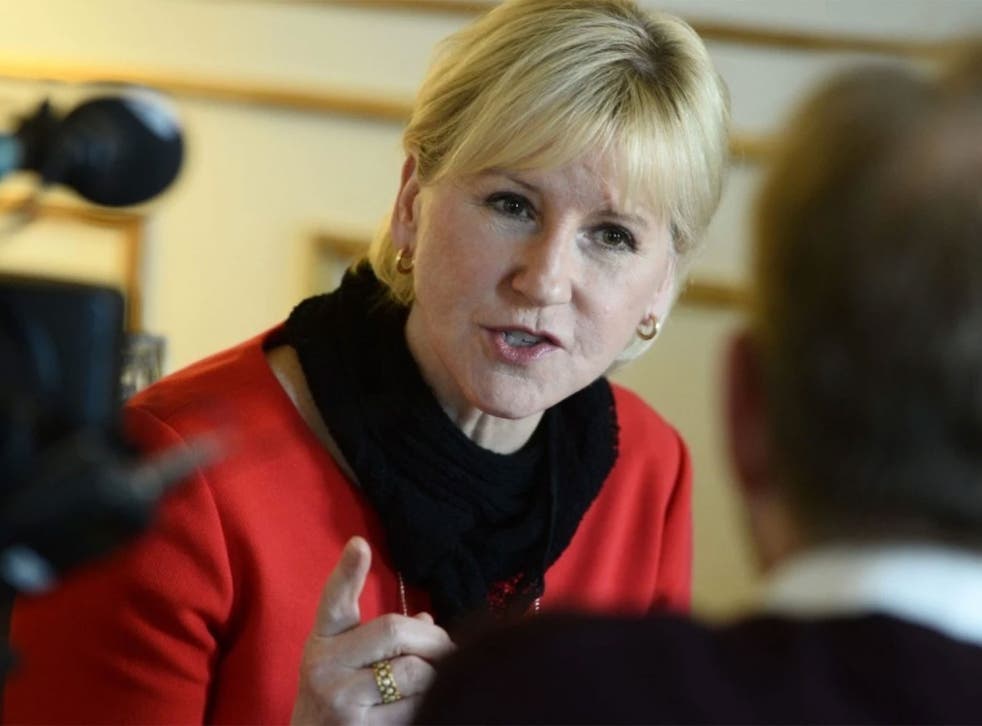 Margot Wallström's steadfast joint pursuit of human rights and feminism has antagonised the Arab world and started a debate on the issue of morality in nuanced national foreign policy.
In a few short months, Sweden's minority government has also angered business leaders at home. Ms Wallström's proposals, and the criticism they have drawn, has exposed a struggle over Sweden's identity and whether it should become what some politicians call a "moral great power", or prioritise security and an export-led economy.
After Sweden cancelled a defence co-operation accord with Saudi Arabia last week over human rights concerns, the Arab League condemned Ms Wallström, who has been Minister for Foreign Affairs since October, and blocked her from giving a speech in Cairo. Saudi Arabia recalled its ambassador from Stockholm; hundreds of millions of krone in business are threatened.
Ms Wallström, a former EU commissioner, promised a "feminist" foreign policy when her Social Democrats formed the coalition government last October. Since then, she has described the flogging of liberal Saudi blogger Raif Badawi as "medieval", winning praise from many commentators for standing up to the kingdom.
Women in Politics 2014: Females in Parliaments across the world

Show all 9
"I won't back down over my statements on women's rights, democracy and that one shouldn't flog bloggers," she said, referring to the sentencing of Mr Badawi to 1,000 lashes. "I have nothing to be ashamed of."
But Sweden is the world's 12th biggest arms exporter. Its economy depends on brand exports from Ikea to H&M. With Russia also testing Sweden's air and submarine defences, this may be the wrong time to put human rights front and centre in foreign policy, Ms Wallström's critics say.
Sweden has a history of neutrality. But under the previous centre-right government it forged closer links with Nato, participating in military missions in Afghanistan and Libya, something Ms Wallström has promised to tone down.
The Saudi defence accord had helped Swedish firms to make 4.8bn krone (£383m) between 2011 and 2014. Signed in 2005, it had been due for renewal in two months.
"Much of what Sweden exports of high technology requires the various types of long-term commitments," Ms Wallström's centre-right predecessor Carl Bildt wrote in his blog. "There is a real risk … [the cancellation] will hit Swedish interests, not only in Saudi Arabia itself." But the Saudi row may not have been Ms Wallström's doing, and has brought accusations of diplomatic miscalculations by the squabbling coalition government.
"This is foreign policy played for a domestic gallery and it gives a strong impression of political mismanagement," said Fredrik Erixon, director of the Brussels-based ECIPE think-tank.
Prime Minister Stefan Löfven, who worked for nearly two decades as a welder in the defence industry, was in favour of a revised Saudi deal. But this was vetoed by left-leaning Social Democrats and the Green Party, the junior partner that keeps him in power.
With signs that Mr Löfven would give in to the Greens, more than 30 business executives published an open letter saying breaking the deal would "jeopardise Sweden's reputation as a trade partner". They included fashion retailer H&M's main owner Stefan Persson and Investor chairman Jacob Wallenberg. "Social Democrats have traditionally been pragmatic in foreign policy," said Anna Wieslander, deputy director of the Swedish Institute of International Affairs. "So this may be about government personalities and coalition wrangling."
It was not the only controversy. Ms Wallström's first diplomatic move was to recognise the state of Palestine, prompting Israel to recall its ambassador and angering the United States.
Ironically, this championing of rights may have damaged Sweden's ability to punch above its weight and its ambition to win enough votes to be a rotating member of the UN Security Council. "The Swedish brand, as a reliable partner who you can talk to, has been badly hurt," said Sven Hirdman, a former Swedish ambassador to Moscow.
Reuters
Join our new commenting forum
Join thought-provoking conversations, follow other Independent readers and see their replies