Louis Aliot: Who is Marine Le Pen's boyfriend, the man who says whatever happens he 'will not be First Lady'?
An MEP in his own right who has largely avoided media scrutiny, Mr Aliot says he is unlikely to move to the Elysée Palace or become a minister if his partner wins the French election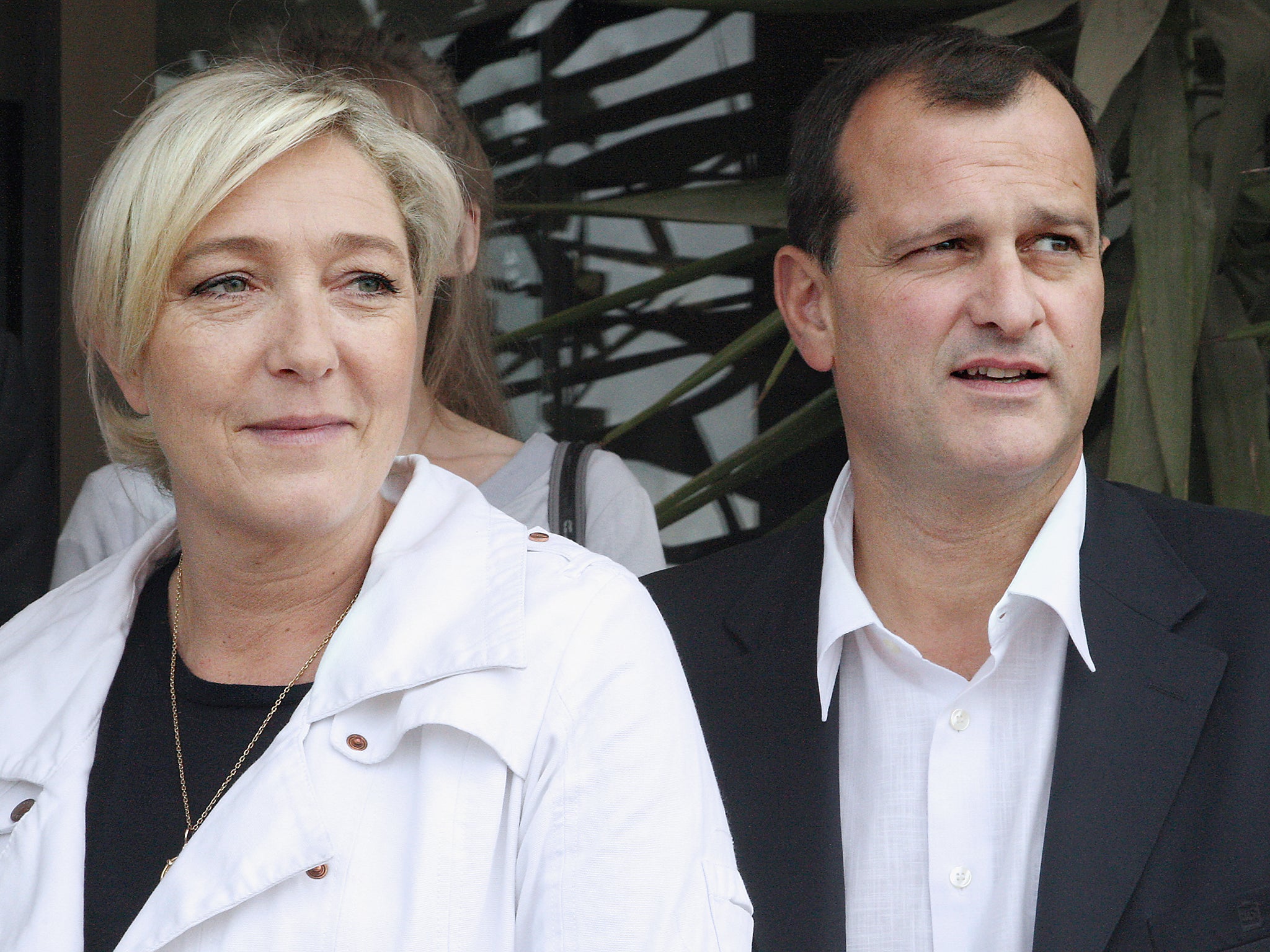 International observers of France's extraordinary election campaign could be forgiven for not knowing that the unmarried presidential candidate Marine Le Pen in fact has a long-term partner.
While Emmanuel Macron's relationship with his wife Brigitte has received widespread attention, 47-year-old Louis Aliot has largely avoided any kind of scrutiny over his nearly decade-long relationship with the Front National leader.
Mr Aliot has shunned the limelight, rarely appearing in public alongside Ms Le Pen except in his capacity as the party's vice president and MEP for the south west of France.
And he has scoffed at the idea he could become the first "First Man" in France's history, saying he would not settle in the Elysée Palace if Ms Le Pen is elected president.
If Mr Aliot will not take a visible role as Ms Le Pen's boyfriend, he will also not be made a minister after Ms Le Pen told French television channel France 2 she did not want any family members in her government.
Keen to avoid any suspicion of nepotism, Mr Aliot said his role would be one of a "husband", but that he would not interfere in the affairs of the state.
Mr Aliot has played an active role in Ms Le Pen's presidential campaign, but never as her partner.
Speaking to The Independent, political commentator Olivier Rouquan said Mr Aliot's objection to being depicted as France's "First Man" shows he wants to be recognised as a political figure before being Ms Le Pen's partner.
Mr Rouquan said: "He is one of the party's vice presidents, which is not a negligible role. Mr Aliot wants to gain his legitimacy as an elected representative and through his political engagement. He has a relatively important political weight with a growing political visibility of his own.
"There isn't really a specific place for the partner of the head of state in France, or at least not in the same way as in the US.
"French political culture is still rather patriarchal and the Front National maintains a very traditional culture. For voters, a man cannot have the same image as the one of a First Lady."
According to Alix Bouilhaguet in her new book Les Couloirs de Madame, which examines the would-be presidential pair, Mr Aliot said voters "didn't elect a couple at the Elysée". "[They choose] a man or a woman. Their partners should not have a say nor move into the Elysée."
His views on the role of the president's partner are radically different to those of Mr Macron, who raised some eyebrows among French commentators when he brought his wife Brigitte on stage and kissed her following his first round victory.
On the contrary, Mr Aliot is reportedly waiting for the election results to "go back home to the south of France, and go fishing and sailing with his friends" and "doesn't want any harm to be done to Ms Le Pen through him", according to journalist Béren­gère Bonte in her book Hommes de….
But if Ms Le Pen were to win the election, it is difficult to imagine a man of such political influence among his party remaining on the sidelines.
A divorcee and father of two, Mr Aliot has been with Ms Le Pen, who has herself divorced twice, since at least 2009.
He worked as her parliamentary assistant between 2011 and 2013, helping Ms Le Pen in her role as MEP – despite employing a partner being illegal under European rules.
The episode has seen Ms Le Pen accused in her own "fake jobs" scandal, albeit a minor one compared to that which engulfed the campaign of conservative candidate Francois Fillon. Ms Le Pen has denied the claims, arguing Mr Aliot was hired in his capacity as a member of the party and that no financial gains resulted from it.
Mr Aliot attended his first Front National meeting with his mother in 1988 at the age of 19.
His mother, born to a family of French settlers in Algeria, was repatriated to France around the time of Algerian independence. Mr Aliot, who was born in Toulouse, grew up deeply entrenched in the provincial south.
A trained lawyer and a passionate rugby fan, his family history has led him to be associated with nostalgia for colonial France.
Joining the Front National during the time when it was led by Ms Le Pen's father, Jean-Marie, Mr Aliot has since distanced himself from the anti-Semitic and racist comments associated with the party in the past.
Mr Rouquan said Mr Aliot played a role in the "de-diabolisation" process of detoxification of the party that Ms Le Pen began to try and tackle her father's views about the Holocaust. Mr Le Pen was suspended from the party in 2011 after he said gas chambers were "a detail" of the Second World War.
"Mr Aliot had a role in the normalisation of the party's discourse, which aimed to take away what was part of the traditional far-right, such as simple and basic racism," he said.
French Presidential Election
Show all 20
Speaking about the role of Mr Aliot during that time, Mr Rouquan said: "He has probably played a role in the dispute between Ms Le Pen and her father and would have been keen for her to move away from his influence. This was part of turning the page on Jean-Marie Le Pen."
But for the political analyst, Mr Aliot remains "an asset" for Ms Le Pen, particularly as she needs to widen her appeal for a chance to win the most votes in the election's final round.
Mr Rouquan said Mr Aliot could reinforce his political presence in the south of France by winning Perpignan's next mayoral election, where support for him is growing.
The results of the election on 7 May could see two radically different presidential styles. If Emmanuel Macron wins, his wife Brigitte will no doubt stand by his side on the steps of the Elysée Palace. The pair have been described by French commentators as trying to establish themselves as a presidential couple, in the image of Michelle and Barack Obama in the US.
On the contrary, Mr Aliot is unlikely to be seen at the Elysée Palace. The couple will continue to lead their relationship in a more private setting, separating the political from the personal.
Join our commenting forum
Join thought-provoking conversations, follow other Independent readers and see their replies