Marine Le Pen could win presidential election in 2017, French PM admits
'This means that the balance of politics will change completely,' says Manuel Valls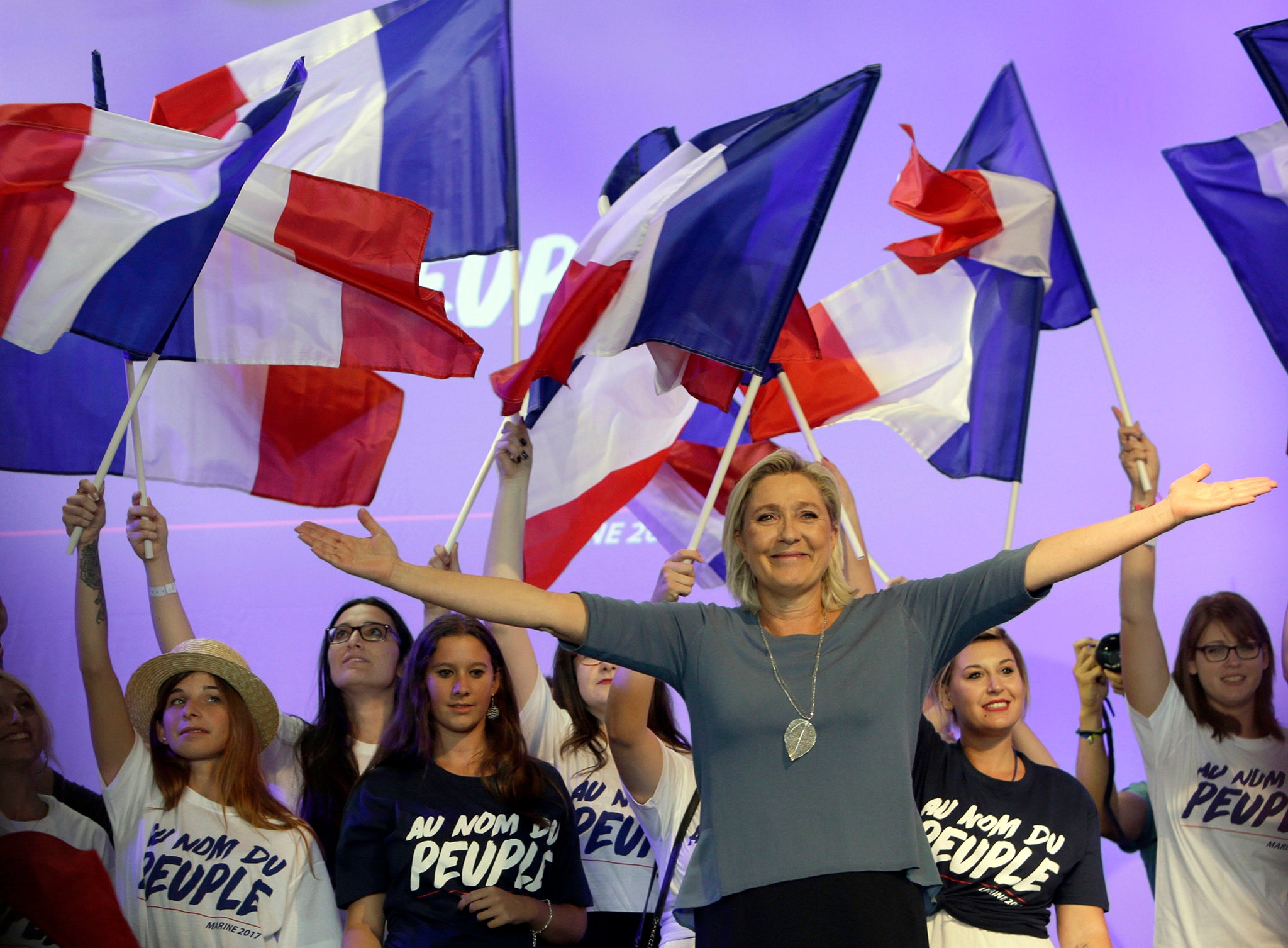 France's Prime Minister Manuel Valls has said far-right leader Marine Le Pen has a chance at winning next year's presidential election, boosted by the momentum of Donald Trump's shock win in the United States.
While attending a Berlin economic conference, Mr Valls said "it's possible" that the populist candidate of France's anti-immigration Front National (FN) could win.
Ms Le Pen is widely tipped to reach the second round of the election on 7 May, when she would then face a run-off for the presidency.
Mr Valls said: "If she does make it to the second round she will face either a candidate of the left or the right. This means that the balance of politics will change completely,"
The 48-year-old far-right politician is currently polling at about 25 to 28 per cent and has stated Donald Trump's victory was proof that nothing was "set in stone".
Mr Valls warned of "the danger presented by the extreme right" – with many expecting Ms Le Pen to face a candidate from the centre-right if she makes it to the second round, particularly given the current unpopularity of the ruling Socialist party.
"Of course there are risks in France, I am struck by the tone of the public debate," Mr Valls said.
Socialist Mr Valls stressed the difference between Mr Trump and Ms Le Pen was that despite his "worrying" speeches and proposals, the US President-elect is the head of a mainstream party.
Mr Valls is suspected of having presidential ambitions himself but has yet to officially throw his hat in the ring to go up against his party's deeply unpopular head of state Francois Hollande.
Marine Le Pen has been leader of the French National Front since 2011 when she succeeded her father Jean-Marie Le Pen, the party's founder.
Speaking to the BBC's Andrew Marr in a recent interview, Ms Le Pen said: "He [Donald Trump] made possible what had previously been presented as impossible.
"So it's really the victory of the people against the elites.
"If I can draw a parallel with France, then yes, I wish that in France also the people upend the table, around which the elites are dividing up what should go to the French people."
Marine Le Pen reacts to Trump victory
She claimed that if she became French President, Donald Trump, Vladimir Putin and herself would make a lot of progress towards "world peace".
In the 2012 French presidential election, Marine Le Pen came third with 17.9 per cent of the first round vote, behind Nicholas Sarkosy with 27.18 per cent and the eventual winner Mr Hollande with 28.63 per cent.
Mr Hollande beat the then then-icumbent President Sarkosy by 3.28 per cent.
In recent years, Ms Le Pen has attempted to soften her image and broaden her appeal – the party's name did not figure on the poster, nor did the trademark flame logo or even her family name.
Also on Thursday, Ms Le Pen's father won the right to remain honorary president of FN despite being ousted by his daughter last year, his lawyer said.
Marine expelled Jean-Marie Le Pen from the movement in August 2015 after he reiterated previous comments about the Nazi Holocaust.
Mr Le Pen's lawyer, Frederic Joachim, said a court outside Paris had ruled in favour of his client in letting him remain honorary president, although it rejected his request to remain a card-carrying party member.
"The Front National will have to ensure Jean-Marie Le Pen is invited to take part in every meeting, otherwise it would be fined €2,000 (£1,715) every time it doesn't comply," Mr Joachim said.
Join our commenting forum
Join thought-provoking conversations, follow other Independent readers and see their replies