Marine Le Pen says France should seek to renegotiate EU membership
Front National leader also recognises risk of withdrawing from single currency in a marked softening of her eurosceptic stance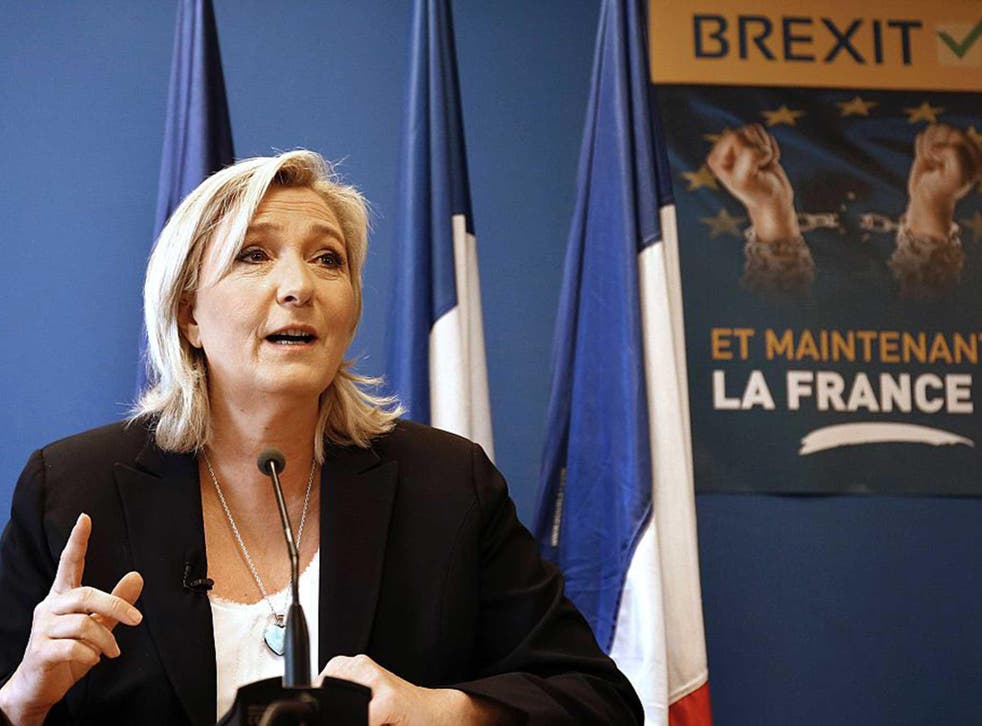 Front National chief Marine Le Pen has said she would not wish to see France leave the European Union straight away if she came to power but instead would seek to negotiate with the bloc in a bid to reinstate French sovereignty.
The far-right leader also called for Europe to retain the euro, championing the need for the single currency even if France withdraws from the eurozone, in a marked softening of her infamously anti-EU stance.
In an interview with BFMTV, Ms Le Pen outlined her vision should she be elected leader of the Republic in the presidential elections in May.
Interviewer Jean-Jacques Bourdin asked Ms Le Pen outright: "Do you wish for France to leave the European Union? So that things are clear, I'm asking you directly - yes or no?"
Ms Le Pen replied: "No, I think we need to renegotiate with the EU because I want to see French sovereignty restored in France, supported by a referendum."
Speaking of her hypothetical first six months in power, she confirmed she would hold a referendum on European membership but acknowledged France would have to stay closely linked to the bloc.
"If I am voted in, I will announce that a referendum will be held in six months time. I will spend those six months going to the European Union and telling them: 'I want the French people to regain at least their territorial sovereignty because I want to control the borders - they don't belong to you.'"
Many believe any shift in attitude comes from a desire to bolster the party's popularity and broaden its appeal, with polls citing a total withdrawal from the eurozone as an unpopular option for many voters.
Dr Joseph Downing, fellow at France's National Centre for Scientific Research (CNRS), believes any softening could potentially jeopardise her popularity as an "anti-establishment" candidate.
"She's in a bind of her own making as a lot of her popularity comes from being outside of the system. She has only been able to transcend the party's very fringe position by trying to adopt a bit more of the middle ground, which could then lead to her being seen as part of the political establishment, and much more of an insider than she would like to let on," he told The Independent.
Ms Le Pen also stated a national currency and a common currency could potentially exist concurrently, hinting at a possible return to the European Currency Unit (ECU), a basket of European currencies that existed as a precursor to the euro.
"A national currency, with the Euro as a common currency - that wouldn't bother me," she said.
Dr Downing said the proposal could bridge an important gap between the broader European project and those wishing to make a break from Europe's past economic failures.
"She would want to go back to some sort of mechanism where, on the ground, people would use the Franc, and where, for international transactions, there would be a fixed currency - the euro." he told The Independent.
"Whether or not that is viable is another question. From making America great again or giving £350m a week to the NHS, it is about selling an ideal that people want to buy into. It is the game all politicians in France are playing."
On Tuesday, fellow presidential hopeful former Prime Minister Valls called for the left to "reject the vast purge that Francois Fillon is preparing for us, a drastic reduction in the number of public sector workers, and so fewer public services".
Mr Fillon says he will scrap 500,000 public sector jobs in a bid to give France an economic boost.
Join our new commenting forum
Join thought-provoking conversations, follow other Independent readers and see their replies