Marine Le Pen maintains lead in latest French presidential election poll
François Fillon still expected to beat far-right leader in second round runoff in May but has lost ground in this year's first polls
Lucy Pasha-Robinson
Friday 20 January 2017 00:53 Comments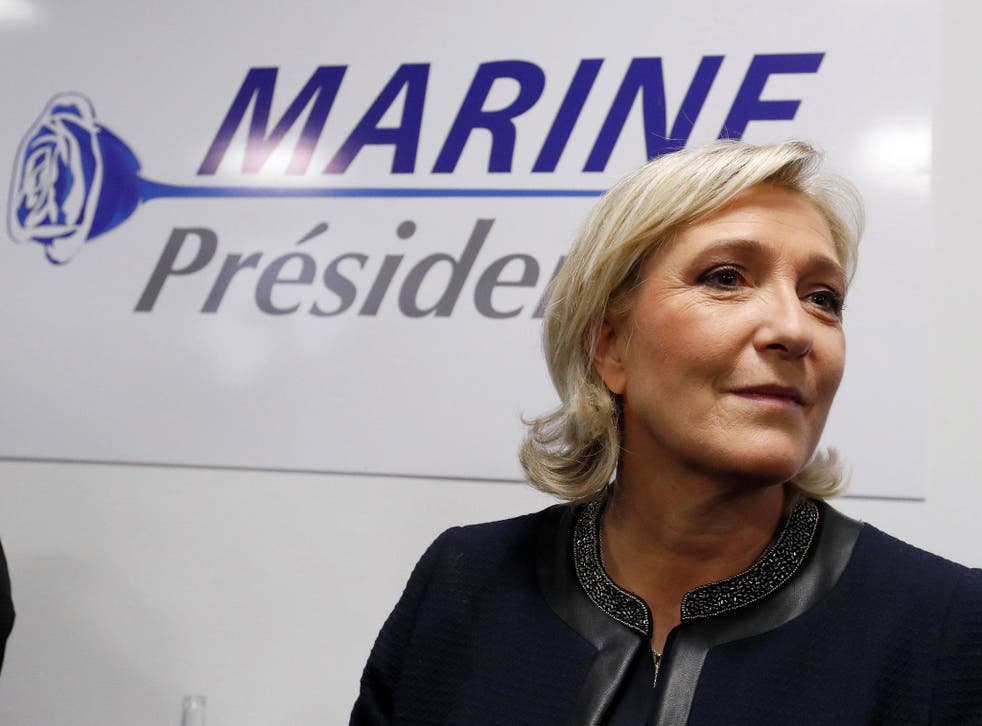 Far-right leader Marine Le Pen is holding on to her lead in the first round of the French presidential elections, according to a new poll.
The Front National head had between 25 and 26 per cent support compared with presidential favourite François Fillion, who received between 23 and 25 per cent, according to an Ipsos Sopra Steria poll for the respected French newspaper, Le Monde and the Cevipof research centre.
Mr Fillon is still expected to beat the far-right leader in a second round runoff in May.
But the former Republican Prime Minister has lost up to four points in the first polls of the year.
Wavering support for the established candidates can only be good news for Ms Le Pen, who will be hoping to defy the odds in her performance in the second round.
As the Parti Socialiste have yet to choose a candidate, some experts have suggested this could be skewing the polls in Ms Le Pen's favour.
"Two polls showing Marine Le Pen in the lead mean it is looking a little more likely she will do well, but the main thing to consider is the public still know her much better than her likely two competitors, in particular they don't know who the Parti Socialiste competitor will be at all," Professor Stephen Fisher at the University of Oxford, told The Independent earlier this month.
Socialist candidates Benoît Hamon and Arnaud Montebourg received only seven per cent of voting intentions in the poll. The party will select its candidate in the left-wing primaries on 22 and 29 January, however many are concerned the party is in a perilously weak position.
Former Prime Minister Manuel Valls received between nine and 10 per cent of voting intentions, depending on whether François Bayrou is a candidate. In both scenarios, he has dropped two percentage points since December.
Former economy minister Emmanuel Macron has consistently polled strongly with his own trans-partisan political party En Marche. He received between 17 and 19 per cent of voting intentions in the scenario where both Mr Bayrou and Mr Valls are candidates. He polled even higher at 20 per cent in the scenario where Mr Montebourg or Mr Hamon are chosen as the socialist candidate.
Jean-Luc Mélenchon took between 13 and 15 per cent of voting intentions, depending on the choice of socialist candidate.
A total of 15,921 people aged 18 and over were polled from 10-15 January.
Register for free to continue reading
Registration is a free and easy way to support our truly independent journalism
By registering, you will also enjoy limited access to Premium articles, exclusive newsletters, commenting, and virtual events with our leading journalists
Already have an account? sign in
Join our new commenting forum
Join thought-provoking conversations, follow other Independent readers and see their replies