French presidential candidate Marine Le Pen refuses police questioning in jobs investigation
'Ms Le Pen will attend any summons after the elections,' says her lawyer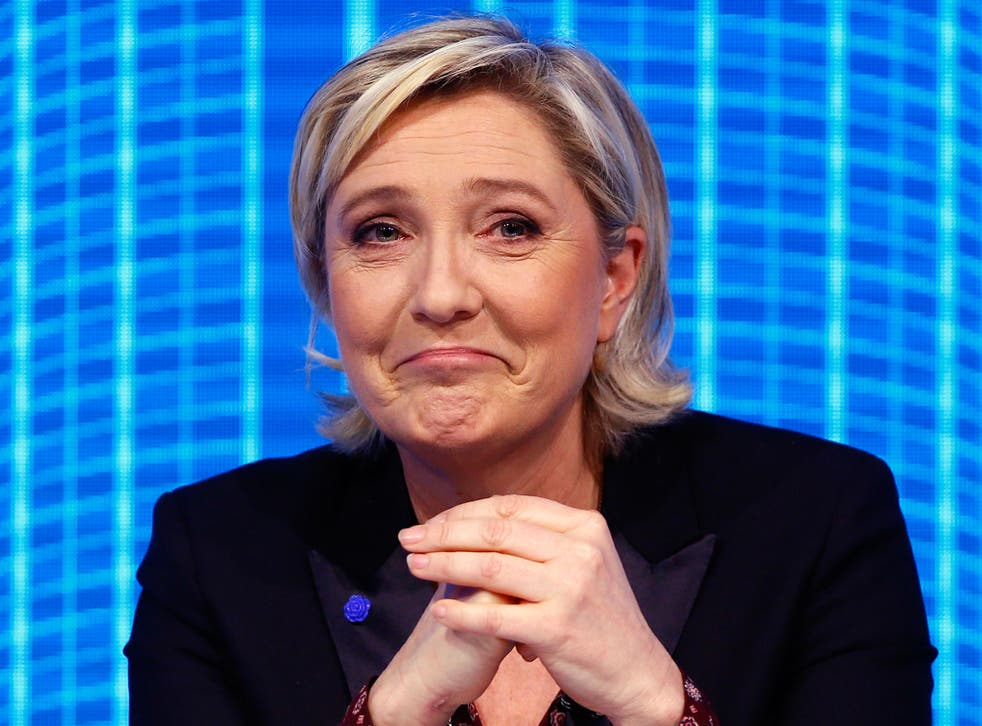 French far-right leader Marine Le Pen has refused to attend a summons for questioning by police over allegations that she made illegal EU payments to her staff, her lawyer has said.
Ms Le Pen, who heads the anti-immigrant and anti-European Union Front National (FN) and is a leading candidate in the presidential elections taking place in April and May, would comply with any summons after elections this year, her lawyer, Rodolphe Bosselut, said.
Ms Le Pen's chief of staff was put under formal investigation after a day of questioning over the alleged misuse of EU funds to pay parliamentary assistants.
Her bodyguard was also questioned but was later released without being placed under investigation.
Ms Le Pen, 48, who has denied any wrongdoing and says she is the victim of "political dirty tricks", is expected to win in the first rounds of the presidential election on 23 April but lose in the 7 May runoff to either independent Emmanuel Macron or conservative François Fillon, according to opinion polls.
Mr Bosselut said Ms Le Pen had learned of the summons by police in Nanterre, west of Paris, on 21 February after returning from a trip to Lebanon. "She believes that there is a risk that justice is being used as a tool in the election campaign," Mr Bosselut said.
World news in pictures

Show all 50
"She will attend any summons after the elections," he said. He did not say whether this meant after the presidential elections in May or parliamentary elections in June.
Meanwhile, centrist presidential candidate Mr Macron has started revealing his campaign programme, saying he wants to slash €60bn in spending but invest €50bn in re-training and other stimulus programmes.
Countering those who say his popularity is based on image alone, Mr Macron insisted that "if I were a bubble, I would have exploded already".
With less than two months before the first round of France's election, polls suggest Mr Macron is a leading contender but many of his supporters remain uncertain of their choice.
The 39-year-old independent, who has never held elected office, pledged to tackle political corruption and ban lawmakers from hiring family members – a dig in part at rival conservative Mr Fillon, who is facing allegations of fake parliamentary jobs for his wife and two of his children. Mr Fillon denies wrongdoing.
In an interview published in Les Echos, Mr Macron promised €60bn in spending cuts over five years, notably in state health care and unemployment benefits. He also pledged to invest €50bn in public investments, such as retraining the jobless and cleaner energy.
He's quoted as saying he would stick to France's deficit target of 2.9 per cent this year, and reduce taxes by €10bn. A firm opponent of Ms Le Pen's bid to leave the European Union, Mr Macron argued for a joint European budget and more ambitious cooperation across the Euro currency union.
With chronic unemployment being a major campaign issue, Mr Macron wants to make it easier to change jobs – but said his presidency could involve as many as 120,000 government job cuts. That's less than the 500,000 promised by conservative Mr Fillon, but still a big number for a candidate hailing from a left-wing background.
Mr Macron distanced himself from Socialist candidate Benoit Hamon, who promises a universal income for all citizens. "Unlike Benoit Hamon, I don't accept defeat on the jobs front," Mr Macron told Les Echos.
Mr Macron argues that the left-right spectrum no longer applies to today's world amid mounting nationalism, but critics question whether Mr Macron could effectively govern without a party behind him.
Reuters and Associated Press contributed to this report
Join our new commenting forum
Join thought-provoking conversations, follow other Independent readers and see their replies