Marine Le Pen backs Vladimir Putin and denies invasion of Crimea
Under international law, Crimea is still legally a part of Ukraine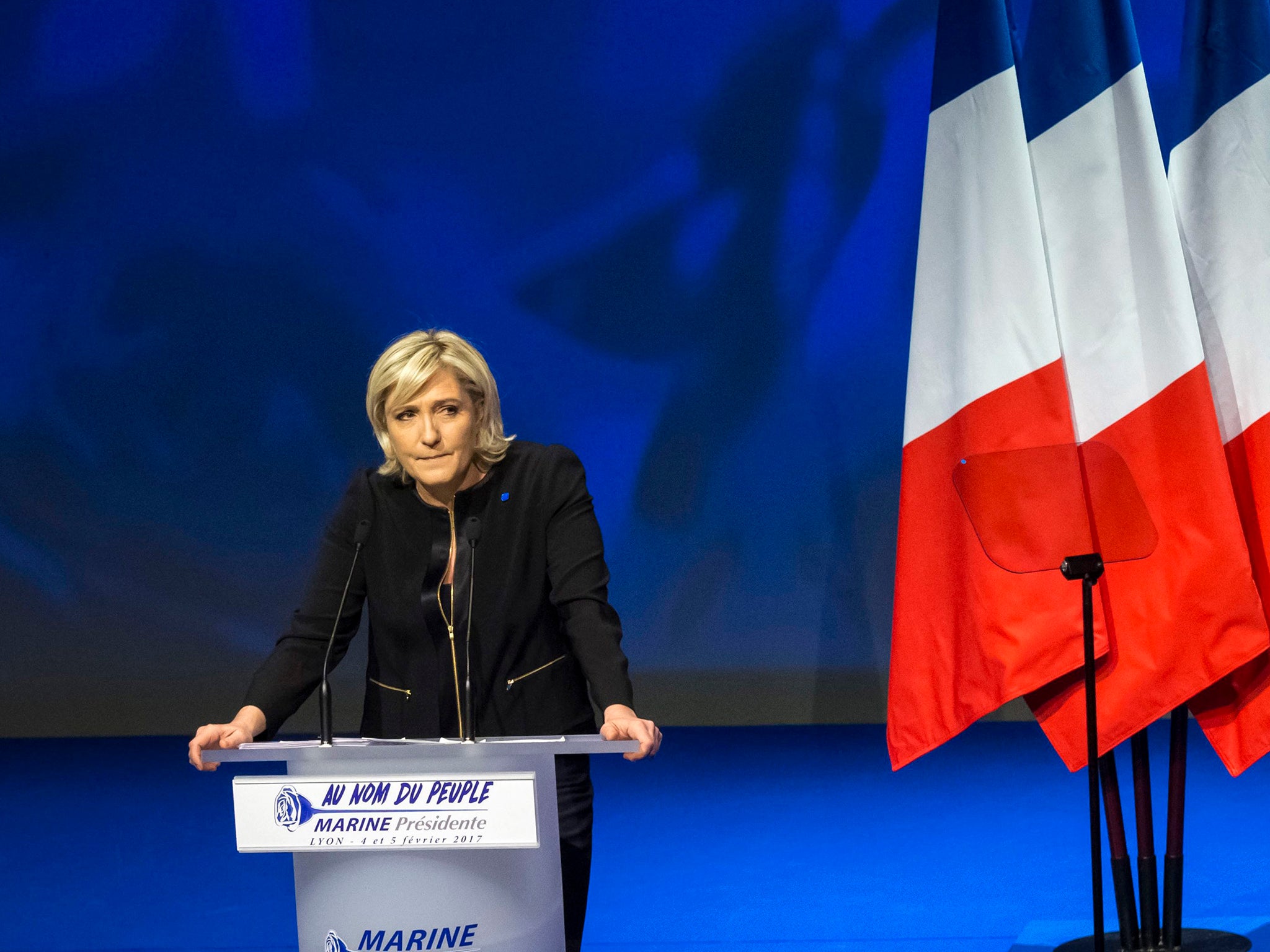 French far-right leader Marine Le Pen said Crimea "has always been Russian" in a series of astonishing claims that defy the evidence that Moscow invaded Ukraine.
The Front National leader vehemently denied any invasion had taken place and instead claimed a "coup d'état" in Ukraine resulted in a transferring of power.
Ms Le Pen also called for sanctions against the Kremlin to be removed, calling them "completely stupid" and the cause of "major problems for the EU."
Speaking during an interview with CNN's Christiane Amanpour, the 48-year-old, who is known for her strong views on the importance of French sovereignty, was asked about her position on the sovereignty of Ukraine and the annexation of Crimea.
"There was a coup d'etat in Ukraine... it's not just what I think, it's a reality. There was an agreement between different nations and the next day this agreement was broken and some people took power after the referendum... there was no invasion of Crimea," she said.
Ms Amanpour then cited the 1994 Budapest memorandum whereby Ukraine agreed to give up the arsenal of soviet weapons in its territory in return for security assurances from the international community.
She said: "The French were part of the deal that guaranteed the independence of Ukraine in 1994. It's really important this because it is the fundamentals of international law."
Ms Le Pen replied: "Crimea was Russian, it has always been Russian, it's not that long ago. The people feel Russian, the people decided by great majority that they wanted to belong to Russia so we can't be democratic when it suits us and then reject democracy when we don't like it."
Her comments came despite French, British and American signatories refusing to recognise Moscow's claims to the majority-Russian speaking territory. Under international law, Crimea is still legally a part of Ukraine.
Vladimir Putin's forces swept into the Ukrainian Black Sea peninsula of Crimea in February 2014.
French National Front policies
Show all 9
The Kremlin organised a referendum a month later which saw more than 95 per cent of voters in Crimea back joining Russia, however the vote was branded "farcical" and "illegitimate" by the British Government.
Russia was subsequently hit with sanctions and fierce criticism by the EU and UN as well as international governments, including the UK and France.
However, Ms Le Pen called the sanctions "meaningless".
"These sanctions are completely stupid they have not solved any problems, they haven't improved the situation at all, all they have done is created major economic problems for the EU," she said.
"They are meaningless, maybe we need to step down, wouldn't we have better peace in the world if we could step back. The President of the US, the President of Russia can end the Cold War, no one else."
Donald Trump's newly-appointed UN ambassador Nikki Haley condemned Russia's "aggressive actions" in Ukraine at a meeting of the UN security council and stated that sanctions against Russia for annexing Crimea would remain.
Ms Le Pen has long been a loyal supporter of Mr Putin, and this is not the first time she has denied Russia's annexation of Crimea.
Asked for her views on the diplomatic crisis during an interview with French channel BFM TV, she said: "I absolutely disagree that it was an illegal annexation: a referendum was held and residents of Crimea chose to rejoin Russia."
In 2015, Russian hackers published allegations she had received a multi-million euro loan by a Russian bank as a "reward" for her support of Mr Putin's annexation of Crimea – a claim she denies.
Ukraine indicated it would bar the French presidential candidate from entering the country after she made the comments appearing to legitimise the annexation.
The Ukrainian foreign ministry said in a statement: "Making statements that repeat Kremlin propaganda, the French politician shows disrespect for the sovereignty and territorial integrity of Ukraine and completely ignores the fundamental principles of international law.
"Such statements and actions in violation of the Ukrainian legislation will necessarily have consequences, as it was in the case of certain French politicians, who are denied entry to Ukraine."
Join our commenting forum
Join thought-provoking conversations, follow other Independent readers and see their replies