Marine Le Pen unlikely to win France presidential election, say pollsters
The National Front leader is expected to take one of the top two spots in the first round of voting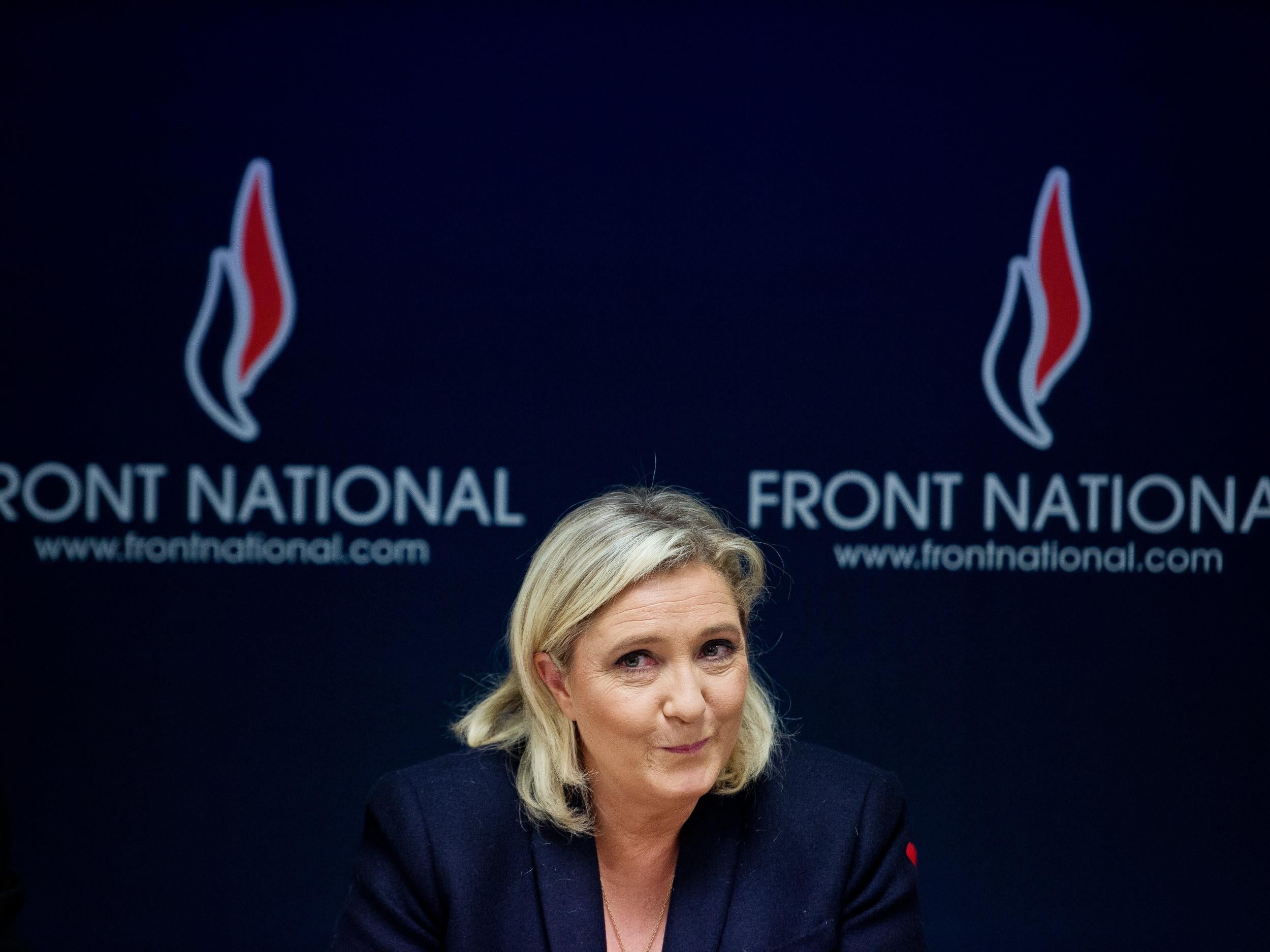 A plain-speaking candidate with a business background was running for president and the polls gave him little chance after a series of outbursts decried as racist. But it was the pollsters who ended up with egg on their faces.
It is not just the story of Donald Trump in 2016 America, but also France's Jean-Marie Le Pen in 2002.
Far-right leader Mr Le Pen pulled off a surprise by qualifying for the second round of the presidential election where -- this time correctly forecast by pollsters -- he was routed by incumbent Jacques Chirac. Polls had all expected Mr Chirac to face off against Socialist candidate Lionel Jospin.
France holds presidential elections again in 2017 and after two major political upsets in recent months -- Mr Trump's U.S. victory followed Britain's Brexit vote in June - eyes are on Jean-Marie's daughter Marine who is on track to repeat her father's achievement and is promising a referendum on whether to pull France out of the European Union.
France's main pollsters are all projecting the National Front leader will take one of the top two spots in April's first round. But they also see her losing in a run-off to the center-right Republicans' candidate by a wide margin. Though bookmakers have cut the odds on a Le Pen presidency sharply since Trump's upset, pollsters say they are confident that snapshot is accurately reflecting the national mood six months out from the vote.
"I'd never say 'never' but I do think we have some advantages that our U.S. colleagues don't," said Bruno Jeanbert, deputy managing director at pollsters OpinionWay. "A Trump-style surprise is less likely here."
According to a BVA poll carried out between October 14 and October 19, Mrs Le Pen would win between 25 per cent and 29 per cent of the vote in next April's first round. If she faces Bordeaux mayor Alain Juppe - the favorite to win the Republicans primary - she would lose the May 7 run-off by more than 30 percentage points. If it's former President Nicolas Sarkozy, the margin would be 12 points.
That's a much wider advantage than Hillary Clinton held over Mr Trump in days before the US election on November 8, so the chances of an upset are more remote, according to Holger Schmieding, chief economist at Berenberg Bank. All the same, the bookmaker Ladbrokes has cut the odds on Mrs Le Pen to 7-to-4 from 5-to-1 before the US election, implying a 36 per cent chance of victory.
"We are fairly confident that Le Pen will not win," Schmieding wrote in a note to clients Nov. 11. "Still, we need to monitor the political risks very closely."
French pollsters have the benefit of experience. Mr Trump's candidacy had no precedent in US politics so pollsters had no reference point to gauge whether voters were reluctant to admit they were backing him. The French have had a chance to re-calibrate since 2002.
"We missed the rising support for Jean-Marie Le Pen," said Yves-Marie Cann, director of political studies at pollster Elabe. "But we have adjusted our methods and in past elections we were pretty close to the final outcome. That does argue for some confidence in our work."
In addition, Mrs Le Pen has worked to make her version of the National Front more conventional. She's thrown her father out of the party, repudiated his racist and anti-Semitic comments to focus more on the economy, and makes frequent appearances in the media. All that makes voters less likely to hide their support for her, Cann said.
Even before the emergence of the first Le Pen, French pollsters were used to tracking the fortunes of more extreme movements. In the 1970s, the Communist Party was routinely taking more than 20 percent of the first-round presidential vote.
"Trump was a new phenomena," said OpinionWay's Mr Jeanbert. "We have a longer tradition of protest votes."
There are still issues which will shape the race between now and polling day. President Francois Hollande has yet to decide whether he will seek re-election. If he doesn't run, another Socialist candidate would enter the race but at this stage, polls show any Socialist candidate would fail to qualify for the second round. President Hollande's former Economy Minister Emmanuel Macron declared an independent bid Wednesday, potentially siphoning more votes away from the mainstream parties.
World news in pictures
Show all 50
Still, France's higher participation rates mean there is less chance of surprises from the so-called "hidden voters," like those white, rural voters the US who apparently drove Mr Trump to victory. Turnout in US presidential elections has been below 60 per cent since the 1960s while at least 80 per cent of French have voted over most of that period.
One final advantage French pollsters have over their American colleagues is that French presidential elections are simpler: the candidate with the most votes nationwide wins.
Even with the much more complicated electoral college system, US pollsters weren't really that far off this year, Mr Jeanbert says. The average of the final polls showed Mrs Clinton with a nationwide lead of about three points. Final results aren't in but she probably won the popular vote by just under one point, within the margin of error. Polls were correct in almost every state. They got Pennsylvania, Wisconsin, and Michigan wrong, but even there final polls showed Mrs Clinton with only single digit leads.
"It wasn't so much a problem with the polls, but with analysis of the polls," Mr Jeanbert said. "They got the national vote almost perfectly, but were off in two or three states by just several tens of thousands of votes. You just can't always predict everything."
Bloomberg
Join our commenting forum
Join thought-provoking conversations, follow other Independent readers and see their replies