Marine Le Pen could still win French presidential election, experts claim
While polls show victory for far-right candidate remains unlikely, analysts says fresh corruption scandals or a terror attack in the country could hand Front National leader the presidency
Matt Broomfield
Friday 10 March 2017 13:23 Comments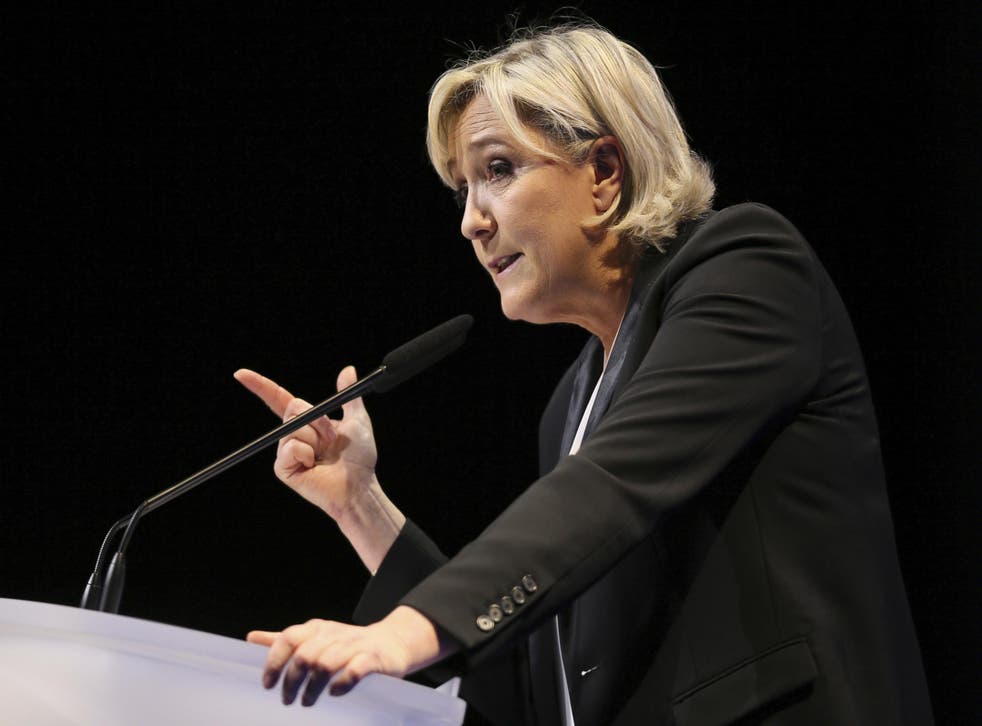 Marine le Pen cannot be ruled out of the French Presidential election any longer, experts have claimed.
Analysts have suggested that fresh scandals, unrest or terror threats would be necessary to push the Front National candidate to victory.
Bruno Cautres, from the Cevipof think tank, told The Local: "Six months ago the possibility of her winning was zero. Now, we cannot say that."
Marine Le Pen launches presidential campaign with hardline speech
The French presidential election is conducted in two stages. In the first round, which will take place on 23 April, several candidates will compete for a slice of the public vote. Then the two candidates with the most support go into a head-to-head final vote, held two weeks later on 7 May.
Polls published this week show Emmanuel Macron, the former investment banker running on a pro-business, socially liberal ticket, ahead of Ms Le Pen in first-round voting for the first time. He polled at 26 per cent of the vote, with Ms Le Pen a breath behind at 25 per cent.
Foremost among the eliminated candidates would be François Fillon, currently slated to pick up 20 per cent of the vote. The conservative politician won the Republican primary run-off, but has since been plagued by corruption scandals.
The former Prime Minister is facing a formal embezzlement enquiry over claims he paid his wife and children €900,000 (£785,000) from the public purse in exchange for little or no work, in an affair dubbed "Penelopegate". And this week it was further alleged he failed to declare a tax-free loan of €53,000 (£46,000) from a billionaire businessman.
The latest polling figures marks a significant change from last month, when Ms Le Pen was eight points ahead of second-placed Mr Fillon and 10 ahead of Mr Macron.
Leading French politicians such as Democratic Movement president François Bayrou and former Mayor of Paris Bertrand Delanoë have leant their weight to the Macron campaign, urging voters to get behind anyone who can defeat the far-right populist Front National.
Received wisdom is that Ms Le Pen will inevitably be defeated in the final head-to-head vote, as voters of all political stripes come together to defeat the hardline anti-Islam, anti-immigration party.
World news in pictures

Show all 50
This happened in 2002, when Ms Le Pen's father Jean made it into the final run-off for the first time, only to be defeated by Jacques Chirac in a record landslide. Another polling organisation, which has Ms Le Pen ahead by 4 points in the first round, found Mr Fillon and Mr Macron would both defeat her in a second-round contest.
But Mr Cautres said "more scandals" could see Ms le Pen pull ahead of her revivals, saying: "If other candidates like Emmanuel Macron or the Socialist Benoit Hamon are hit by scandal it will play into Le Pen's hands.
Though Ms Le Pen faces her own expenses scandal, Mr Cautres said she could simply argue "it's all part of a conspiracy against the party."
Marine Le Pen launches presidential campaign with hardline speech
He said the race for the presidency could also be destabilised by a terror attack or more social unrest. This view was backed by pollster Bruno Jeanbart, who told the Local the election was unusually "at the mercy of outside events".
The anti-Islam candidate is seen as tough on terror and law and order, and Front National have enjoyed boosts in the polls following the Bataclan terror attacks last year and recent riots following the alleged rape of a youth worker by Paris police.
"We can imagine the terrorists would try to create a climate of insecurity to destabilise the population," Mr Cautres said, implying Isis-linked radicals could try and schedule an attack in time to influence the results of the election.
His Sciences Po colleague Nonna Mayer concurred, saying: "People vote on what is most important to them at the time of the ballot", suggesting the election was open to influence by a dramatic event in the days leading up to 23 April.
All polls still show the Front National comfortably short of the 50 per cent threshold needed to secure election in the second round of the election.
Register for free to continue reading
Registration is a free and easy way to support our truly independent journalism
By registering, you will also enjoy limited access to Premium articles, exclusive newsletters, commenting, and virtual events with our leading journalists
Already have an account? sign in
Join our new commenting forum
Join thought-provoking conversations, follow other Independent readers and see their replies