Marion Marechal-Le Pen retires from politics days after her aunt's defeat in French presidential election
The 27-year-old is one of two Front National MPs in the French parliament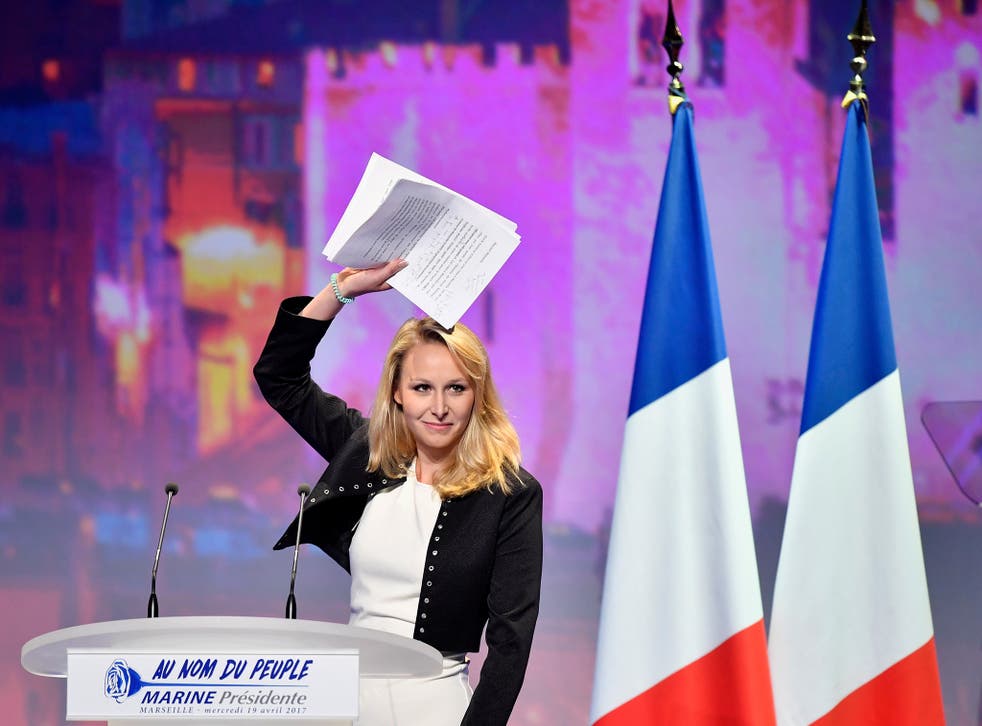 Defeated French presidential candidate Marine Le Pen's niece has temporarily retired from politics for "personal and political reasons".
Marine Marechal-Le Pen said the decision was "a heartbreak" in a letter published in a regional newspaper, but she wanted to spend more time with her three-year-old daughter.
The 27-year-old, had been seen as the rising star of the Front National party, after she became France's youngest MP in modern political history in 2012, when she won the Vaucluse's third constituency.
After her resignation the party, which was founded by her grandfather Jean-Marie Le Pen, will only have one remaining MP in France's National Assembly.
Ms Le Pen said she was interested in working in civil society because she "loves the world of business".
As a result, she will not seek re-election in June's local elections and will step down as the party's leader in France's southern region of Provence-Alpes-Côte d'Azur. She has also renounced her role in the party's political bureau.
It is thought that her resignation, which comes with days of her aunt Marine Le Pen's defeat by Emmanuel Macron in the presidential election, will come as a huge blow to the party,
"I think the era of politicians disconnected from the real with decades of elective offices behind them is gone," she said.
In recent years Ms Marechal-Le Pen had found herself at odds with her aunt and the politics of the Front National.
French newspaper Le Monde reported that her political commitment was also the reason for her divorce.
Often described as more radical and traditional then her aunt, she situated herself on the right of the party, as a pro-business, conservative, who stood in defence of traditional family values.
Her decision was nonetheless supported by her aunt, who tweeted: "As a political leader, I regret the decision of Marion but as I mum, I understand."
Her grandfather and Front National founder Jean Marie Le Pen was more damning about her decision.
"If there hasn't been a serious reason for this decision, I consider it to be desertion," he told French newspaper Le Figaro. "If we had asked my opinion, I would be completely against it. That she is pulling out of the front line saddens me."
World news in pictures

Show all 50
In her letter, Ms Marechal-Le Pen nonetheless suggested she would return to political life one day.
"I do not give up political fighting definitively," she wrote. "I have the love for my country chained to my heart and I could never remain indifferent to the suffering of my compatriots.
"The idea I have of a good political leader means I have to have benefit from more experiences that just the success of an election."
Join our new commenting forum
Join thought-provoking conversations, follow other Independent readers and see their replies