Mark Harold: The Johnny Rotten of beatboxing who has made it big in Lithuanian politics
How did a performer with the stage name Mark Splinter end up helping to run a Baltic capital?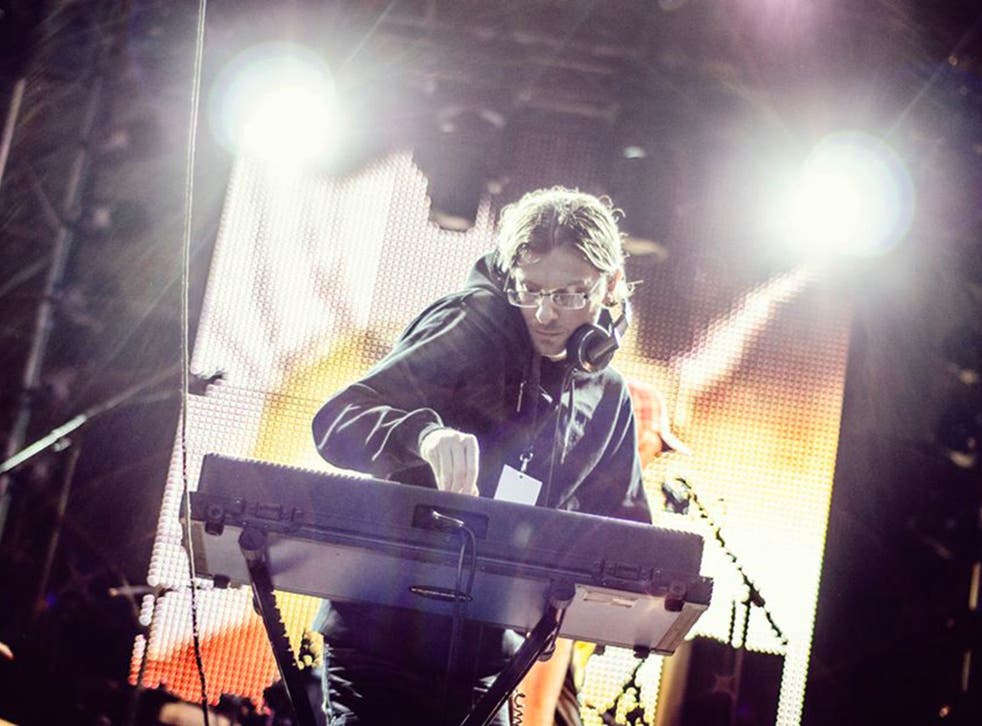 As a beatboxer and self-confessed English eccentric, Mark Harold cuts an unlikely political figure. And, given the city he is to help govern is over 1,000 miles away in another country and some of its residents charged him with being a spy, his story becomes more extraordinary.
The 36-year-old has become the first foreigner to be elected to help run Vilnius, the capital city of Lithuania.
He first visited the Lithuanian city for a week in 2004, at the same time that the first pioneering Lithuanian migrants were heading to the UK. A little more than a decade later, he was elected to Vilnius City Council after winning more than 2,700 votes in last Sunday's election.
In his first interview with a British newspaper since his victory, Mr Harold confessed that if you told him 10 years ago that it would happen, he would not have been surprised.
"I would have said that sounds crazy, so it will probably happen," he told The Independent. "Because I have kind of fallen into quite a few crazy things."
Given that for his 2011 summer holiday, Mr Harold chose a trip to Kabul in Afghanistan, this may be no exaggeration.
While the modern British politician spends his early years as a political advisor or policy wonk, Mr Harold, a former pubic schoolboy who grew up in a "very boring south London suburb", first came to Lithuania at the invitation of fans of beatboxing.
As his musical alias Mark Splinter, he was by then becoming something of a legend in beatboxing circles. A 2002 event that he organised in St James's Park in London, where he offered a jar of raspberry jam to whoever gave the best performance, was described by this newspaper as "a meeting that has gone down in legend – the beatbox equivalent of the Sex Pistols' 1976 concert in Manchester's Free Trade Hall".
Mr Harold, who remembers the event as "a great picnic", was happy to accept his Lithuanian friends' invitation, and filmed the music and celebrations that accompanied Vilnius's accession to the EU in 2004. "I fell in love with the place," he said.
Before the year was over, he had left London and settled in Vilnius, working as a freelance graphic designer and organising music events and met his "one true love", Jelena, a film script supervisor, soon afterwards.
Not long after returning from his summer jaunt to Kabul, he discovered he could stand for municipal elections in Lithuania.
"I am a little bit naughty by nature: once I discovered it was a possibility, it became very tempting to do it."
As luck would have it, a foreign, beatboxing, dubstep pioneer seemed just what Lithuanian politics was crying out for. Mr Harold found himself invited to parliament for a chat with Remigijus Šimašius, the Liberal Movement party's Vilnius mayoral candidate.
"I presume lots of young party activists had been scouting around for people who had the same ideas as the party and a following. The party wanted to appeal to young people who would be voting for the first time."
It helped, Mr Harold added, that as well as being prominent in the Vilnius music scene, he was already an active campaigner on issues like gay rights. He was also "inspired" by Mr Šimašius who seemed to share his "classical Enlightenment liberal, free market, pro-social and economic freedom" outlook.
But, he revealed, not everything was plain sailing. While many Britons worried about eastern European immigrants in the UK, some Lithuanians were equally suspicious about the Brit who had gone over there and was trying to get on to their city council.
A small but vocal minority, Mr Harold said, was so bemused by him that they thought the only logical explanation was that he was a spy.
"They have heard that London is amazing and Vilnius is terrible with a bad economy, so they wonder why I would do this. It doesn't make sense to them. They assume I am a spy."
But he insisted: "The vast majority are very happy to see me. Walking round the streets campaigning, people ask about my strange name, and when they discover I am British, they say 'Good luck, this is going to bring fresh blood into the old system. It's a sign of Westernness, that we are not looking towards Putin.'
City worthy or not, he has no plans to give up the beatboxing. "If I hear someone out on the street doing it, I will beatbox a little bit myself, just to let them know I am in the secret society."
'Enlightenment liberal': Mark Harold's policies
FOR Immigration (obviously)
On Lithuanians moving to the UK: "Many of them are my friends. They are working their arses off and bringing a lot of money into the economy."
On Brits, and everyone else, moving to Vilnius: "Throughout history, the best solution to Vilnius' problems has been immigration." Cites Grand Duke Gediminas, founding father of Vilnius, who in the 1320s offered privileges to immigrant merchants and artisans.
AGAINST Soviet-style bureaucracy.
Concerned about the potential for corruption. "There isn't the level of auditing you have in the UK, which means many people sign contracts they haven't read."
FOR Snow clearance and pavement repair (he injured his ankle tripping on the pavement last year).
FOR Ukraine: hence the hostility he receives from pro-Russian factions in Lithuania.
Register for free to continue reading
Registration is a free and easy way to support our truly independent journalism
By registering, you will also enjoy limited access to Premium articles, exclusive newsletters, commenting, and virtual events with our leading journalists
Already have an account? sign in
Register for free to continue reading
Registration is a free and easy way to support our truly independent journalism
By registering, you will also enjoy limited access to Premium articles, exclusive newsletters, commenting, and virtual events with our leading journalists
Already have an account? sign in
Join our new commenting forum
Join thought-provoking conversations, follow other Independent readers and see their replies