Matteo Renzi': Italy in shock as politician is caught with his trousers up
Michael Day
Rome
Friday 04 December 2015 20:34 Comments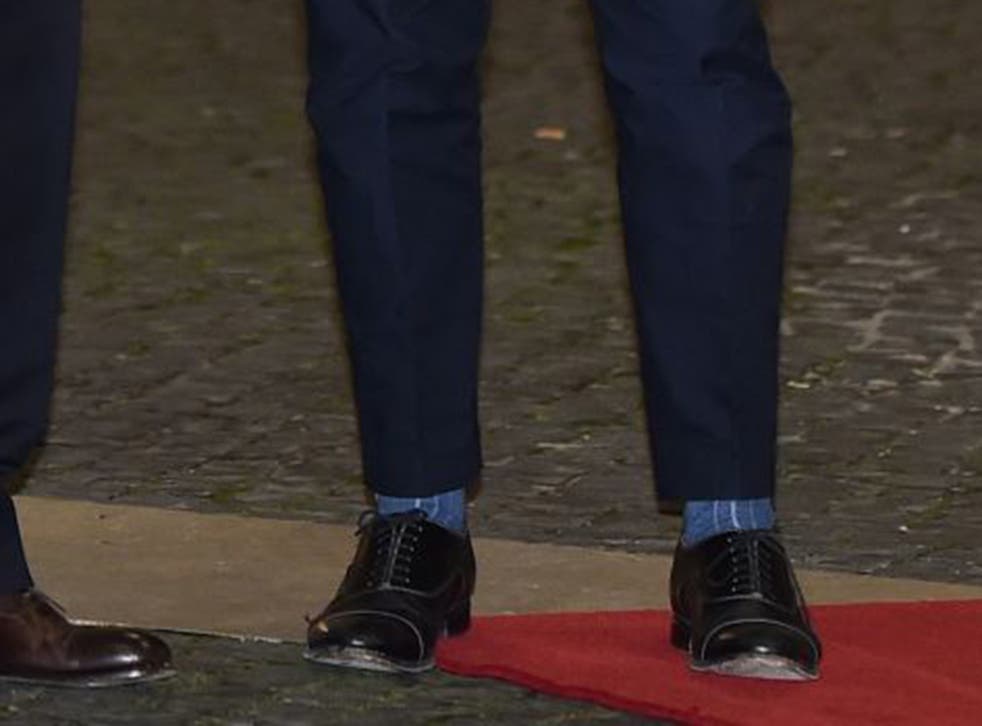 The notion that Italian politicians are judged as much by what they wear as what comes out of their mouths seems truer than ever.
While around the world, the loftiest of media debates the loftiest of issues, Italy's newspaper of record, Corriere della Sera, appears more concerned with the length of Prime Minister Matteo Renzi's trousers. The Italian leader, at just 40, can claim to be positively youthful compared to his peers in France, Germany and Spain.
But after leaving an inch and a half of sock in plain view between his shoes and trousers during a meeting with the Philippines President Benigno Aquino III, the Italian Prime Minister still stands accused of dressing like someone in his twenties or thirties and not as a fortysomething politician ought to.
Mr Renzi won plaudits in the past week for calling on the West to act with caution in tackling the cauldron in the Middle East. This was swiftly forgotten, however, as the media switched to the need for politicians to maintain "una bella figura".
Describing Mr Renzi's style errors, Corriere Della Sera noted that a "hem of two fingers longer would attract less attention". And it took umbrage with the bright blue colour of his socks. "If he were to opt for midnight blue or black socks, they would be less flashy and absorb, rather than reflect, the spotlight."
Public figures in Italy clearly shouldn't underestimate the importance of well-judged sock colours. In 2009 a television channel owned by the then Prime Minister Silvio Berlusconi secretly filmed the magistrate Raimondo Mesiano, who had just fined the mogul's business empire. Breathless reportage revealed Mr Mesiano had worn "turquoise socks" in public.
On the other hand, Mr Berlusconi, whose socks are always dark and whose trousers are guaranteed to cover his Cuban heels, had been ordered to pay a colossal €750m (£610m) in compensation to a rival firm, because one of his associates had simply bribed a judge with hundreds of thousands of euros.
Mr Renzi, though, has form for style misdemeanours. Last year he was ticked off by Italy's unofficial fashion tsar Giorgio Armani for going tie-less. "It doesn't do to play the young man," the designer tutted. "I would wear a tie. A shirt with a tie has a sexy touch."
But 80-year-old Mr Armani can't resist "playing the young man" sometimes. Snaps of him in Speedos have been a staple of Italian gossip magazines for years. Female politicians in Italy can rightly claim that sartorial criticism directed their way is even worse. This was demonstrated last year by a barrage of abuse directed at the eight women chosen for Mr Renzi's cabinet.
It's not just home-grown politicians that attract the attention of Italy's style police. The Italian press has shown less interest in Labour leader Jeremy Corbyn's politics than it has in his apparent penchant for second-hand clothes shops. "He still has much to learn," declared La Repubblica recently. At least Mr Corbyn hasn't been known to hit Margate beach in white Speedos.
Register for free to continue reading
Registration is a free and easy way to support our truly independent journalism
By registering, you will also enjoy limited access to Premium articles, exclusive newsletters, commenting, and virtual events with our leading journalists
Already have an account? sign in
Join our new commenting forum
Join thought-provoking conversations, follow other Independent readers and see their replies