Italian far-right deputy prime minister Salvini set to be questioned by prosecutors over detention of migrants
Investigators from Sicily are travelling to Rome after children finally allowed to disembark from vessel denied permission to dock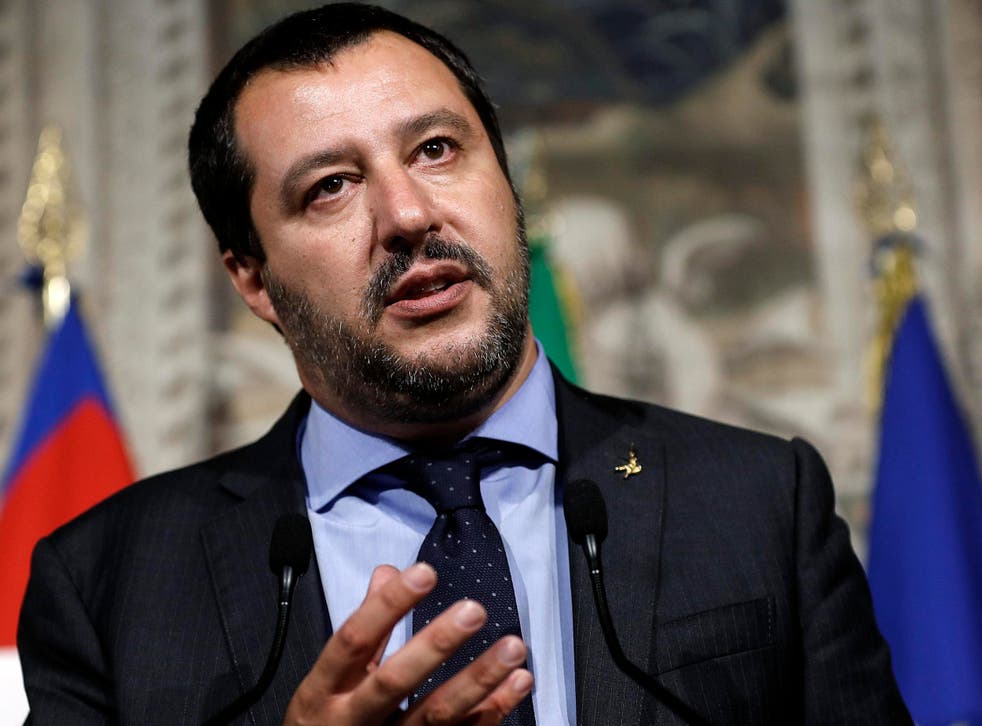 Italy's far-right deputy prime minister Matteo Salvini is set to be questioned by prosecutors over the suspected unlawful detention of migrants on a rescue ship denied permission to dock for days.
An investigation was launched by prosecutors in Sicily against unnamed individuals into the refusal to allow the Ubaldo Diciotti to dock – an order Salvini, the country's interior minister, will be responsible for.
Yesterday children finally were allowed to disembark from the rescue ship which has been carrying 150 migrants and refugees, after almost a week on board, at the Sicilian port of Catania.
The policy allegedly violates article five of the European Convention on Human Rights, which says asylum-seekers detained for more than 48 hours should be released and given the opportunity to apply for refugee status.
Prosecutors are reportedly travelling to Rome as part of the investigation.
Salvini, who is not yet officially under investigation, appeared defiant at the prospect of a criminal probe. "If someone is thinking about arresting me, they're mistaken, because the Italian people are asking for order, rules, respect and controlled immigration," he said.
The Italian government on Thursday threatened to stop Italy's payments to the EU budget if the European Commission did not take the ship's passengers, who currently are on hunger strike, and redistribute them to other countries. Luigi di Maio, the Five Star Movement's deputy prime minister in the coalition, said the government had "had enough".
A European Commission spokesperson warned against "finger-pointing", telling reporters in Brussels on Friday: "Unconstructive comments, let alone threats, are not helpful, and they will not get us any closer to a solution.
"The European Union is a community of rules and it operates on the basis of rules, not threats. So we would call on all parties involved to find a swift solution for the persons on-board in the spirit of good cooperation."
Italy's anti-immigrant administration has refused docking permission for the Diciotti, as it has other Mediterranean rescue ships.
In June EU leaders agreed to set up "disembarkation platforms" for the ships as well as secure holding centres for migrants to be held in in EU countries but none has yet come forward to host them.
Refugees and migrants arriving in Catania, Sicily

Show all 7
Last month the European Commission tried to sweeten the deal for member states by offering €6,000 (£5,346) per person to states that hosted the centres, but there has still been no progress in their establishment.
The spokesperson said the Commission was looking for a "structural, sustainable solution, moving away from this ship-by-ship troubleshooting" that has plagued the continent since the new Italian government was formed.
Register for free to continue reading
Registration is a free and easy way to support our truly independent journalism
By registering, you will also enjoy limited access to Premium articles, exclusive newsletters, commenting, and virtual events with our leading journalists
Already have an account? sign in
Join our new commenting forum
Join thought-provoking conversations, follow other Independent readers and see their replies