Mediterranean migrant crisis: British warship HMS Bulwark rescues over 1,000 refugees
In its busiest day on the Mediterranean, the warship picked up the migrants making the journey from Libya to Italy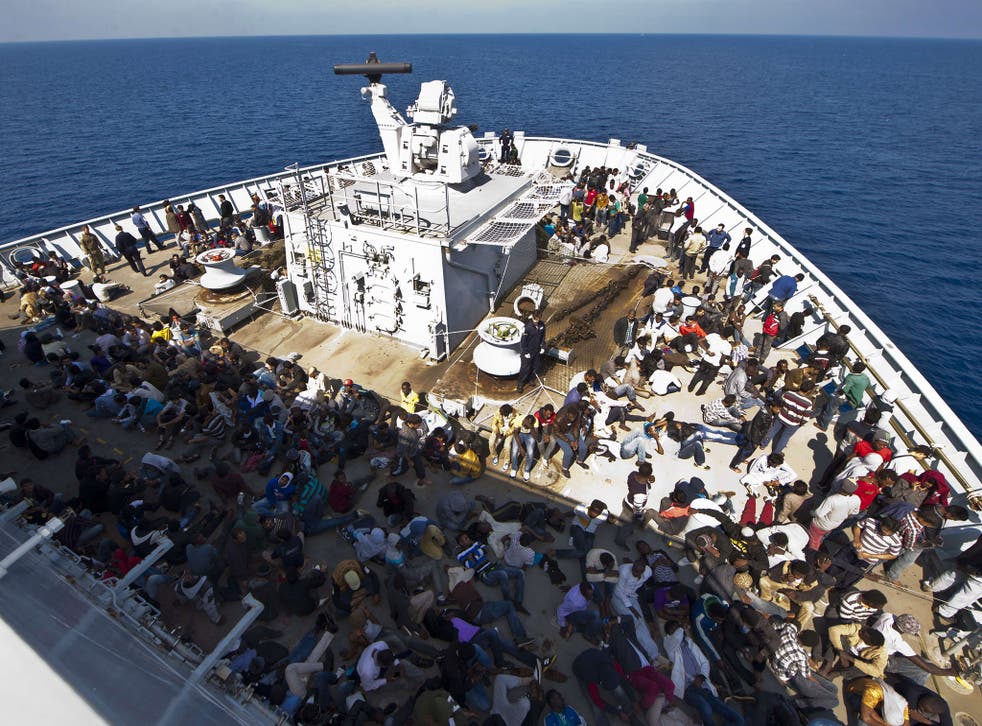 A British warship rescued more than 1,000 desperate migrants making the perilous journey from Libya to Italy, in the Royal Navy's biggest Mediterranean rescue mission.
Royal Marine Commandos scrambled to help children as young as two and heavily pregnant women on to HMS Bulwark, which had been dispatched to the region as the UK's contribution to the international response to the migrant crisis.
One woman was in labour after her waters broke on a dinghy shortly before she was rescued just 20 miles off the coast of Libya.
She joined hundreds of others, including Syrians, Africans and Pakistanis, who were piled into the lower deck of the Royal Navy ship after the extraordinary operation beginning at 5.50am. Others had to be taken on to the upper deck and were set to spend the night outside due to lack of space.
As the sun set on the British ship, around 1,100 migrants had been rescued from nine heavily overcrowded boats.
Asha Kulubari, 26, had travelled from Bamako, Mali, with her husband, and her child Fatima. "I'm so happy to be saved," she said. "I'm so happy these men saved us. I have my baby and nothing else."
Those rescued had travelled for as long as 10 hours from various towns and beaches across the Libyan coast. Some described the journey as a living hell. Yasin, 29, from Islamabad, Pakistan, said: "The Royal Navy has saved my life."
Some of those rescued were carrying €50 notes hidden in small plastic bags, while many of them had nothing after they said the people-traffickers had taken everything.
One woman, who was four months' pregnant, said she had made the "terrifying" journey with her husband to escape terrorism.
Rose, 21, from Nigeria, said she wanted to go anywhere: "Germany, Britain, any place. Any place which will give me and my husband the papers."
Rose, who paid $1,200 (£800) to get on the ship, said: "We left our three-year-old daughter back home with my mother-in-law to look after her because we didn't have the money to bring her with us.
"It was truly terrifying, I was very sick on that wooden boat and was vomiting all the time. Back home there was much danger so that is why we made this journey. I was very scared for my baby but now these people have saved us and I feel very safe and very happy. We want our daughter to come too one day."
Another migrant had asked: "How long will it take to get to London?"
Yesterday was the busiest day for HMS Bulwark since it was deployed to the Mediterranean last month, as large numbers of migrants travelled from the city of Zawarah, Libya, to take advantage of calm seas.
Eight inflatable dinghies, described as "lilos with sides", and one huge wooden boat were spotted by radar and the ship's two Merlin helicopters. Each operation involved drawing up two assault boats each side of the migrant vessel so that the passengers would not surge to one side and capsize the crowded boat.
After receiving water and life jackets they were then guided by the Marines on to larger craft usually used for sea-to-land assaults.
A Pakistani man in his forties told Royal Marines searching him that he had been stabbed and shot in Libya. "Last night we were beaten and threatened and we were in a camp for three days, sometimes they gave us water but no food," he said.
"On board the boat I was very frightened, it was especially bad for the women, they treated us like sheep, like goats. I brought my own water when I got on the boat, they took it off me. It was very bad, people were suffocating and there was crying, and one or two fainted."
The rescued migrants are now likely to be taken to Sicily where they will be able to register as asylum-seekers or make their way to other European countries, including Britain.
Join our new commenting forum
Join thought-provoking conversations, follow other Independent readers and see their replies