Mediterranean migrant crisis: EU denies approaching Australia for advice on dealing with immigrant boats
'Stop the boats' urges Australia's Paul Abbott – but EU takes humanitarian line. Kathy Marks reports from Sydney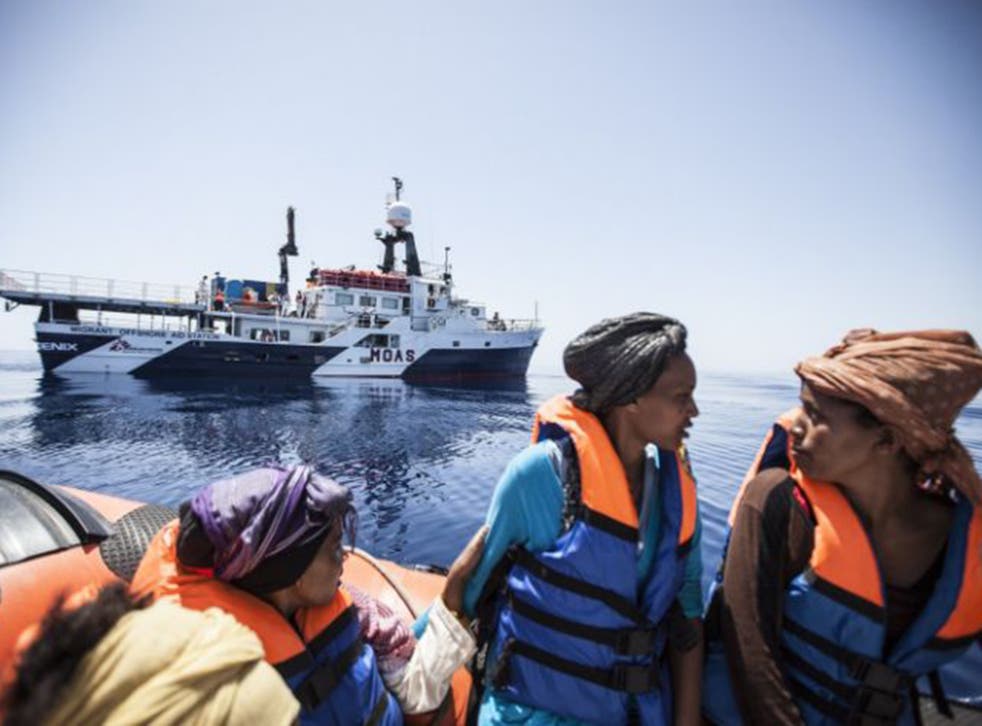 Senior EU officials have denied seeking Australia's advice on how to prevent further humanitarian disasters in the Mediterranean – adding that Europe would never emulate Australia in forcibly repatriating asylum-seekers.
After the mass drownings last month when a migrant boat from Libya sank en route to Italy, the Australian Prime Minister, Tony Abbott, urged the EU to follow his country's example and prevent boats from entering European waters. "The only way you can stop the deaths is to stop the boats," he said.
Today, after more than 6,700 people were rescued from boats off the Libyan coast, Mr Abbott claimed there had already been "contact at official level between Australian people and Europeans".
Calm seas and mild temperatures have brought a spike in arrivals. The Italian navy said one rescued woman gave birth to a girl aboard one of its patrol ships on Sunday.
Mr Abbott said Operation Sovereign Borders, Australia's operation against asylum boats, was "an object lesson in how to do the right thing by poor, misguided people who for all sorts of reasons want a better life but very often end up dead if they succumb to the lure of people smugglers".
However, the European Commission's spokeswoman, Natasha Bertaud, said that since the EU upheld international law protecting refugees from "refoulement" – being sent home to face persecution – "the Australian model can never be a model for us". She denied there had been contact with Australian authorities.
Mr Abbott's conservative government has deployed naval vessels to intercept asylum boats in the Indian Ocean and send them back to Indonesia, the most common transit country for people trying to reach Australia from south Asia and the Middle East.
Those who do reach Australian waters are flown to Pacific islands for processing and told they will never be resettled in Australia. Instead, they are offered resettlement in countries such as Cambodia.
While refugee advocates and human rights lawyers say Australia is breaching its international obligations, the government points to its success in stopping the boats – only one arrived in 2014, compared with 300 the previous year.
In reality, though, it has confined would-be boat people to Indonesia, which has not signed the UN refugee convention and has a poor record of looking after asylum-seekers and refugees. Even more controversially, Australia has also forcibly repatriated asylum-seekers to Sri Lanka, Iran and Vietnam.
The country's hardline policies were cited last week during a debate in the European Parliament, as the EU struggles to prevent thousands of migrants from attempting the dangerous crossing.
But Ms Bertaud said the EU had no plans to follow Australia's example. "The European Union applies the principle of non-refoulement [and] we have no intention of changing this," she said. Some 1,750 migrants have already died this year trying to cross the Mediterranean.
Register for free to continue reading
Registration is a free and easy way to support our truly independent journalism
By registering, you will also enjoy limited access to Premium articles, exclusive newsletters, commenting, and virtual events with our leading journalists
Already have an account? sign in
Register for free to continue reading
Registration is a free and easy way to support our truly independent journalism
By registering, you will also enjoy limited access to Premium articles, exclusive newsletters, commenting, and virtual events with our leading journalists
Already have an account? sign in
Join our new commenting forum
Join thought-provoking conversations, follow other Independent readers and see their replies