Mediterranean migrant crisis: Furious Italian PM Matteo Renzi forces belated compromise on quotas at EU leaders' summit
Italian anger directed at former Eastern bloc countries that reacted with surprising vehemence against a compromise deal to accept small numbers of refugees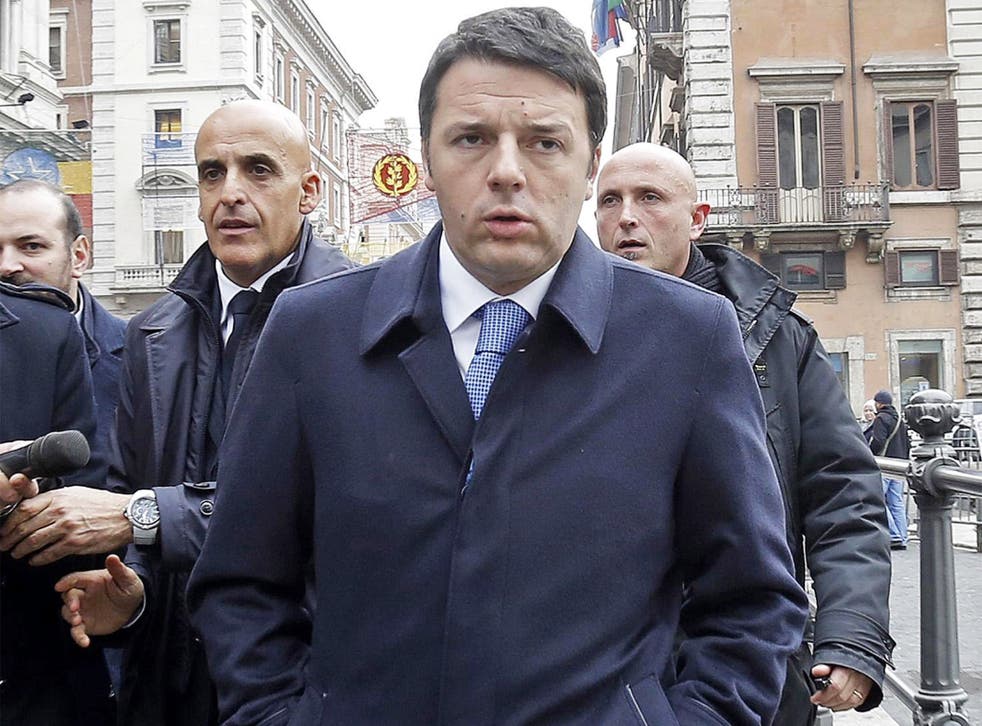 Italy's Prime Minister, Matteo Renzi, has complained angrily at the European Union's refusal to accept what he said were modest proposals for redistributing refugees around the continent, after a crucial leaders' summit descended into recrimination and chaos.
Mr Renzi, who faces mounting political pressure over the migration crisis at home, told fellow EU leaders in Brussels: "If you do not agree with the figure of 40,000 asylum seekers you do not deserve to call yourself Europeans. If this is your idea of Europe, you can keep it. Either there's solidarity or don't waste our time."
The leaders eventually accepted a compromise, shortly before 3am on Friday, under which governments agreed to accept a share of the 40,000 figure over the next two years, on a voluntary basis – with Britain granted an opt-out. Other countries remained opposed to accepting refugees from Italy and Greece.


Italian anger was mainly directed at former Eastern bloc countries that were said to have reacted with surprising vehemence against a compromise deal to accept small quotas of refugees from the thousands that have arrived on the coasts of Italy and Greece, most of them fugitives from war zones in Syria and Eritrea.
At the summit dinner Mr Renzi, backed by German Chancellor Angela Merkel and François Hollande, the French President, continued to attack the reluctance of some EU states to share the load. David Cameron and Spain's leader, Mariano Rajoy, both of whom are opposed to quotas, also clashed with Mr Renzi.
At one stage European Commission President Jean-Claude Juncker hit out at Poland's former Prime Minister, Donald Tusk, who is President of the European Council. He accused Mr Tusk of siding with Eastern European countries rather than acting neutrally, declaring "your position is beyond your abilities".
The German Chancellor was said to have called for calm. But EU's foreign policy chief and former Italian Foreign Minister Federica Mogherini said: "If we're not able to share 40,000 refugees then we're not a Great Europe capable of involvement in world affairs. Our credibility abroad will collapse."
The leaders also agreed to resettle 20,000 refugees directly from countries such as Syria, Iraq or Afghanistan. Mr Juncker insisted his plan was still viable. "I don't care if it is to be done voluntarily or not because the most important thing was that we agreed on the 60,000," he said.
New figures from the UN refugee agency UNHCR show 63,000 migrants arrived in Greece by sea this year, and a further 62,000 in Italy. While the EU argues over refugee quotas, thousands more continue to arrive in southern Europe every week.
Some EU countries' sympathy for Italy is limited by the knowledge that relatively few migrants stay. Just 0.22 per cent of its population is made of refugees and asylum seekers, according to UNHCR data. The figures for France, Germany and Sweden are 0.46 per cent, 0.54 per cent and 2.06 per cent respectively. The UK figure is just 0.23 per cent.
Register for free to continue reading
Registration is a free and easy way to support our truly independent journalism
By registering, you will also enjoy limited access to Premium articles, exclusive newsletters, commenting, and virtual events with our leading journalists
Already have an account? sign in
Register for free to continue reading
Registration is a free and easy way to support our truly independent journalism
By registering, you will also enjoy limited access to Premium articles, exclusive newsletters, commenting, and virtual events with our leading journalists
Already have an account? sign in
Join our new commenting forum
Join thought-provoking conversations, follow other Independent readers and see their replies