Mediterranean migration crisis: Refugees face violence, vitriol and death at the new 'back door to Europe'
Exclusive: 'I'd rather die in that sea than stay here or go home': Migrants and would-be asylum seekers from across West Africa wait in Tangier for their turn to make dangerous crossing to Spain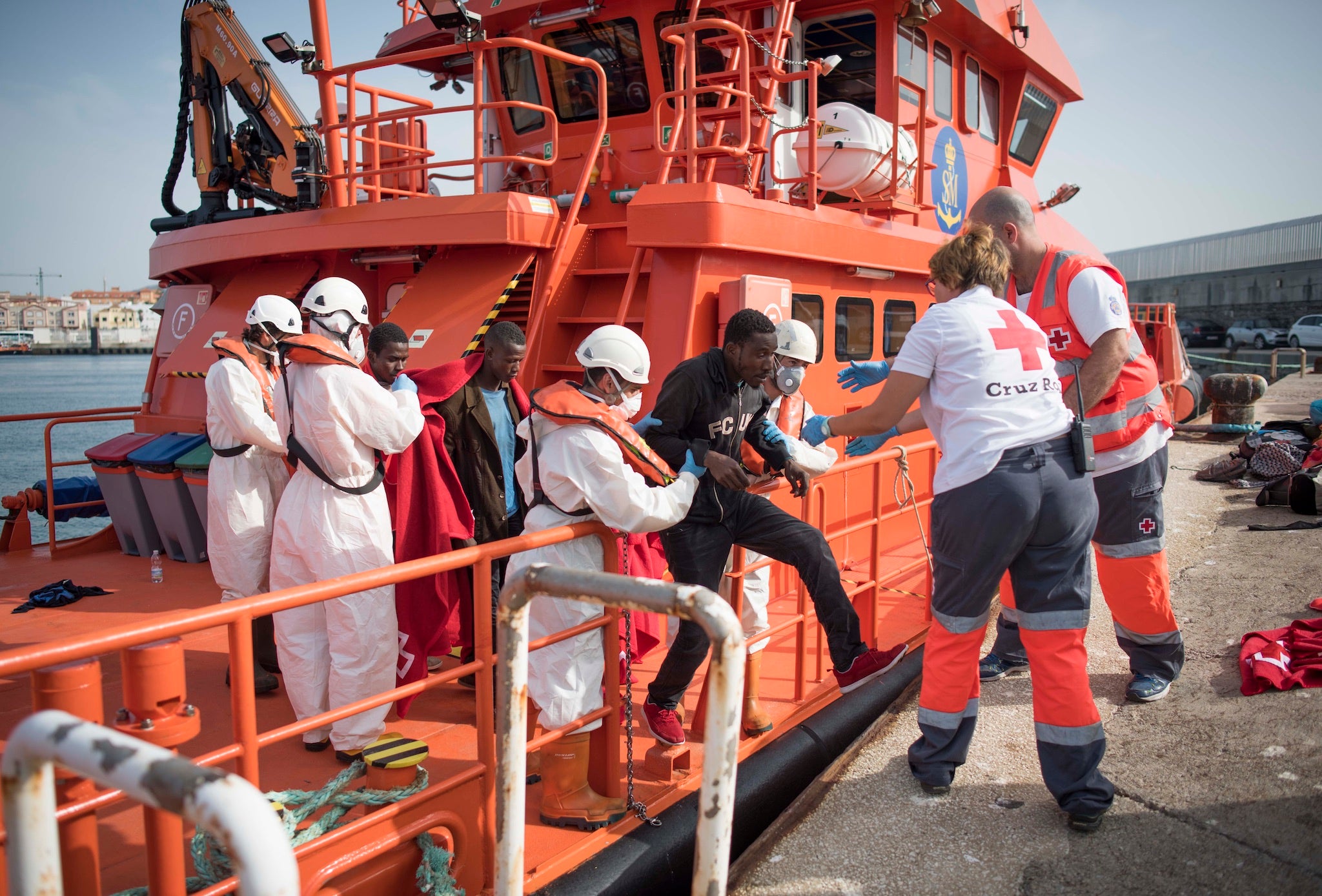 At a small Senegalese restaurant hidden away in the depths of Tangier's Old Town, a 28-year-old Sierra Leonean man with impeccable English tells The Independent about his "dream" of making the short sea crossing from Morocco to Spain.
Suddenly, out of nowhere, a Moroccan man lurches into Amy's Restaurant and lunges across the tables, swinging a firm blow at this reporter's side, shouting as he does so: "Sympathisant de nègre". The phrase needs little translation.
Several other diners leap out of their cracked plastic chairs to push the man back, and the bizarre incident is over as quickly as it began. But it is a sudden reminder of the strain that is created when a small city – Tangier has a population of fewer than a million – finds itself at the centre of Europe's migration crisis.
Amy's is packed, with refugees from across West Africa tucking into fragrant plates of yassa poulet and thie bou dienne. Talk is of a pantera – a makeshift rubber dinghy more at home in the swimming pools of Marbella's resorts than in the Mediterranean Sea – which has successfully landed near Algeciras on the Costa del Sol.
The Gambians, Cameroonians and Nigerians on board have made it to the promised land – Fortress Europe.
Adorning the walls of the restaurant are printouts of grainy selfies showing anxious yet clearly overjoyed young men being lifted out of their panteras, adrift in the Mediterranean, into larger vessels run by charities such as the Spanish Red Cross, the Cruz Roja.
Christopher, the Sierra Leonean, explains that when the migrants are picked up on the crossing the first thing they do is send a photo back to friends waiting in Morocco to show that, despite everything, they have finally made it.
Christopher's parents were among the 300,000 civilians killed in Sierra Leone's civil war between 1991 and 2002 and he himself was forced to fight in the conflict as a child.
He has lived in Tangier for three years after an arduous journey via Guinea, Mali, across the Sahara Desert and Algeria.
"There is very little for us to celebrate here so when our brothers make it, it is as if every one of us has made it," he says. Pointing to the walls, he laughs: "We all dream of making it onto the Hall of Fame."
The Morocco to Spain migrant route has exploded in popularity in 2017, with over 15,000 people so far rescued in the Strait of Gibraltar, marking a 338 per cent increase on last year alone.
The first reason for this is the perceived security situation in nearby Libya, once a major trafficking hub. Much of the country is now run by lawless militias, resulting in many migrants reaching their final departure destination only to be sold into slavery or forced into sex work.
This phenomenon made headlines when it was captured in images and videos by Reuters and CNN in November, news which reaches not just the West but also those back down the people-smuggling routes.
Secondly, the effectiveness of the Libyan coastguard in stopping boats from leaving has improved dramatically, ever since an agreement was signed in February that saw Italy provide money, training and equipment to the beleaguered Libyan fleet.
And so migrants are now increasingly making for Morocco, and Tangier in particular, where just 14 miles of sea separate them from the Spanish town of Tarifa.
Christopher travelled to Morocco with two friends from Sierra Leone. He tells me one has made it to France and successfully claimed asylum there, while the other died in the Mediterranean when his boat capsized in July.
"They called the Red Cross but no one was on duty, so they sunk," he says with a sigh.
Christopher invited The Independent to stay for two nights at his so-called "African House" with more than 20 other prospective migrants who all share the same dream: after escaping persecution and repressive regimes at home, they want to make it big in Europe.
"I'd rather die in that sea than stay here or go home," says his housemate Habas, 34, who is from neighbouring Liberia.
Habas is on crutches with a broken leg, the result of falling off the border wall in an attempt to get into the Spanish enclave of Ceuta. He has also made four unsuccessful attempts to cross to Spain via boat. Despite his latest injury, he says he is as determined as ever to reach Spain.
Diallo, 23, from Mali, describes how his wife was raped before his eyes and then kidnapped on the Algerian border after they ran out of money to pay smugglers.
He has no idea where she is now.
Alfonso, 27, from Cameroon, has a criss-crossing of scars covering his forehead and neck.
He says he was beaten up by the Moroccan police after they found him living in the forest outside of Tangier.
World news in pictures
Show all 50
Cruelty at the hands of Moroccans soon becomes a running theme. None of the men, despite some living in the country for more than five years, have steady jobs.
"Here in Morocco there is a modern-day apartheid, they treat us worse than the dogs in the street," Christopher says shaking his head.
"No one will hire us, the only work we ever get is occasional construction work, we can only make money when tourists take pity on us and we can work as guides or porters for them."
All claim they have experienced unprovoked violence at the hands of Moroccans, almost on a weekly basis, stories which ring particularly true after the assault in the café.
As sudden and unexpected as the attempted attack was, over the next 48 hours it is no less shocking to witness the group being spat at, sworn at and barked at by groups of locals on a regular basis.
Complicit in the treatment of the migrants are the Moroccan police who, it emerges, play a critical role in either blocking or assisting them in their arduous sea crossing.
"It is the biggest game you will ever play," laughs Dieudonné, a Cameroonian who has paid for a place on a potentially lethal pantera next week.
Dieudonné has had his hair done especially for the journey – he dreams of becoming "the biggest reggae star since Buju Banton" and wants to arrive looking the part.
It turns out the police themselves are the main source of the migrants' ramshackle plastic boats.
"They come around to our houses every week with a selection of photos and if a house has enough money they will pay for one – it is our very own Christmas catalogue," he says, deadpan.
The house tell me that a typical journey costs between £1000-1500 in a rubber "paddle" boat but for an extra £1000, they can pay the Moroccan police off.
"We tell them the beach we are going from and they just go elsewhere," Dieudonné says.
"The next night they will be back, but we are long gone, to freedom," he laughs.
Join our commenting forum
Join thought-provoking conversations, follow other Independent readers and see their replies