Medvedev vows to reopen controversial Khodorkovsky case
Shaun Walker
Tuesday 06 March 2012 01:00 Comments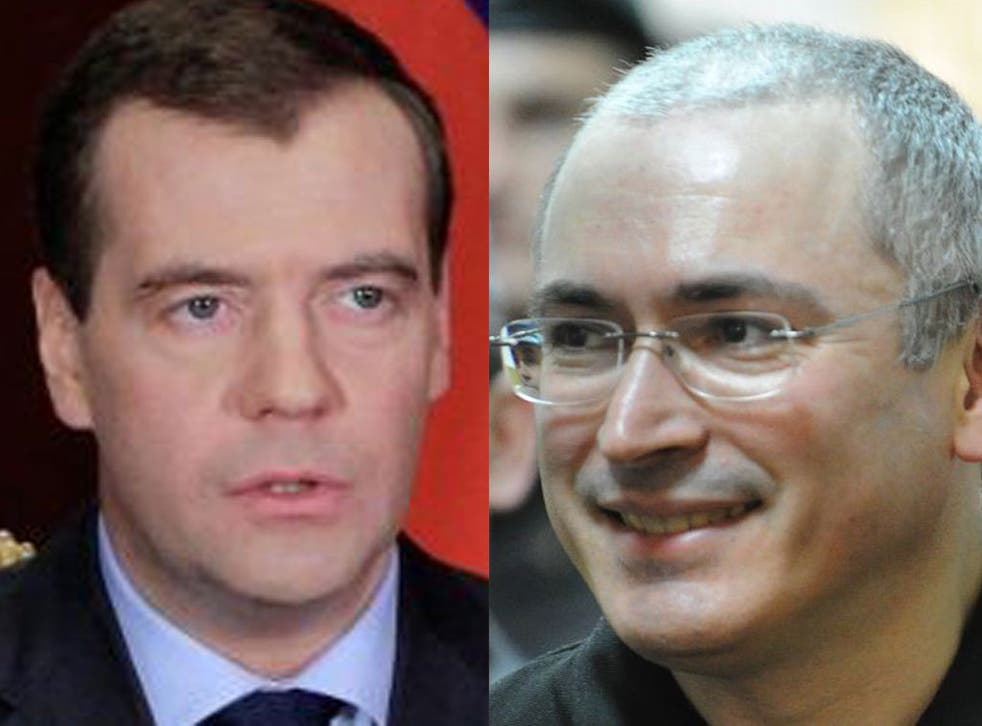 Muscovites went to bed on Sunday with Vladimir Putin breathing patriotic fire into the microphone in front of tens of thousands of flag-waving supporters.
But they woke up to something very different. The outgoing President Dmitry Medvedev, who stood beside Mr Putin during the victory speech, announced a surprise package of measures early yesterday. Several high-profile criminal cases would be re-examined, said Mr Medvedev, including that of Mikhail Khodorkovsky, formerly an oil tycoon and Russia's richest man. Khodorkovsky has been in jail since his arrest in 2003 and in late 2010 had his prison term extended until 2017 after a second trial.
His jailing is seen as one of the watershed events of Mr Putin's presidency. While few Russians initially had much sympathy for Khodorkovsky, many now see his incarceration as a symbol of the selective-justice system in Russia. Mr Medvedev also ordered the Justice Ministry to look into why the People's Freedom Party, an opposition group, was denied registration in the vote.
Mr Medvedev's announcement is clearly meant as an olive branch to the opposition, but there was scepticism yesterday about whether any real results would follow. As the judge was considering the sentence in Khodorkovsky's trial in late 2010, Mr Putin used a televised phone-in session to say he believed Khodorkovsky was guilty. "A thief should sit in jail," Mr Putin said.
Khodorkovsky's situation has been the subject of heated debates at the Kremlin, with some aides to Mr Medvedev privately keen to release the symbolic prisoner. But Mr Putin and a number of his key advisers have been equally adamant that there should be no amnesty for Khodorkovsky, whose Yukos empire was largely swallowed up by the state oil company Rosneft.
"Keeping Khodorkovsky... in prison today does the government far more harm," Khodorkovsky's lawyer, Yuri Schmidt, told Kommersant newspaper.
Register for free to continue reading
Registration is a free and easy way to support our truly independent journalism
By registering, you will also enjoy limited access to Premium articles, exclusive newsletters, commenting, and virtual events with our leading journalists
Already have an account? sign in
Join our new commenting forum
Join thought-provoking conversations, follow other Independent readers and see their replies