Mein Kampf returns: German ministers prepare to lift ban on publication of Adolf Hitler's controversial manifesto
Copyright on the text expires next year – and possible new law forbidding a reprint seems unlikely to gain support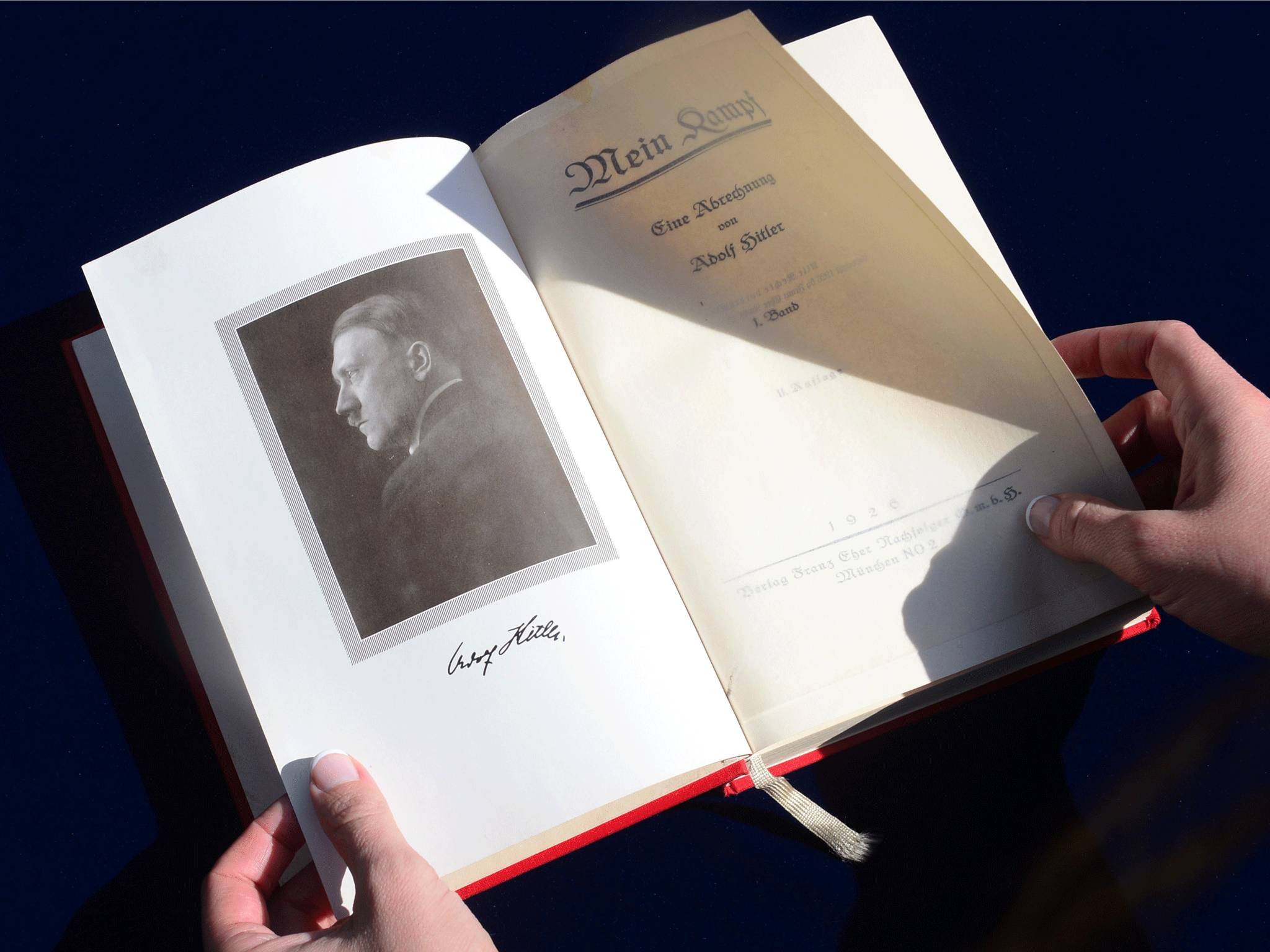 German politicians are meeting this week to discuss the seemingly inevitable prospect that Adolf Hitler's Mein Kampf will be published in the country for the first time since his death at the end of the Second World War.
Central government justice ministers were joined by those from the state of Bavaria, which has owned the books' copyright and enforced its absence in Germany and Austria for the past 69 years.
But at the end of 2015 it will have been 70 years since Hitler's death, meaning the copyright to Mein Kapf – and its effective ban – will expire.
Tomorrow, the conference in Rügen will debate whether a new law should be made specifically banning reprints of the book. But speaking to the German DPA news agency, Lower Saxony's justice minister Antje Niewisch-Lennartz said she was against the idea of a "special law geared only to the prohibition of a book".
The book has been reprinted several times outside the German-speaking countries and e-book versions have shot to the top of some bestselling charts meaning, Niewisch-Lennartz said, that is is available "on practically every corner" anyway.
Many in Germany nonetheless fear that allowing the text to go into the public domain will open the floodgates to a new wave of neo-Nazi editions of the work, and Niewisch-Lennartz admitted that for Jewish communities the idea of Mein Kampf returning to bookshelves in Germany would be "almost unbearable".
Bavaria has been preparing for this, and earlier this year the state said it would not support an absolute block on publication from 2016 onwards.
Instead, the state has backed the Munich Institute of Contemporary History to republish the book as a "commercially unattractive" academic copy with annotations to debunk and "demystify" the manifesto. The hope is that this "authoritative" version will discourage others from publishing their own – and any who do could be subject to existing anti-Nazism laws.
In a statement, the Bavarian justice minister Winfried Bausback said: "We owe it to the victims of the holocaust and their relatives to do everything we can to prevent the duplication and distribution of this ideological, inflammatory text."
Dieter Graumann, president of the Central Council of Jews in Germany, told The Local today that the thought of a new publication of Mein Kampf was "disgusting" and that it will remain "a pure anti-Semitic work of irrational hatred that should be forbidden for evermore".
"Regrettably and obviously we cannot prevent a new publication, since the copyright is about to expire," he said. "So if a publication cannot be avoided, it should be at least guaranteed that there is a scholarly edition which provides a scientific and critical analysis in order to demystify this horrible text."
Join our commenting forum
Join thought-provoking conversations, follow other Independent readers and see their replies