Melting snow being used by police to find cannabis farms in the Netherlands
Snow-free roofs can indicate the high temperatures needed to grow the drug
Lizzie Dearden
Tuesday 10 February 2015 13:31 Comments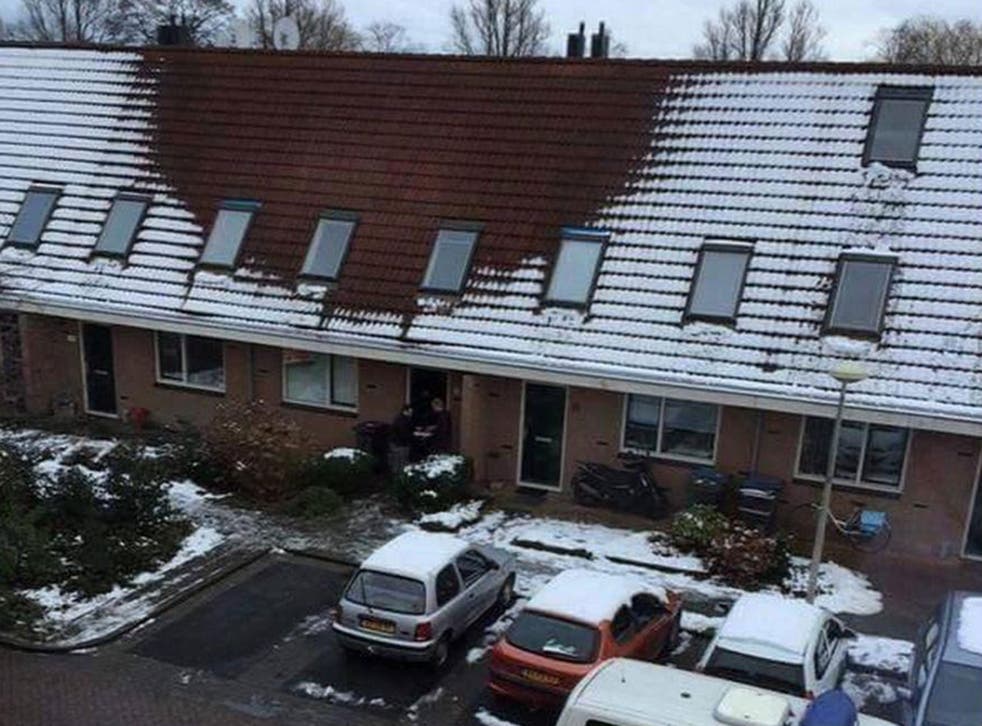 Cannabis growers are being arrested by Dutch police in their droves after being caught by melting snow.
The wintry weather is proving to be a surprising foil to drug lords in the Netherlands as the lack of snow on roofs can give them away.
The warmth required for cannabis farms usually makes them hotter than surrounding properties, meaning the one house in the street with a bare roof may have more inside than bad loft insulation.
"No snow on the neighbours' roof? You can report suspected cannabis farms anonymously," police in the city of Haarlem tweeted, urging people to be watchful.
The technique appears to be working, with arrests of illegal cannabis growers being recorded across the country since the wintry weather started.
In Zutphen, Gelderland, a farm containing 88 marijuana plants was found in a bedroom and in Arnhem on Wednesday, two properties were raided resulting in several arrests.
Again, snow proved to be the growers' undoing, with a statement from the Dutch police saying neighbours had noticed there was "no snow on the roof of the building, unlike surrounding properties", as well as detecting telling "odours".
On Monday, officers in Amersfoort uncovered an illegal farm containing 500 cannabis plants with an estimated street value of €50,000 (£37,000).
"Officers were investigating because the house was completely obscured and the roof was remarkably dry compared to other roofs in the street," a police spokesperson said.
"The plants were uprooted and destroyed and the farm was dismantled."
After Haarlem police called on people to report their neighbours' snow-free roofs, Twitter users complained that innocent families could be targeted if they had a loft conversion, for example.
The Netherlands is well-known for its liberal cannabis laws but attempts to limit the drug to personal use mean it is forbidden to grow more than five cannabis plants in a house and anyone carrying more than five grams in a public place can be arrested.
Cannabis around the world

Show all 13
With the UK receiving much less snow, heat-detecting equipment in helicopters is used to detect farms.
In 2013, West Midlands Police's Deputy Air Operations Manager, Martin Knowles, said: "Our thermal cameras can detect unusually high temperatures coming from properties several thousand feet away – anyone growing cannabis on a commercial scale, using rows of heat lamps, runs the very real risk their criminality will be rumbled from the skies."
Register for free to continue reading
Registration is a free and easy way to support our truly independent journalism
By registering, you will also enjoy limited access to Premium articles, exclusive newsletters, commenting, and virtual events with our leading journalists
Already have an account? sign in
Join our new commenting forum
Join thought-provoking conversations, follow other Independent readers and see their replies