Meredith Kercher's killer, Rudy Guede, says she tried to tell him something as she died and Amanda Knox was '101 per cent' there
He says he wrote on the walls in her blood as he tried to 'understand' what she was saying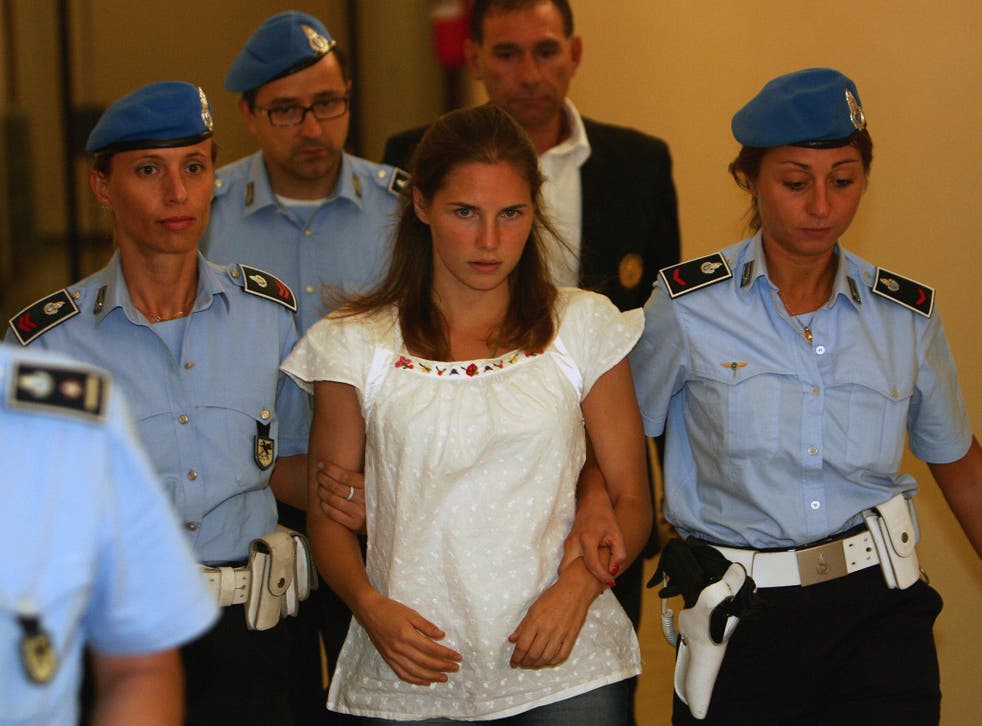 The man convicted of murdering the British student Meredith Kercher in Italy has said she was trying to tell him something in the moments before she died and that he is "101 per cent convinced" Amanda Knox was there.
Rudy Guede - who is currently serving 16 years in jail for the murder of the British student - said he had attempted to write on the walls with her blood to "understand" what she was saying.
Ms Kercher was found dead in the flat she shared with Amanda Knox in Perugia, Italy in November 2007 having been sexually assaulted and stabbed in the throat.
Speaking from prison in Viterbo, Italy, the 30-year-old told the Italian broadcaster Rai that the bedroom had been staged to look as a burglar had broken in and a rock had been used to break a window.
He said he and Ms Kercher had met the following evening at a college nightclub where they had shared a kiss.
He said he had accepted an invitation to come to her house the following evening but they did not have sex because neither had a condom.
He claims he left the room to go to the bathroom where he heard a scream and saw a man - who he described as "foreign" - in the house.
He said: "I am 101 per cent certain Amanda Knox was there".
Guede then described how the unnamed man had warned Knox they had been "discovered" and ran out of the building before saying "black man found, guilty found".
He said he then went into Ms Kercher's bedroom and saw "an abundance of blood".
He said he got a towel from the bathroom to staunch the bleeding from a wound on Ms Kercher's neck.
He described finding her lying there as a "heartbreaking moment" and said "she was trying to tell me something".
He said: "I wrote in blood on the wall to understand... fear overwhelmed me."
Guede - who is originally from the Ivory Coast - said he had then attempted to flee to Germany because he "was afraid they would not believe me".
In pictures: The trial of Amanda Knox and Raffaele Sollecito

Show all 14
He said: "When I was found in the house of the crime I fled because I was afraid.
"No one would believe me. I thought: Negro found guilty. The subsequent investigations, conducted ​​badly, have shown that I was right."
Police have always maintained that Guede did not act alone and Ms Kercher was killed in a "sex game gone wrong" which also involved Ms Knox and her then boyfriend Rafaelle Sollecito.
Ms Knox and Mr Sollecito were initially also convicted of Mr Kercher's murder in 2009 before being acquitted two years later.
The acquittal was then dismissed by the Italian Supreme Court in 2013 who ordered a retrial where they were subsequently convicted again.
A final appeal acquitted them once more in March last year.
Register for free to continue reading
Registration is a free and easy way to support our truly independent journalism
By registering, you will also enjoy limited access to Premium articles, exclusive newsletters, commenting, and virtual events with our leading journalists
Already have an account? sign in
Register for free to continue reading
Registration is a free and easy way to support our truly independent journalism
By registering, you will also enjoy limited access to Premium articles, exclusive newsletters, commenting, and virtual events with our leading journalists
Already have an account? sign in
Join our new commenting forum
Join thought-provoking conversations, follow other Independent readers and see their replies