Meredith Kercher murder: 'I don't regret kissing Amanda Knox' says ex-boyfriend Raffaele Sollecito
But his 'life is now on hold' as he awaits a retrial over Meredith Kercher's murder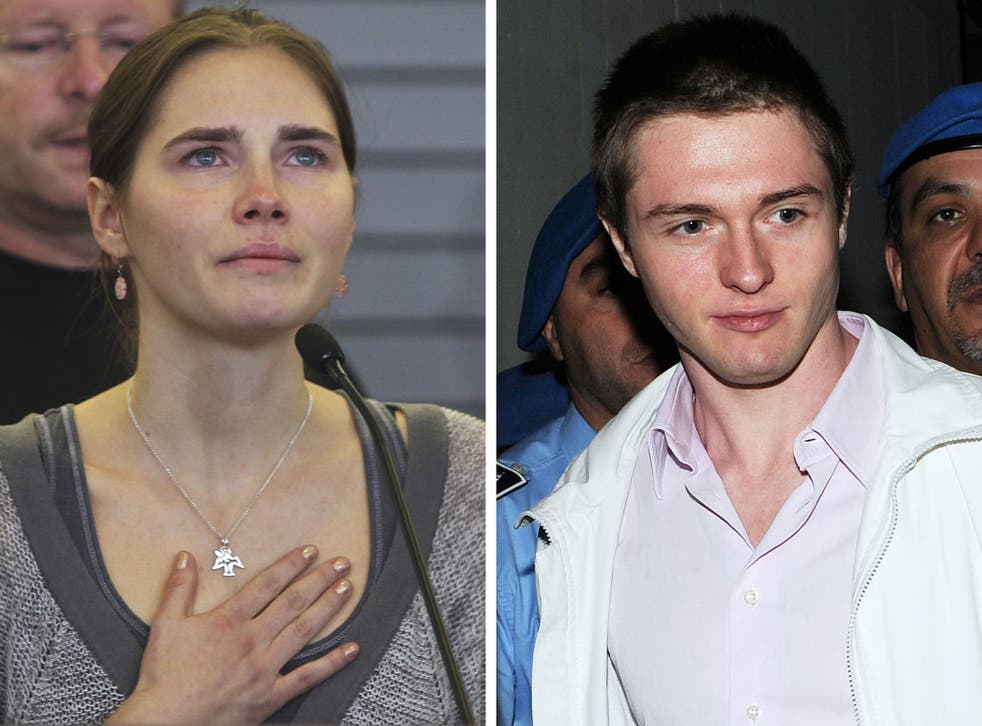 The former boyfriend of Amanda Knox has described his life as "on hold" as he faces a retrial over the murder of British exchange student Meredith Kercher.
Raffaele Sollecito has denied any involvement in the killing of Ms Kercher, a Leeds University student who was discovered with her throat slashed in the bedroom of the house in Perugia in central Italy she shared with Miss Knox, an American student in November 2007.
Italy's highest criminal court, the Court of Cassation, ruled in March that an appeals court in Florence must re-hear the case against Miss Knox and Mr Sollecito for the murder of 21-year-old Miss Kercher, from Coulsdon, Surrey.
When asked if he regretted being filmed kissing Amanda Knox shortly after Meredith's death, he said "no" and blamed the media for "twisting" the event.
"No, they were the media who twisted that event [sic], because the kisses, they were just two or three at most, they repeated the kisses all over again to make to feel it was half an hour of kissing., I just wanted to comfort her, she was alone by herself, I felt the need to protect her", Mr Sollecito told ITV's Daybreak.
"Every tiny little day, it is constantly on my shoulder, because these trials, this kind of situation, has put my life on hold," he added.
"I cannot find a normal life, a job, a career or something to focus on instead of thinking about the trial, about the documents, about what will happen, about how to pay lawyers, how to pay my bills."
Speaking about his romance with Miss Knox, Mr Sollecito said: "It was a teenage romance, it was a blossoming, we were eager to date each other, to see each other every day. But as soon as we dated and we started to have this romance, it was shut down, it was destroyed by events and circumstances."
Whilst in prison, he said they: "shared letters, we kept each other positive, we gave each other strength. We were writing about daily circumstances, of the suffering.
"We are in touch," he added.
"We are friends but nowadays my life is very different than hers because she lives with her family, with her parents, she is under United States law and rules.
"She is not forced to make decisions like going back to Italy. My situation is very different because I have to stand by Italian rules.
Mr Sollecito came under heavy criticism in June after setting up a website requesting donations to help pay the legal costs for his re-trial on 30 September, despite releasing a book about his experiences since Ms Kercher's death.
Mr Sollecito has defended himself against claims that he and Miss Knox had made money out of the tragedy by selling their stories and claimed that he wanted Italian prosecutors to read his book to find out the facts about the case.
Miss Knox's lawyer revealed last month that she will not return to Italy for the new trial, although the Italian government could appeal to the United States for her extradition.
Speaking to CNN in May, Ms Knox said she was afraid to go back to Italy for fear of being incarcerated again.
She said: "I don't want them to all of a sudden do a court order while I'm there [...] and the prosecution ask that I be put in preventative detention again."
The pair were found guilty in December 2009 of murdering Miss Kercher, with Miss Knox sentenced to 26 years in prison and Mr Sollecito 25.
But, after an 11-month appeal in a Perugia court, both convictions were quashed in October 2011 after an appeals court found the prosecution lacking and criticised large swathes of the case against them.
Evidence used by the prosecution was ripped apart by the Italian appeals court, which noted that the murder weapon was never found, DNA tests were faulty and prosecutors provided no motive for murder.
It had been claimed that Miss Kercher was the victim of a drug-fuelled sex game gone awry.
Miss Knox and Mr Sollecito have consistently protested their innocence and claim they were not even in the apartment on the night she was murdered.
Rudy Guede, a small-time drug dealer from the Ivory Coast, is the only person who remains imprisoned over the case in Italy. He is serving a 16-year sentence for sexually assaulting and killing the British student.
He has always admitted being present at Miss Kercher's home on the night of the murder but denied involvement.
Mr Sollecito said he remained in contact with Miss Knox but there was no chance of their romance being rekindled.
"We have moved on. We have different lives, different paths.
"I know that if I didn't meet her I would have a different destiny. But it doesn't change the fact that the mistakes weren't made by her."
Join our new commenting forum
Join thought-provoking conversations, follow other Independent readers and see their replies