MH17 crash: Putin claims there is 'no proof' Russia is responsible for downing jet over Ukraine
Murder charges and international arrest warrants have been issued against three Russian citizens and one Ukrainian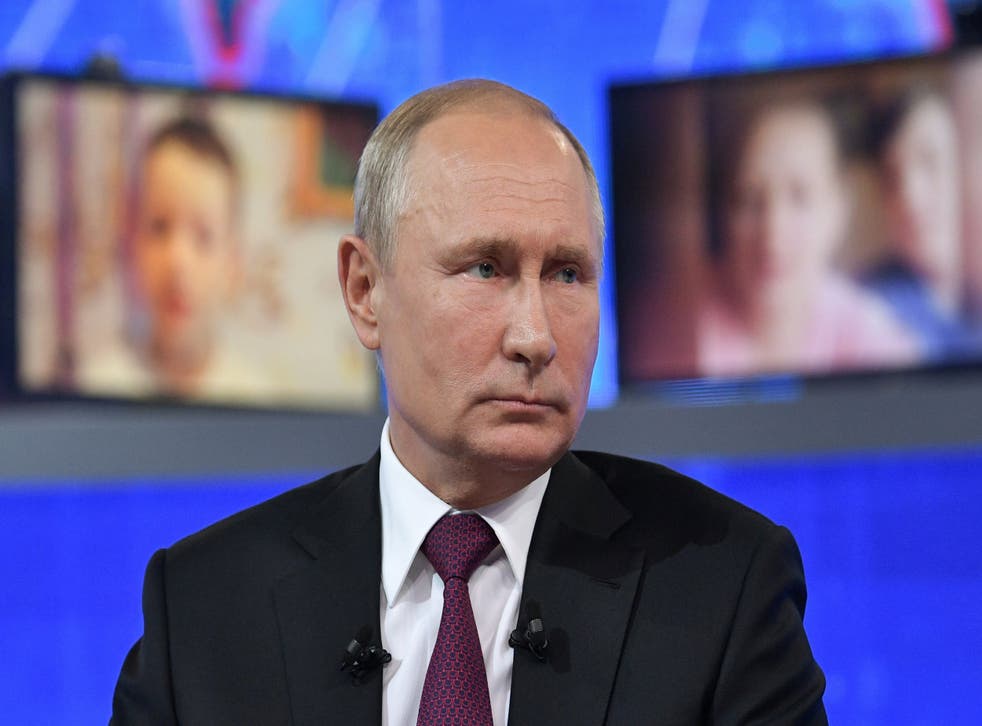 Vladimir Putin has angrily rejected the findings of Dutch investigators linking the Kremlin to the downing of Malaysia Airlines flight MH17 over eastern Ukraine.
Responding to the murder charges and international arrest warrants issued against three Russian citizens and one Ukrainian by the Joint Investigation Team, Mr Putin said Moscow "categorically" denied any blame. "The evidence presented proves nothing," he said.
Fifteen crew members and 283 passengers were killed when the plane was shot down in July 2014.
The Russian president made the comments to journalists immediately after his annual "direct line" televised phone-in.
Remarkably, he chose to make no mention of the affair during the previous four hours and eight minutes of this carefully choreographed event. That omission seemed to reflect nervousness about how it might play out on domestic TV screens.
The essence of Mr Putin's marathon conversation with the nation, now in its 17th instalment, has not changed since 2001. Fielding several dozen questions from supposedly random citizens, the president is shown to be Russia's only all-powerful problem-solver. Last year, tweaks were made to emphasise a "good tsar, bad boyar" dynamic, with ministers and governors hitched up on video link, ready to receive remarks and admonishment from the president.
But the show's format – and the understanding that underpins it – are showing signs of age.
Thursday's phone-in took place against a background of historically low polling numbers, unpopular pension reforms and an economic slump translating to an 11 per cent drop in real-terms income over five years. The popularity of the show itself is under question, with a year-on-year drop in audience and in the number of questions submitted.
World news in pictures

Show all 50
Answering a total of 81 questions on Thursday, Mr Putin offered a combative, if not always consistent, defence of his system.
No, the Q and A was not a "fake" show "engineered by security services", he said. He was interested in hearing from real people with real problems. Yes, he understood life had "got harder" for Russians and wages were sometimes low. But western sanctions were largely to blame for these ills – even though, no, they had not actually affected the Russian economy in any serious, negative way.
"I ask that people sitting on the internet or in front of the TV do not get angry with me," he said.
This direct line was notable for its almost exclusive focus on the domestic agenda, a striking change given Mr Putin's well-known preference for the international arena.
He pressed on the nation's sorest acupuncture points: poverty; utility bills; decaying healthcare; bureaucrats' high wages; military expenditure abroad; and the stinky rubbish dumps being built in the regions for Moscow's waste. No question was "too menial", he said at one point, "if it affected the daily lives" of his compatriots.
With accommodating anchors and soft-ball questions – in one instance, the president was asked for permission to raise a toast to his health – Mr Putin presented himself as a caring, empathetic leader of the nation.
At the same time, he kept a hard line on the issues closest to liberals' hearts.
Asked, for example, if the arrest of journalist Ivan Golunov on bogus drugs charges should lead to a reform of an oft-abused law, he shattered any hopes of change. There were "lots" of guilty verdicts, he admitted, but that did not mean the Kremlin should relax the law.
"There can be no liberalisation," he said.
Mr Putin also defended the Kremlin's infamous "offending state symbols" law, which has seen bloggers prosecuted for criticising the president. The law was, he said, "misunderstood". It was never the intention to use it to shield him from criticism. That was a "citizen's basic right" – besides, he claimed, such behaviour was "already criminalised in Europe".
Occasionally, a sharp question found a way through. About three hours in, one young man raised the issue of inflated military spending. "Who are you preparing us for war against?" he asked. The calibrated answer mixed belligerence with fiscal caution. Russian remained committed to nuclear parity, Mr Putin said, but it would do so with falling budgets.
Wanting peace meant preparing for war, he added, saying: "Whoever doesn't want to feed his own army will end up feeding someone else's."
Mr Putin's other rare forays into foreign policy centred on his traditional adversary, the United States. Washington was at the forefront of disrupting the world order and fanning tensions with Iran, he said. The prospect of armed conflict with Tehran was, he said, a "catastrophe" waiting to happen and risked an unpredictable "spike in violence".
"Iran is a Shiite nation … ready to defend their country to the hilt," he said. "It's very difficult to assess what will happen if military forces are engaged."
But for all the geopolitical drama, the president's mind was focused closer to home. Not for a long time has Mr Putin engaged himself so obviously with the detail of domestic policy.
"It's clear that he thinks the rating problem is serious," said Tatyana Stanovaya, CEO of the political analysis firm R.Politik. "In previous direct line shows, Putin was half-dead, barely concerned with social issues. Today, we saw something of the old Putin, with figures at his fingertips, and showing empathy and sympathy for those in dire straits."
But while his system has shown unexpected weakness in recent weeks – with enforced climb-downs in the decisions to charge Mr Golunov and to build a cathedral on a public square in Yekaterinburg – Mr Putin today made clear that he would not make a habit of reverse gear.
"Putin presented himself as an advocate for his system," Ms Stanovaya said. "His message was that everything is actually OK. If people are unhappy, it's either a local story or they are being emotional.
"It isn't the first time his view of domestic reality has contrasted sharply with that of experts and the political elite."
Register for free to continue reading
Registration is a free and easy way to support our truly independent journalism
By registering, you will also enjoy limited access to Premium articles, exclusive newsletters, commenting, and virtual events with our leading journalists
Already have an account? sign in
Register for free to continue reading
Registration is a free and easy way to support our truly independent journalism
By registering, you will also enjoy limited access to Premium articles, exclusive newsletters, commenting, and virtual events with our leading journalists
Already have an account? sign in
Join our new commenting forum
Join thought-provoking conversations, follow other Independent readers and see their replies