MH17 investigators release phone call records linking Russian authorities to suspects
This is the strongest evidence yet of links between the Kremlin and anti-Kiev fighters in Ukraine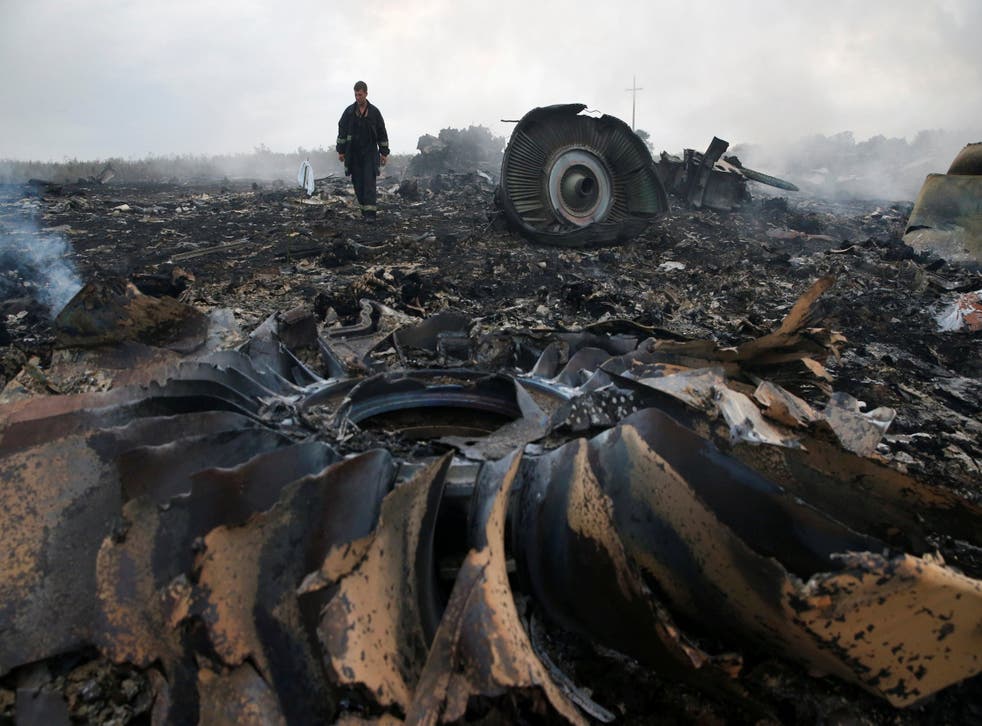 Phone call records released by investigators looking into the 2014 downing of Malaysia Airlines Flight 17 over eastern Ukraine have provided the strongest evidence yet of links between the Kremlin and anti-Kiev fighters in the region.
The calls show a clear line of command from Moscow to leaders of separatist groups and were made in late 2014 – a time when the most intense fighting of the conflict was taking place.
In a fresh appeal for witnesses on Thursday, the multi-national Joint Investigation Team (JIT) published intercepts of these secure communications between Russian officials and figures in the self-declared Donetsk People's Republic (DNR).
In one call, then-prime minister of the DNR Alexander Borodai says he answers only to bosses in the kontora, or firm. This is a colloquial expression for the FSB, Russia's security agency, used by its operatives.
One of Mr Borodai's interlocutors in Moscow was Vladislav Surkov, a presidential aide and point man for the Kremlin's undercover actions in the region. A series of intercepted conversations, made over not-quite-secure encrypted lines, shows the two men discussing appointments to ruling bodies of the supposed rebel authorities.
Another intercept reveals a July 2014 conversation between a local commander in Makiivka, to the east of Donetsk, and his senior. This exchange, which took place in the context of Ukrainian military advances, appears to indicate Russian plans to send reinforcements to the region.
In pictures: MH17 final report

Show all 7
"Men are coming with a mandate from Shoigu," the commander is heard saying. Sergei Shoigu was and remains Russia's defence minister.
A separate call links Mr Borodai to a Russian general identified only by name and patronymic "Vladimir Ivanovich". In it, the separatist leader asks if it is possible to send helicopters to attack positions near Mariinka, to the west of Donetsk. Other intercepted calls link Vladimir Ivanovich to Andrey Serdyukov, a commander in Russia's Southern Military District.
Ukraine has long argued that Russian weaponry, personnel and planning played a key role in the country's five-year war.
The JIT was set up in response to the downing of MH17, which resulted in the loss of 298 lives in the skies above Donetsk region on 17 July 2014.
The Dutch-led team pinned the blame on Russia as early as 2014, providing details of the BUK anti-aircraft missile used and lines of command two years later.
Moscow has denied military involvement in eastern Ukraine and responsibility for the MH17 attack despite significant bodies of evidence to the contrary.
Register for free to continue reading
Registration is a free and easy way to support our truly independent journalism
By registering, you will also enjoy limited access to Premium articles, exclusive newsletters, commenting, and virtual events with our leading journalists
Already have an account? sign in
Register for free to continue reading
Registration is a free and easy way to support our truly independent journalism
By registering, you will also enjoy limited access to Premium articles, exclusive newsletters, commenting, and virtual events with our leading journalists
Already have an account? sign in
Join our new commenting forum
Join thought-provoking conversations, follow other Independent readers and see their replies