MH17 report: 298 victims remembered as Dutch Safety Board report reveals cause
A separate criminal investigation is being conducted into 'blame and liability' for the disaster
Lizzie Dearden
Tuesday 13 October 2015 10:24 Comments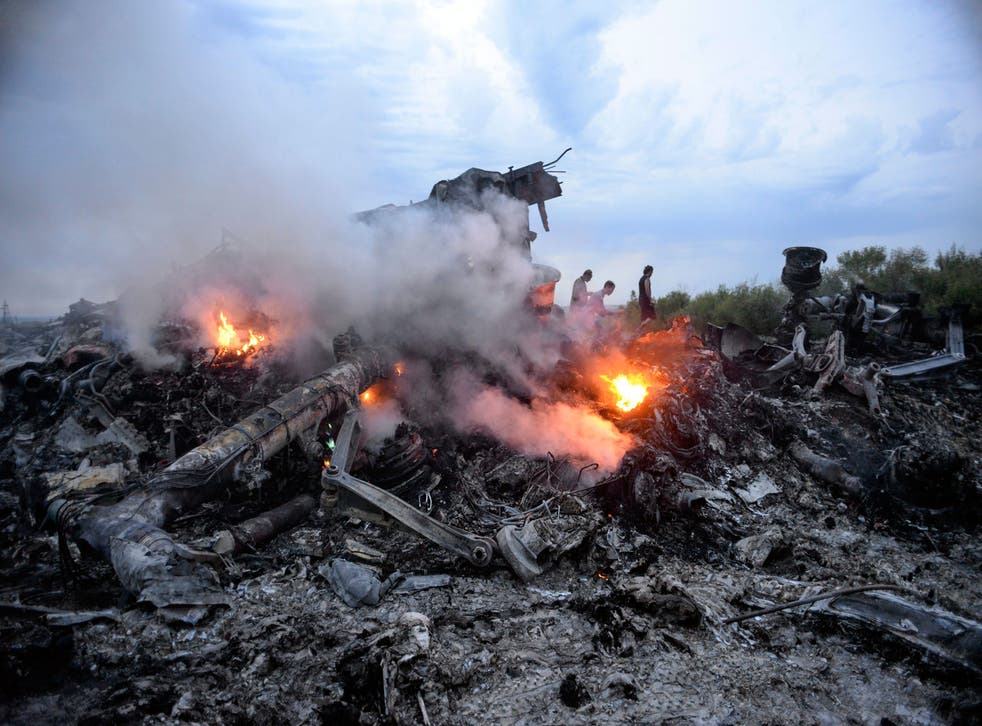 The final report into the downing of flight MH17 is due to be released today by the Dutch Safety Board (DSB).
Families of the 298 people killed when it crashed in eastern Ukraine on 17 July 2014 have awaited a verdict on the cause of the disaster for 15 months, and some Dutch relatives had to wait four days just for confirmation their loved ones had died.
The report will not deal with "blame or liability" for the crash, which is being investigated in a continuing criminal inquiry by the Dutch national prosecutor's office.
Here are the names of some of the victims and their stories:
You can find the full list of victims in the Malaysia Airlines passenger manifest here.
UK: 10
John Alder, 63
A lifelong Newcastle United supporter who was travelling to see the club play on a preseason tour of New Zealand.
John Allen
The lawyer died alongside his Dutch wife Sandra Martens and their three sons Christopher, Julian and Ian, who were all listed as being of Dutch nationality.
Stephen Anderson, 44
The former RAF search and rescue co-ordinator grew up and worked in Scotland before moving to Penang in Malaysia with his wife Joanna.
Robert Ayley, 28
The married father-of-two, was British-born but had settled in New Zealand and was returning home following a trip to Europe.
Cameron Dalziel, 43
The helicopter rescue pilot is understood to have been South African, but was travelling on a British passport.
Andrew Hoare, 59
He died with his Dutch wife and their two sons Friso and Jasper, who were 12 and 14 and of Dutch nationality.
Richard Mayne, 20
The student from Leicester, was studying maths and finance at Leeds University, where he was a member of the rugby union club and Raise and Give society.
Ben Pocock, 20
The student from Keynsham, Bristol, was a s international business degree student at Loughborough University who had been flying to study abroad at the University of Western Australia.
Liam Sweeney, 28
He was also travelling to see Newcastle United's pre-season tour.
Glenn Thomas, 49
The former BBC journalist had been a media officer for the World Health Organisation in Geneva for more than a decade and was travelling to an international Aids conference.
Netherlands: 192
Dafne Nieveen, 37
She worked as a language teacher in Perth, the city she'd called home for four years.
Marco Grippeling, 48
He lived in Melbourne where he worked as an IT security consultant. His wife, Angela, had been holidaying with him but took an earlier flight back to Australia.
Emiel Mahler
He lived in Melbourne where he worked in the finance sector.
Gerry Menke
He owned an abalone pearl company in Mallacoota, in eastern Victoria.
Hans van den Hende
He and his wife, Shaliza Dewa lived in Australia and were travelling with their three children Piers, 15, Marnix, 12, and Margaux, eight.
Malaysia: 44
Wan Amran Bin Wan Hussin, 50
Flight captain
Eugene Choo Jin Leong, 45
Flight captain
Ahmad Hakimi Bin Hanapi, 29
Flight vice-captain
Muhamad Firdaus Bin Abdul Rahim, 27
Flight vice-captain
Mohd Ghafar Bin Abu Bakar, 54
Crew member
Dora Shamila Binti Kassim, 47
Crew member
Azrina Binti Yakob, 41
Crew member
Lee Hui Pin, 42
Crew member
Mastura Binti Mustafa, 40
Crew member
Chong Yee Pheng, 40
Crew member
Shaikh Mohd Noor Bin Mahmood,44
Crew member
Sanjid Singh Sandhu, 41
Crew member
Hamfazlin Sham Binti Mohamed Arifin, 42
Crew member
Nur Shazana Binti Mohamed Salleh, 31
Crew member
Angeline Premila Rajandaran, 30
Crew member
Elaine Teoh, 27
She studied at Melbourne University and was on her way to a wedding in Malaysia.
Australia: 27
Itamar Avnon, 27
The dual Dutch-Israeli national was a student at Melbourne's Swinburne University, and had been visiting his family in Amsterdam and attended a wedding in Israel.
Francesca "Frankie" Davison, 54
She was a teacher and worked with disadvantaged communities in Sri Lanka.
Liam Davison, 57
He was an award-winning novelist, teacher and keen cyclist. They had two children.
Gary Lee
He ran a Chinese restaurant in Melbourne after moving from Malaysia in the 1970s.
Mona Lee
A schoolteacher. The couple had two daughters.
Albert and Maree Rizk
The husband and wife from Sunbury, north of Melbourne, were returning to Australia after a month-long holiday in Europe.
Roger and Jill Guard
The doctors, were returning to Australia after holidaying after a medical conference.
Howard and Susan Horder
Retired couple, both 63, had been travelling in Europe.
Helena Sidelik, 56
She was returning home after attending a friend's wedding in Amsterdam, and three weeks in Greece.
Nick Norris, 68
He was returning to Australia with his three grandchildren while their parents remained in Amsterdam.
Mo Maslin, 12
Evie Maslin, 10
Otis Maslin, 8
Edel Mahady, 50
The mother of two was returning to Perth after visiting her grandmother in Ireland.
Arjen Ryder
He worked for the Department of Agriculture.
Yvonne Ryder
The teacher had been on a seven-week holiday in France and the Netherlands.
Michael Clancy
The retired teacher was returning to Australia after a three-week holiday.
Carol Clancy
She had just celebrated her birthday.
Jack O'Brien, 25
He was returning to Sydney after a seven-week holiday.
Victor Oreshkin, 29
He was returning home to Sydney after a five-week trip to Europe.
Sister Philomene Tiernan, 77
The Catholic nun taught at a Sydney school and had been returning to Australia after attending a retreat in France.
Wayne Baker, 55
He was returning home from a holiday in Europe with his wife, Theresa.
Theresa Baker, 53
The couple lived in Darwin and had two sons.
Emma Bell
A teacher at the Maningrida College in Arnhem Land, Ms Bell had been spending the school holidays in Europe before returning to the Northern Territory for the new school term. She had grown up in Lithgow in NSW.
In pictures: MH17 final report

Show all 7
Indonesia: 12
Hadiono Gunawan
Yodricunda Theistiasih
Ketut Wiartini
Yuli Hastini
Vickline Kurniati Kardia
Supartini
Hendry
Gerda Leliana Lahendra
Wether Smallenburg
Jane M Adi Soetjipto
Wayan Sujana
Clarice Yelena Huizen
Fatima Dyczynski, 24
Her family moved to Australia when she was a teenager and she was travelling home after five years studying for a master's degree in aerospace engineering in the Netherlands.
Olga Ioppa, 23
The medicine student was travelling with her Canadian boyfriend, Andrei Anghel, for a backpacking trip through Bali and South East Asia.
Ina Kroon, 53
The optician lived in the Netherlands with her Dutch husband, Henk Kroon, and the couple were on their way to Bali for a holiday.
Gabriele Lauschet, 48
The pre-school teacher worked at a German international school in Sydney, where she met her fiancée and became engaged five months before her death. She was on her way back to Australia after visiting her mother.
Belgium: 4
Jan Noreilde, 51
The financial director was on the way for a dream family holiday to Bali with his son, Steven, and Dutch wife Annemieke Hakse.
Steven Noreilde, 12
Died alongside his parents.
Liliane Derden, 50
She was born in Belgium but lived in Australia, where she had two grown-up daughters and a baby grandchild.
Benoit Chardome, 51
Brought up in Antwerp, he lived in New Zealand for more than a decade before moving to Bali. He was on his honeymoon with his Malaysian husband after they married in the Netherlands.
Philippines: 3
Irene Gunawan, 54
She and her two children were on a summer holiday.
Sherryl Shania Gunawan, 15
Darryl Dwight Gunawan, 20
Canada: 1
Andrei Anghel, 24
The medical student had been studying in Romania and was on his way to travel around South East Asia with his German girlfriend, Olga Ioppa.
New Zealand: 1
Mary Menke, 65
She died alongside her Dutch husband, Gerry Menke, who were returning home after celebrating Mr Menke's 70th birthday in France.
Register for free to continue reading
Registration is a free and easy way to support our truly independent journalism
By registering, you will also enjoy limited access to Premium articles, exclusive newsletters, commenting, and virtual events with our leading journalists
Already have an account? sign in
Join our new commenting forum
Join thought-provoking conversations, follow other Independent readers and see their replies