MH17 video: New footage from the aftermath of the crash released - 'There are bodies all over'
German reporter Billy Six released the video one year after the crash and after gaining the trust of local residents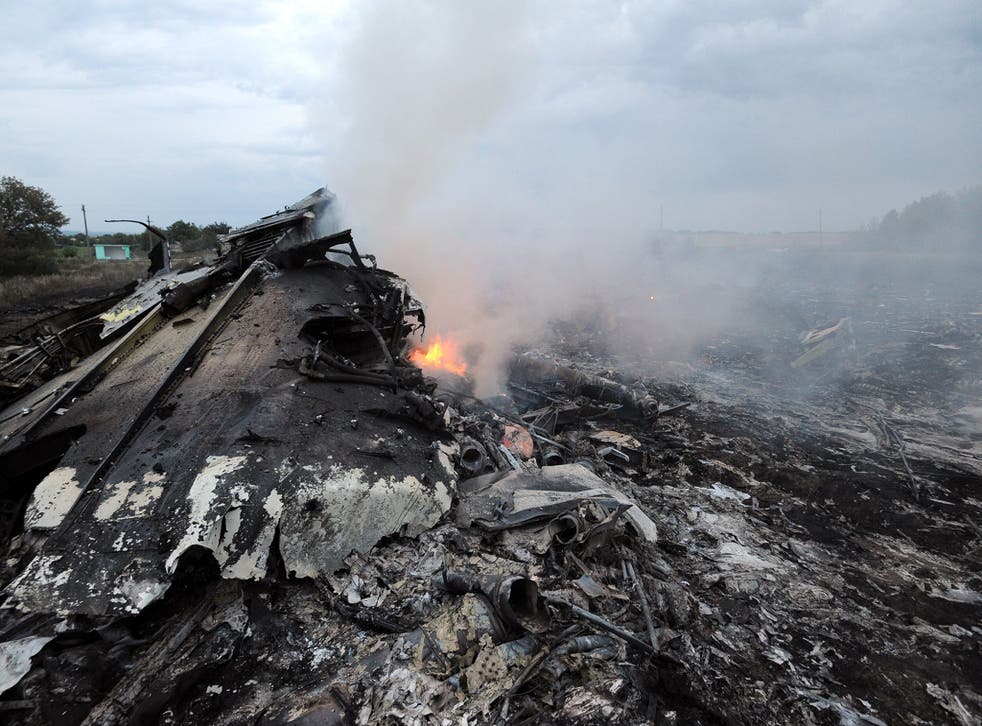 A German reporter has published new footage from the aftermath of the MH17 crash on 17 July 2014 that saw 298 on board killed.
The Malaysian Airlines flight, travelling between Amsterdam and Kuala Lumpur, was shot down by a surface-to-air missile over Ukraine. The West and Ukrainian officials believe that Russian solders or Russia-backed separatists destroyed the commercial airliner. Russia strongly denies such a claim.
In the newly published video by German reporter Billy Six, entitled "It's Raining Bodies," a couple is seen driving past the crash site shortly after the plane was shot down. Huge dark plumes of smoke fill the sky as the pair drive closer.
"What is all of this? Bus, plane, helicopter?" the man can be heard asking as they approach. Suddenly, what exactly has taken place dawns on the couple. "Damn, damn...Someone's leg…a woman. Don't look!"
In the text below the video that he published, Mr Six explains that witnesses at the crash site have been reluctant to talk to Western journalists because they believe they have "demonised the rebels" and published false stories such as the "teddy bear triumph picture" and the "stolen wedding ring."
Mr Six explains that the behaviour of reporters who initially visited the crime scene has left its mark on witnesses and that it took him several weeks of meetings with locals to gain their trust. Only then did the speak "very openly about everything what happened on July 17th 2014 ... and gave a lot of material to me for which I´m still searching the right platform."
On Monday, Russia introduced a UN resolution calling for those responsible for the MH17 crash to be brought to justice, however, the country also said it wanted the current tribunal that is investigating the crash to be broken up.
Additional reporting by the Associated Press.
Register for free to continue reading
Registration is a free and easy way to support our truly independent journalism
By registering, you will also enjoy limited access to Premium articles, exclusive newsletters, commenting, and virtual events with our leading journalists
Already have an account? sign in