Migrant crisis: Macedonia opens border with Greece as hundreds of desperate refugees spark police action after rushing the lines
Many migrants cried tears of joy as they began their next step to sanctuary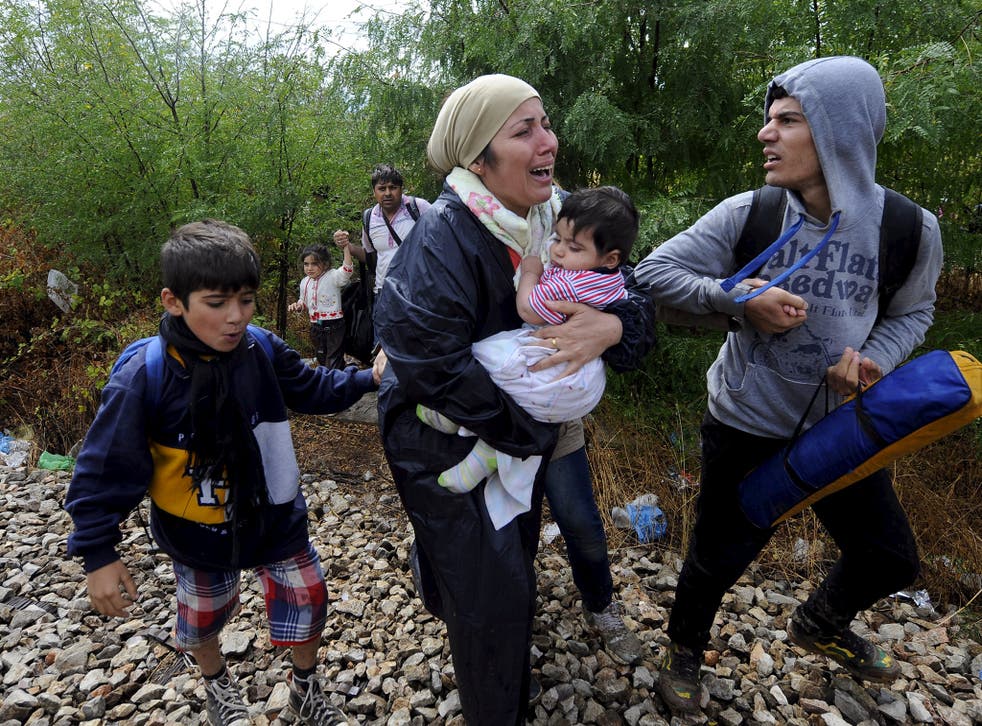 For a second day, they came. And, for a second day, they faced a wall of riot shields, razor wire and batons. But on Saturday something was different. As the Macedonian police waved a handful of exhausted refugees through from Greece, something snapped and hundreds rushed the lines, causing chaos and police retaliation in the form of beatings and volleys of stun grenades. Many were injured.
And yet they still came and, eventually, with the tide of humanity too much to hold, the Macedonians opened the border with Greece late on Saturday night. The police, who only moments before had swiped and batted at the crowds, simply stepped aside as thousands - men, women and children, many from Syria - streamed through, crying tears of joy as they began their next step to sanctuary and escape from the horrors of war in their own countries.
Such is the desperation of the refugees here in Gevgelija, Macedonia - soaking from the torrential rain that fell overnight, dogtired from the journey through Turkey and Greece, their lives destroyed by conflict and the deep poverty blighting their home countries - that the Macedonians, for all their tough talk of recent days, could not stop them. As word spread to other areas, hundreds began to sprint to the border, beckoning their friends and family to hurry up, many of them shouting "yallah", "thank you" and sometimes the names of the countries they were heading for.
By about 7pm, only a few hundred remained at Gevgelija rail station.
It is unclear if the border will stay open, or for how long. But it is certain that the events will not discourage others from following.
Fawaz, who was among the throng as it lurched for the border, told The Independent on Sunday: "We are used to this. In Syria, there are real bombs, this is for boys. But you are afraid in Syria when you see the bombs coming and houses with four floors collapsing in front of your P30 P29 eyes. One policeman asked me, 'If we don't allow you to enter, what will you do?' I told him I will never go, I have nothing to lose, if you want to kill me, kill me here. We are Palestinians from Syria, everywhere I go I am a refugee."
Rami, who worked in a theatre in Damascus, added: "The authorities don't realise that these people are stronger than they can imagine. What options do I have in Syria? We are not doing tourism here. All of us have degrees, we just need a country that accepts them."
The chaos began when police allowed a group of refugees with young children to cross the frontier from Greece. Crowds at the back pushed towards the shielded police wall. Many women, at least one pregnant, and children fell to the ground, apparently fainting after squeezing past the cordon.
The heavy rainfall on Friday night and throughout Saturday morning had worsened conditions as the ground became slick with mud.
Then thousands of others grabbed their chance to run across a field not protected by barbed wire to enter Macedonia. Police stun grenades did not stop the rush, even though they did make their mark on many of the refugees.
At least 25 injured people were brought to Gevgelija station by fellow refugees, new bruising apparent over old shrapnel wounds on some. Many children lost contact with their parents in the chaos and there were desperate calls for "Mama" and "Baba".
But constant pressure from the thousands of migrants on the razor-wired frontier eventually led to the police pulling back, a tacit admission of their inability to control the huge numbers coming to their border, despite being under orders to block their passage north towards the European Union.
On Friday, a day after Macedonia's government declared a state of emergency on the frontier to stop the human tide, police had fired their stun grenades and clashed with the migrants. At least 10 people were injured.
Both Greece and Macedonia have seen an unprecedented wave of migrants this year, most fleeing the wars in Syria, Afghanistan or Iraq. More than 160,000 have arrived so far in Greece, mostly crossing in inflatable dinghies from the nearby Turkish coast - an influx that has overwhelmed the Greek authorities and the country's small Aegean islands. Some 45,000 have crossed through Macedonia over the past two months.
Few, if any, of the migrants want to remain in Greece, which is in the grip of a financial crisis - or in impoverished Macedonia. Most head into the latter in the hope of cramming on to trains and heading north, through Serbia and Hungary, to more prosperous Germany, the Netherlands and Sweden.
On Friday night, the police allowed only small groups of families with children to cross the border by walking on railway tracks to the station in Gevgelija.
Those who could not cross spent the rainy and chilly night in the open with little food.
They massed close to some razor wire separating them from the Macedonian police. Some raised their babies above their heads to try to persuade the officers to let them through.
"These men are heartless," said Yousef, a Syrian refugee who gave only his first name, as he held a little wide-eyed girl with curly hair in his arms and pointed towards the police. "They don't care about our tragedy."
Macedonia/Greece Border Crisis

Show all 10
One police officer told the Associated Press news agency that the force was only following government orders.
"Until we receive a different order, the situation here will remain like this," said the man, who refused to be named.
As the heavy rain continued, some migrants took offtheir shirts, booing and shouting insults at the police in their camouflage fatigues. Others took shelter inside dozens of small tents or under a few trees on a muddy field.
Some days ago, there were more chaotic scenes at the Gevgelija train station as hundreds of migrants tried to board the trains.
The Macedonian police said they started blocking the refugees on the 30-mile frontier "for the security of citizens who live in the border areas and for better treatment of the migrants".
In the end, here at least, it was not enough.
And the tide will not subside. The Italian navy said that it had rescued a total of 1,700 people aboard five boats in the Mediterranean on Saturday, after receiving requests for help from nearly two-dozen vessels.
Register for free to continue reading
Registration is a free and easy way to support our truly independent journalism
By registering, you will also enjoy limited access to Premium articles, exclusive newsletters, commenting, and virtual events with our leading journalists
Already have an account? sign in
Register for free to continue reading
Registration is a free and easy way to support our truly independent journalism
By registering, you will also enjoy limited access to Premium articles, exclusive newsletters, commenting, and virtual events with our leading journalists
Already have an account? sign in
Join our new commenting forum
Join thought-provoking conversations, follow other Independent readers and see their replies