Mikhail Khodorkovsky arrives in Germany, a free man at last – but what will Vladimir Putin's enemy do next?
Mikhail Khodorkovsky flies to Berlin after release from jail confirmed by Putin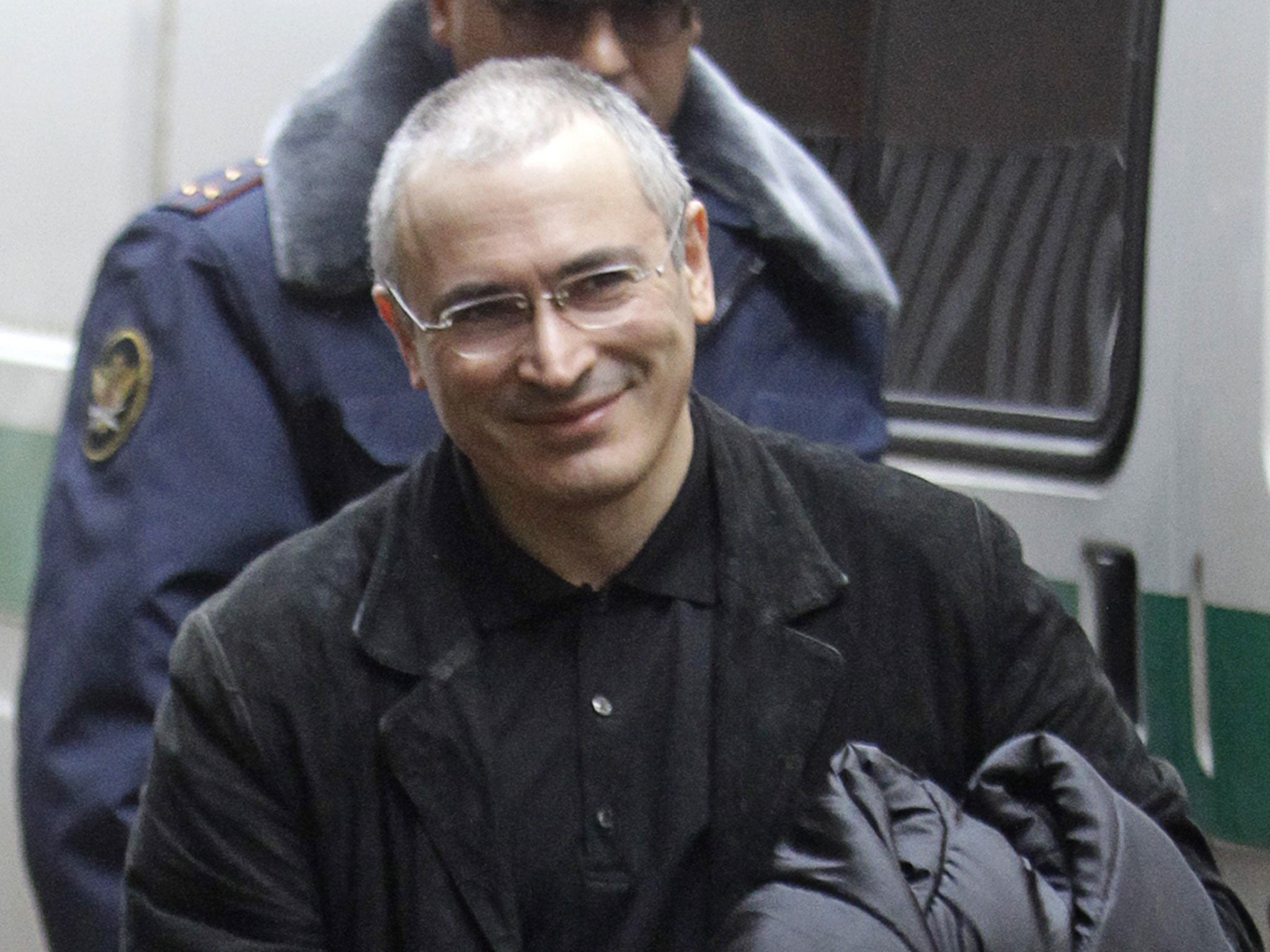 Mikhail Khodorkovsky will have had plenty of time during his decade behind bars to mull over what he planned to do upon his release. But less than 24 hours after being pardoned by President Vladimir Putin, Russia's most famous political prisoner gave little indication of what will come next.
The former Yukos oil company head, whose wealth once rivalled that of Bill Gates, was arrested in 2003 and spent more than 10 years in prison colonies on charges of fraud, tax evasion, embezzlement and money laundering. Many tied the harsh sentence he received to his political rivalry with Mr Putin.
Mr Khodorkovsky flew to Berlin on Friday and was due to be joined by his family on Saturday. His future is already the subject of fierce speculation. Aware that his actions will be viewed with great scrutiny in Moscow, he was tight-lipped about his plans.
"First of all, I plan to pay back my debts to my parents, my wife and my children, and I can't wait to meet with them," Mr Khodorkovsky said in a statement. "I'm waiting for the chance to celebrate the upcoming holidays surrounded by my family."
Others were not so coy about how they saw his future. Mr Khodorkovsky's willingness to speak out on political matters and fame mean he could to be a major opposition voice whether he returns to Russia or stays abroad. Some have already begun to refer to him as a Russian Nelson Mandela.
Civil society figures in Russia suggested he could play a role in the country's opposition movement, which has stagnated somewhat this year after a series of massive street protests in 2011 and 2012.
Although Mr Khodorkovsky had been Russia's richest man, his wealth fell to a fraction of what it once was after he was arrested and his Yukos company was broken up. His net worth plunged from $15bn in 2004 to $2.2bn in 2005, according to Forbes. That same year, Mr Khodorkovsky's lawyers said he had less than $100m to his name, although analysts pointed out that they could be exaggerating the extent of his losses before his trial.
At the same time, however, the political capital of the former oligarch has grown greatly. Amnesty International named him a prisoner of conscience, and he has continued to criticise the Putin regime from confinement. Since 2011, he has contributed columns on prison life to the Russian publication New Times.
Boris Nemtsov, the opposition leader who was recently elected to the Yaroslavl regional parliament, said in October that Mr Khodorkovsky had transformed from one of the oligarchs who are hated by many Russians into a "symbol of manliness, fortitude and integrity".
"When he goes free, he will become a role model for many people," Mr Nemtsov told the human rights organisation Memorial. "Khodorkovsky will of course engage in social activism. However, I don't think he will enter politics after his release."
"You can win your life but lose your destiny. Khodorkovsky hasn't lost his destiny," opposition figure and Russian rock musician Yuri Shevchuk said on Kommersant FM radio. "Maybe he'll become president, like Mandela."
The road to Russia is open to Mr Khodorkovsky after Mr Putin suggested during his press conference this week that there would not be a third Yukos trial to follow the two that put Mr Khodorkovsky behind bars. The President said that although the decision rests with Russia's investigative organs, he didn't "see any particular threats for anyone there". In addition, various characters have come forward with offers of assistance in Russia. Businessman German Sterligov said he would give Mr Khodorkovsky a parcel of land if the former oligarch converted to Russian Orthodox. (Khodorkovsky is Jewish.)
The doyenne of Russia's human rights scene, Moscow Helsinki Group head Lyudmila Alekseyeva, said she would be glad if Mr Khodorkovsky came to work at her organisation, but that he would likely find work elsewhere.
In a gesture that seemed the height of political cynicism, Igor Sechin, the Kremlin insider who heads state oil company Rosneft, said Mr Khodorkovsky could apply for a job in his company, adding that Rosneft would consider any "interesting" proposals from him. Rosneft scooped up Yukos's assets after Mr Khodorkovsky's company was broken up, effectively renationalising most of the Russian oil industry. Mr Sechin said that after the pardon request, he doesn't fear any lawsuits from Mr Khodorkovsky.
But given Mr Khodorkovsky's continued denial of his guilt in his statement yesterday, it seems unlikely he means to return to Russia. Notably, Mr Putin's best-known political opponent, opposition leader Alexei Navalny, has been beset with criminal cases over the past year. Although he was allowed to run in the Moscow mayoral election in September, his embezzlement conviction will bar him from politics in the future if it is not overturned. He once again faces prison new embezzlement charges.
Analysts speculated that the Kremlin may have offered its political foe a deal. Mr Khodorkovsky could request a pardon, or face further prison time under a third Yukos trial and risk not seeing his ailing mother again. When announcing the pardon, Mr Putin said he had taken into consideration the poor health of Mr Khodorkovsky's mother. His pardon request essentially justifies the prosecution of him, which many saw as politically motivated, since he had funded opposition parties and criticised Mr Putin over government corruption before his arrest. Many observers were shocked when Mr Putin announced that he would approve a pardon plea on Thursday, in a move apparently geared to improve the Russian president's image abroad ahead of the Sochi Winter Olympics in February. Mr Khodorkovsky was due to be released in August 2014.
Although Mr Khodorkovsky's mother was at home near Moscow when the news broke, his father told journalists that he and his wife would be in Germany this weekend.
Join our commenting forum
Join thought-provoking conversations, follow other Independent readers and see their replies