Mikheil Saakashvili trial: Wife of Georgia's former president appeals for help from Western countries
Judge turns down prosecutors' request to place Ukrainian opposition figure under house arrest, paving way for release from detention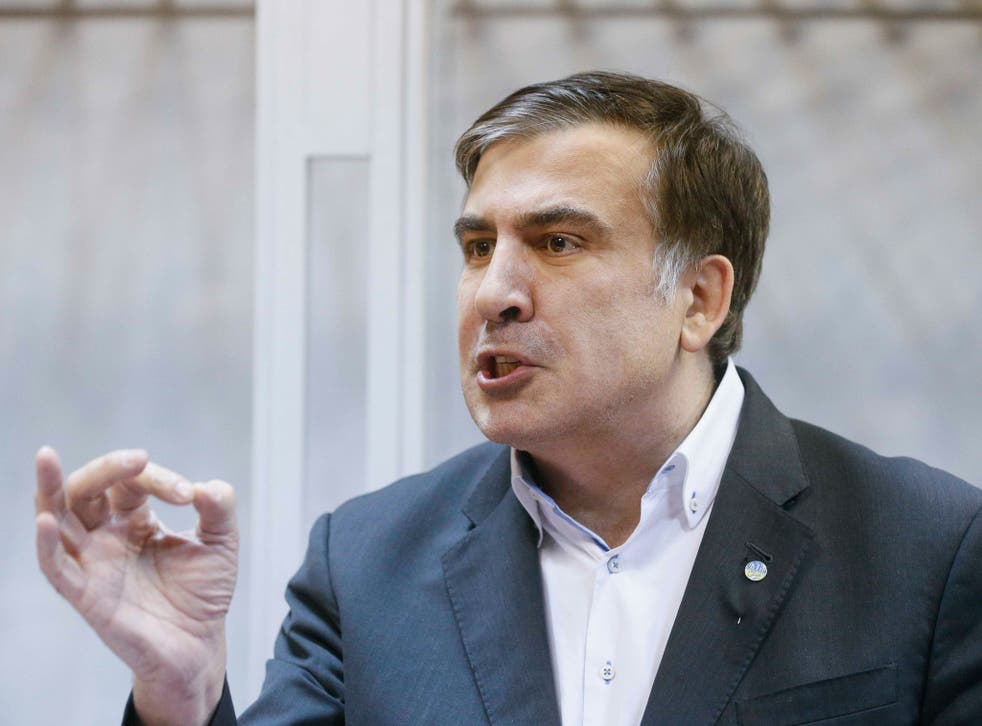 Mikheil Saakashvili's wife has asked Western powers for help as her husband appeared at a court in Kiev accused of being involved in an alleged Russian plot to overthrow Ukraine's President, Petro Poroshenko.
The appeal came as a Ukrainian judge turned down the prosecutors' request to place Mr Saakashvili under house arrest, paving the way for his release from detention. "The prosecutors' petition ... is dismissed," Judge Larysa Tsokol told the court.
Mr Saakashvili, the former President of Georgia, had been a friend and supporter of Mr Poroshenko until the two men fell out spectacularly amid bitter public acrimony, followed by weeks of stand-off leading to his arrest.
Mr Saakashvili was the leader of Georgia during the country's war with Russia nine years ago and has since been a vocal campaigner against the supposed expansionist policies of Vladimir Putin.
Mr Poroshenko, whose country has itself been engaged in a conflict against Russian backed separatists, had given Mr Saakashvili, who is accused of embezzlement and abuse in Georgia, Ukrainian citizenship and made him governor of Odessa before the allies became adversaries.
Sandra Roelofs, Mr Saakashvili's wife, told The Independent: "To accuse someone like my husband of working with Moscow is simply ridiculous: one only has to look at his experience with Russia to see that. It would be quite amusing if the matter was not so serious. He had, as people know, spent a long time warning Ukraine and the West about Russia.
"There was a lot of international criticism by the way his passport was taken away from him and we would like the West, the international community to ensure that the Ukrainian government behaves in a correct way in this. The atmosphere is now quite toxic, we are concerned that this may be the first stage of an attempt to deport him to Georgia. The charges against him in Georgia are politically motivated and this looks like an attempt to shut him up."
Thousands of Mr Saakashvili's supporters had marched in Kiev at the weekend calling for his release and for Mr Poroshenko to be indicted and there were scuffles outside the Pechersky District Court in Kiev between several hundred of them and the police when he appeared at his first hearing.
The former Georgian President told the courts: "I consider myself a prisoner of Ukrainian oligarchs." He asked his followers to remain calm adding "we don't want a confrontation". Yulia Tymoshenko, the former Ukrainian prime minister who had appeared in court to show solidarity with Mr Saakashvili, accused President Poroshenko of behaving like a dictator and suppressing dissent.
Dutch born Ms Roelofs, who has remained in Georgia after her husband went into exile, said: "He is on hunger strike at the moment. One can see from the photographs that he was brutally treated during the arrest, there are marks which are plain to view. He has got some medicine but he was not allowed to see a lawyer for the whole of Sunday and we need to make sure that he gets all the necessary help."
President Poroshenko gave Mr Saakashvili the governorship of Odessa with the remit to clean up a city which had become notorious for corruption and organised crime.
"Mikheil Saakashvili is my friend from our student years. I remember him as a strong and decisive person, and I have reason to trust him," Ukraine's president tweeted at the time
Mr Saakashvili claimed repeatedly, and publicly, that instead of backing his reforms, Mr Poroshenko was deliberately hindering them. Mr Poroshenko revoked Mr Saakashvili's Ukrainian citizenship while he was on a visit to the US. The former Georgian leader still feels deeply aggrieved.
"I was sabotaged in Odessa. At first the local mafia feared me, but then they began talking to their corrupt friends in Kiev and realised they had nothing to fear because all my efforts would be undermined," he told The Independent days before his arrest.
He declared in the interview: "Much of this is about the President and accumulation of scandals. In normal countries there can be an impeachment process. As we saw with Mugabe, this can happen even in places like Zimbabwe.
"But there is no law allowing impeachment in Ukraine: so people are saying they are not happy with the President, he must be investigated, they are marching, holding rallies to say it."
World news in pictures

Show all 50
Mr Saakashvili claimed his supporters are being illegally deported to Georgia. "They arrest people from my team in the street and deport them to Georgia, journalists, people who have fought as volunteers for Ukraine. They have been taken out on special trains, military helicopters. They are trying to send me a menacing message," he said.
Ms Roelofs, an academic, said: "My father asked about my husband why couldn't he be satisfied with being governor of Odessa and be happy with a quiet life?' But I have been married to Misha for 24 years and the thing that I have learned is that he is someone who will never accept a job being half-finished.
"Mr Poroshenko probably thought it was good PR to give that job to Misha. He is very thorough, he is a perfectionist. He was not going to accept the situation there and he wanted to carry on his campaign across Ukraine. The fat that he was gathering support obviously counted against him. People who had things to hide became very worried."
Register for free to continue reading
Registration is a free and easy way to support our truly independent journalism
By registering, you will also enjoy limited access to Premium articles, exclusive newsletters, commenting, and virtual events with our leading journalists
Already have an account? sign in
Register for free to continue reading
Registration is a free and easy way to support our truly independent journalism
By registering, you will also enjoy limited access to Premium articles, exclusive newsletters, commenting, and virtual events with our leading journalists
Already have an account? sign in
Join our new commenting forum
Join thought-provoking conversations, follow other Independent readers and see their replies