Minimum wage may be forced on Angela Merkel to build 'grand coalition'
German leader's potential coalition partners seek concessions before forming a government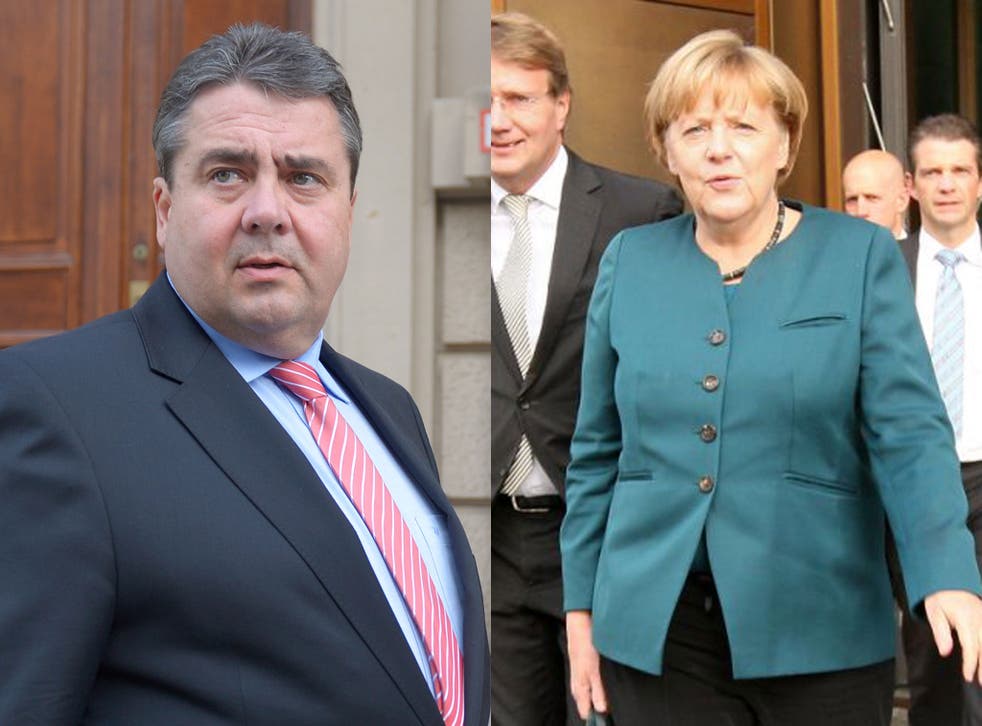 Germany's opposition Social Democrats have declared that the introduction of a hitherto taboo national minimum wage rate is a key precondition which would determine whether the party formed a new "grand coalition" government with Chancellor Angela Merkel's ruling conservatives.
The demand was spelled out by Social Democrat (SPD) leader Sigmar Gabriel following initial talks in the wake of Ms Merkel's victory in Germany's September general election, which left her just short of an absolute majority. Mr Gabriel told the Bild am Sonntag newspaper that Ms Merkel's Christian Democrats (CDU) would have to drop their opposition to a minimum wage and agree to labour market reforms and greater investment in education for his party to agree to a CDU-SPD alliance.
"It is high time that decent wages were paid for decent work again," he said. "We are only prepared to join a coalition government if we can make progress for people in our country. We are not going to do it just to secure a few cabinet posts".
Unlike most of its European neighbours, Germany has baulked at the idea of a minimum wage for decades, not least because the Nazis strictly controlled all pay movements. A post-war consensus has ensured that pay rates have been agreed solely between employers and unions.
But an upsurge in new, non-unionised poorly-paid jobs, encouraged, ironically, by former SPD Chancellor Gerhard Schröder's labour market reforms a decade ago, has increased the size of the low-pay sector from 15 to 22 per cent since the late 1990s. A total of 32 per cent of workers are not covered by union-employee pay agreements.
With Germany continuing to attract tens of thousands of new "guest workers" from crisis-hit Eurozone countries, who are desperate for jobs, many service-sector companies have chosen to exploit the situation by paying as little as market forces allow.
The SPD and the Greens campaigned vigorously for the introduction of a €8.50 per hour minimum wage in the run up to the election. But the idea is still strongly opposed by conservatives, market economists and the Bundesbank. They fear the measure will blunt the competitive edge which has given Germany its economic prowess.
Bundesbank President, Jens Weidemann argued last month that a minimum wage would "make it harder for those without specific skills to enter the job market".
Ms Merkel has so far insisted that there should be little change to the status quo which she says should be merely extended. However, with the SPD, the unions and her other possible coalition partners the Greens all in favour of a minimum wage, Ms Merkel may find herself obliged to agree.
Mr Gabriel stressed yesterday that the question of whether his party formed another grand coalition with Ms Merkel's conservatives still remained wide open. Many in the SPD rank and file are opposed to the idea. They point out that after joining Ms Merkel's first grand coalition in 2005, the SPD suffered one of its worst electoral defeats ever. "We did all the work, but Merkel's lot took all the credit," insisted one disgruntled SPD insider.
The SPD is scheduled to meet the CDU for further coalition talks on 14 October. The SPD leadership says it may ballot the party's entire membership on whether to join forces with the CDU. However Ms Merkel will meet with Green leaders this Thursday to discuss the possibility of a "black-green" coalition.
Peter Altmaier, Germany's CDU Environment Minister, declared yesterday that the chances of such an alliance had increased from being merely "theoretical" to "conceivable".
Join our new commenting forum
Join thought-provoking conversations, follow other Independent readers and see their replies