'Miraculous escape' for French paddle boarder rescued after 40 hours at sea
Woman saved by fishing boat after being swept out into English Channel by strong winds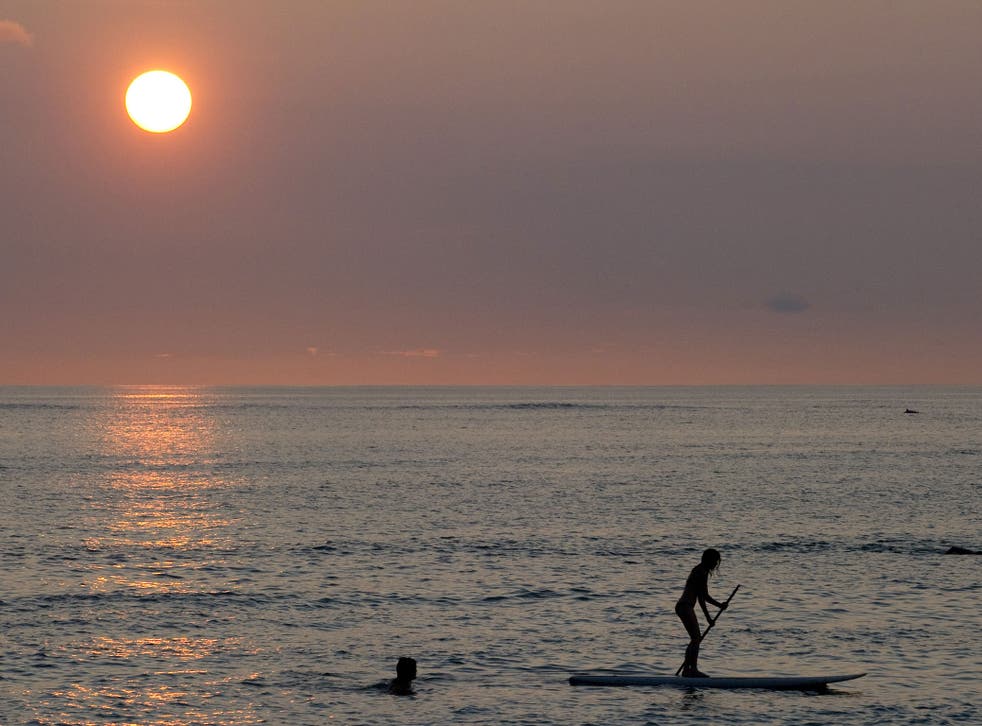 It was the night of the supermoon and Clémence Lapeyre slipped out of the beachside house, where she was staying with relatives, to enjoy the moonlit night from the sea on an old paddle board.
It was after 10.30pm when she set out from the beach in Morsalines, on the Cherbourg peninsula, on Sunday. Forty hours later, after losing her paddle and her glasses in rough seas and pushed by strong westerly winds, she was found more than 68 miles away, drifting off the cliffs of Etretat, just up the coast from Le Havre.
Rescuers have called her survival a "miracle". Today the 24-year-old from Paris was in hospital in Fécamp, suffering from dehydration, sunburn and exhaustion.
"It was a beautiful night with a very beautiful moon and she apparently decided to go paddling by moonlight without letting us know," her uncle, Christophe Rémy-Nérys, said. "It was only late the next day that we realised she had disappeared."
After a fruitless search on land, the family realised that the board was missing and lifeguards began looking for her in the waters around Morsaline. "We were watching the helicopter circling overhead, we were on the shore trying to find a sign, anything suspicious," Mr Rémy-Nérys told the BFM TV news channel.
A launch and an inflatable boat assisted the helicopter from the sea, but the search was abandoned before dark on Monday because of bad weather. After a second anxious night with no news, the family began to fear the worst.
On Tuesday, local gendarmes issued a missing person's appeal with a photograph. Then on Tuesday afternoon, around 3pm, a Belgian fishing boat spotted the missing woman clinging to her paddle board.
She had braved 12ft waves and gusting winds of more than 30mph. Somehow she had escaped harm when crossing the busy shipping lanes into the port of Le Havre.
Rescuers were unable to heliport her to safety and she was picked up by the fishermen who took her to Fécamp, the nearest port, where she was admitted to hospital. From there she was able to contact her twin sister to tell her she was safe.
"She fell off her board three times, and climbed back on again," Mr Rémy-Nérys said. "She lost her glasses, and she lost her paddle. She did her best to stay awake, hanging on to her board, and not letting go."
Beachgoers interviewed by FranceInfo radio were unsympathetic, saying she should have known better than to go out in conditions when high winds had been forecast.
Waves of bad weather have swept across France this week and may have contributed to the deaths of six French mountaineers whose bodies were found today on the Mont Blanc range by rescuers.
The group – five climbers and their guide – ranged in age from 27 to 45. They were roped together returning from the Aiguille d'Argentière, a peak of 3,901 metres (12,800ft), when they were caught in bad weather while descending the Milieu glacier on Tuesday. They were reported missing when they failed to turn up at their shelter.
Mountain rescue helicopters had to call off a search because of the weather and the search was resumed on foot. Colonel Frédéric Labrunye, a mountain rescue officer, told reporters in Chamonix that the climbers had slid 250m to their deaths. The guide's body was found in a crevasse.
Register for free to continue reading
Registration is a free and easy way to support our truly independent journalism
By registering, you will also enjoy limited access to Premium articles, exclusive newsletters, commenting, and virtual events with our leading journalists
Already have an account? sign in
Register for free to continue reading
Registration is a free and easy way to support our truly independent journalism
By registering, you will also enjoy limited access to Premium articles, exclusive newsletters, commenting, and virtual events with our leading journalists
Already have an account? sign in
Join our new commenting forum
Join thought-provoking conversations, follow other Independent readers and see their replies