Esther Dingley: Search for missing British hiker halted due to bad weather
Police 'looking at other options beyond a mountain accident'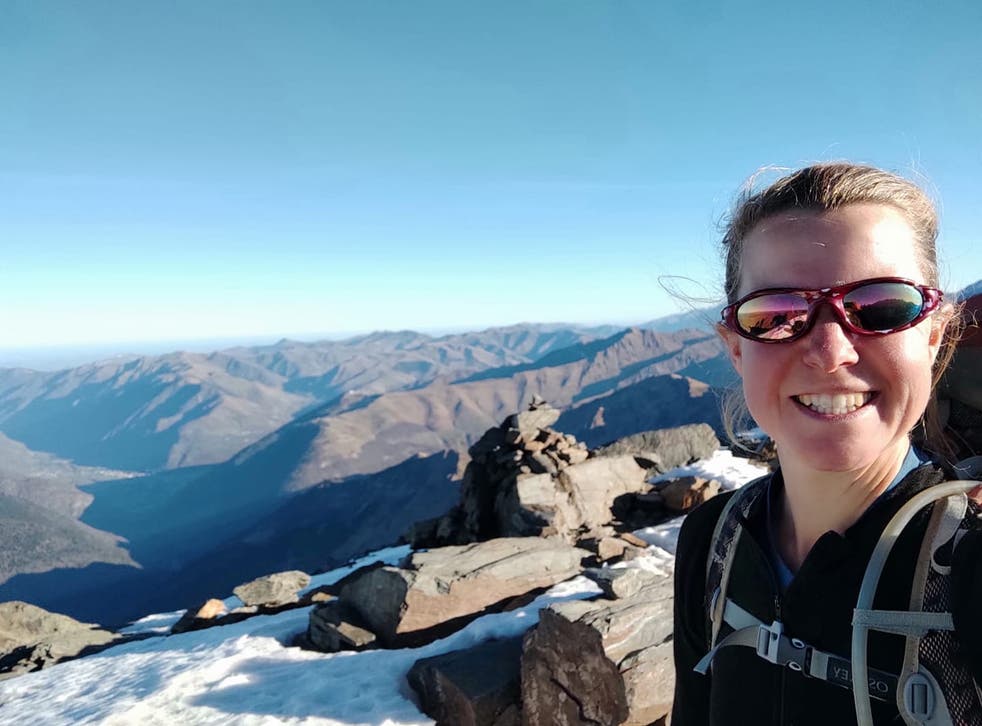 Police investigating the disappearance of a British hiker in the Pyrenees have halted the search because of bad weather.
Esther Dingley has not been heard from since Sunday 22 November when she sent a message to her partner Dan Colegate from the top of a mountain on the border between France and Spain.
The 37-year-old hiker was due to return from her solo trek on 25 November, but authorities have been unable to find any trace of her since despite the efforts of several mountain rescue teams equipped with helicopters, dogs and a drone.
Earlier this week, Ms Dingley, who was an experienced hiker, was listed as a missing person in Spain and the case was passed to a judicial unit in France.
Mr Colegate said on Tuesday night that investigators were now "looking at other options beyond a mountain accident".
He added: "While this is a terrifying development in many ways, I'm trying to focus on the fact that it leaves the door open that Esther might still come home. She was so utterly happy and joyful when we last spoke, I'd do anything to see her face and hold her right now."
On Friday, searches mountains near of Benasque in the northeastern Spanish province of Huesca were halted by heavy snowfall. Temperatures have plunged to below freezing even during daytime, and the weather is not forecast to improve until Thursday.
The local Civil Guard said that searches were unlikely to resume until after the weekend. Serjeant Jorge Lopez Ramos, the head of the mountain rescue team, told reporters: "The chances of finding Esther alive are minimal and it leaves us with a very bitter taste in our mouths."
Authorities have issued posters of Ms Dingley in the local area as they try and build a timeline of her last known movements.
On 17 November she took photographs of what appeared to be a paw print as she hiked in the mountains – prompting some to speculate she could have been attacked by a mountain bear.
Three days before her disappearance, she said she had met another hiker as she climbed to the 2,250-metre Pic de Sauvegarde.
He is believed to have taken the photo of her at the summit before giving her a lift further up the valley to her camper van in Benasque.
Authorities are trying to trace the hiker in the hope he can shed some light on where Ms Dingley might have been headed next.
On 28 November, Mr Colegate posted an update on their Facebook page to say Esther had disappeared. He added: "I'm broken. Shattered to report that my beloved Esther, the person who taught me how to feel, is missing."
The couple have been on a camper van tour of Europe since 2014, when they decided to leave their home and jobs in Durham after Mr Colegate nearly died from an infection.
Join our new commenting forum
Join thought-provoking conversations, follow other Independent readers and see their replies