Defeat for another 'Trumpian' populist as Kremlin-backed Moldova leader loses presidency
Maia Sandu will become Moldova's first female leader, winning election on a liberal, anti-corruption platform, overcoming dirty tricks by her opponent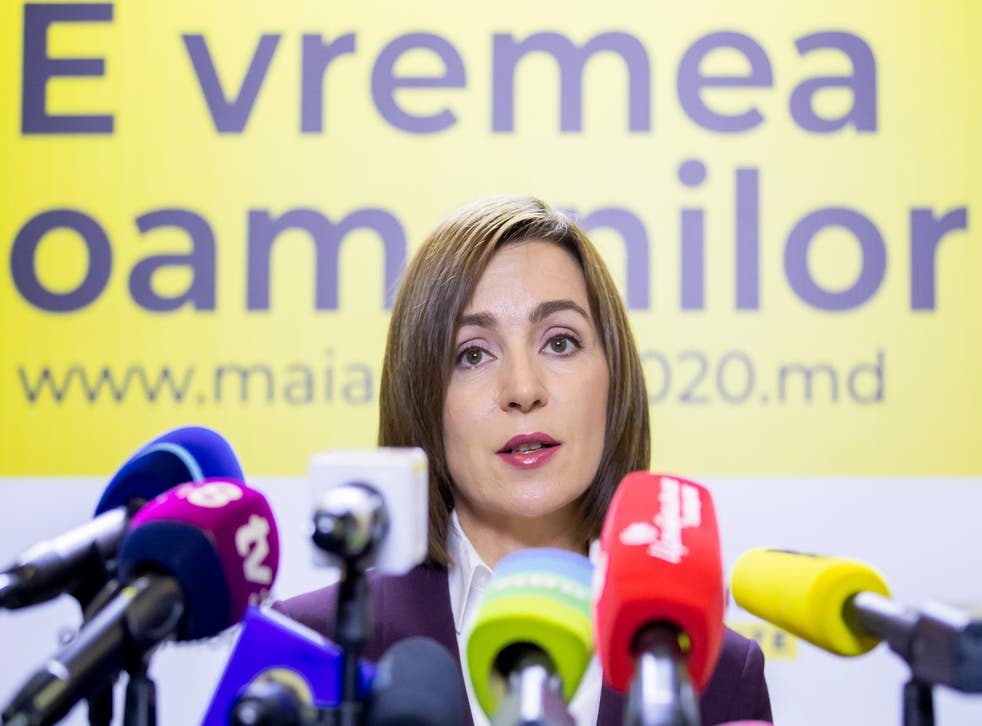 A staunchly pro-Kremlin incumbent was resoundingly beaten by a Harvard University-educated challenger who will be the country's first ever woman head of state in elections held Sunday in the eastern European nation of Moldova.
Maia Sandu, running on a platform of good governance and strengthening of European Union ties, appeared to have won 57.8 percent of the popular vote in the second round of Moldovan presidential elections, defeating the pro-Russian Igor Dodon, according to figures published on the website of the election commission.
The outcome of the hotly contested election, the first national vote since the US president, Donald Trump, lost the 3 November elections and refused to concede, is being closely watched by political scientists and democracy advocates worldwide.  
"It's a vote for less corruption and more democracy and it goes against the idea that there's an illiberal wave," former Moldovan foreign minister Nicu Popescu said in a phone interview.
Mr Dodon ran what critics described as a divisive campaign and received the explicit support of the Russian president, Vladimir Putin. After his defeat at the polls, Mr Dodon offered preliminary congratulations to Ms Sandu at a Monday press conference, but stated that he would concede only "if the courts confirm that everything is ok".
Unlike in the US vote, however, Mr Putin quickly congratulated Ms Sandu, a 48-year-old former prime minister, World Bank economist and graduate of Harvard's prestigious Kennedy School of Government.
"I hope that your activity will contribute to the constructive development of relations between our countries," Mr Putin said in a telegram to the winner.
He has yet to congratulate president-elect Joe Biden, who clinched the US election more than a week ago.
Moldova, a landlocked nation of 3.5 million nestled between Ukraine and Romania and once the westernmost outpost of the former Soviet Union, has wrestled for years over whether it belongs more firmly in the Russian or European camps.
The country's primary faultline is between Russian and Romanian speakers. Mr Dodon, a pugilcious 46-year-old former economist and trade minister, has pushed to make Russian mandatory in schools, a move that irked many Molodovans historically wary of Moscow's influence and territorial encroachments over the centuries.
During the campaign, Mr Dodon "practically became a subordinate of Putin", said one Chisinau political insider, describing mysterious trips to Moscow and meetings at the Kremlin without "clear deliverables or outcomes". An investigation by an independent news website alleged a group of Russian operatives were embedded in his election campaign.
Mr Dodon oversaw what many described as a nasty, at times homophobic campaign against Ms Sandu, smearing her as anti-Russian, alleging that she would enlist Moldova in Nato against the will of the people, would encourage gay marriage and discriminate against pensioners. Ms Sandu denied the accusations. Mr Popescu described his campaign as "Trumpian", borrowing tricks from the populist playbook.  
"The president was quite rude and brutal, and he engaged in aggressive behaviour," said Dumitru Budianschi, programme director at the Expert Grup, a think tank in Chisinau. "He led the political process in a totally wrong direction."
But Moldova's economy has been in tatters, and many of its young flee the country for better prospects in neighbouring Romania or elsewhere in Europe, or even Russia. Mr Dodon's economic policies were decidedly populist, promising new roadways and construction projects without reforming structural deficiencies or detailing financing.
Corruption was also a major issue, with allegations that Mr Dodon had colluded with oligarchs who enriched themselves with energy and other deals.
"He likes to say that he destroyed the oligarch system," said Mr Budianschi. "In reality, he took over the oligarch system."
There were also concerns about his handling of the coronavirus pandemic, aggressively and publicly promoting the government's Covid-19 response when numbers were down but disappearing from the scene as infections rose.
In the end, voters appeared to have shrugged off Mr Dodon's antics as well as the torrents of fake allegations spread through social media and by his surrogates and swung heavily toward Ms Sandu, who is also a former education minister. She also defeated Mr Dodon and a slate of other candidates in the first round of elections held on 1 November.
"You've got a country that's not the richest and doesn't have that long of a democratic history and is able to filter out fake news and vote responsibly," said Mr Popescu, who is now a scholar at the European Council on Foreign Relations.
A record 262,000 expatriates voted 93 percent in favour of Ms Sandu, brushing off long lines at limited numbers of polling places across Europe in what many Moldovans saw as an attempt by Mr Dodon to suppress turnout.
"The Moldovans who are very happy are the Diaspora," said Elena Derjanschi, a journalist at TV Prime in Chisinau, the Moldovan capital. "The majority of Dodon supporters are 50 or 60 years or older and consider Russia Moldova's best friend. The people who vote for Sandu want to join the EU."
Experts predict Ms Sandu's colossal margin of victory that Mr Dodon will not be able to contest the vote, but that he may try to rally supporters in parliament to be the next prime minister and retain his relevancy. Ms Sandu's centre-right Party of Action and Solidarity holds only 15 seats in the 101-member parliament while Mr Dodon's Party of Socialists holds 36.
Register for free to continue reading
Registration is a free and easy way to support our truly independent journalism
By registering, you will also enjoy limited access to Premium articles, exclusive newsletters, commenting, and virtual events with our leading journalists
Already have an account? sign in
Register for free to continue reading
Registration is a free and easy way to support our truly independent journalism
By registering, you will also enjoy limited access to Premium articles, exclusive newsletters, commenting, and virtual events with our leading journalists
Already have an account? sign in
Join our new commenting forum
Join thought-provoking conversations, follow other Independent readers and see their replies