Jailing of Russian actor sparks hundreds of 'one-man' protests in Moscow
Pavel Ustinov was sentenced to three and a half years in prison for 'assaulting' police officer – despite clear evidence to contrary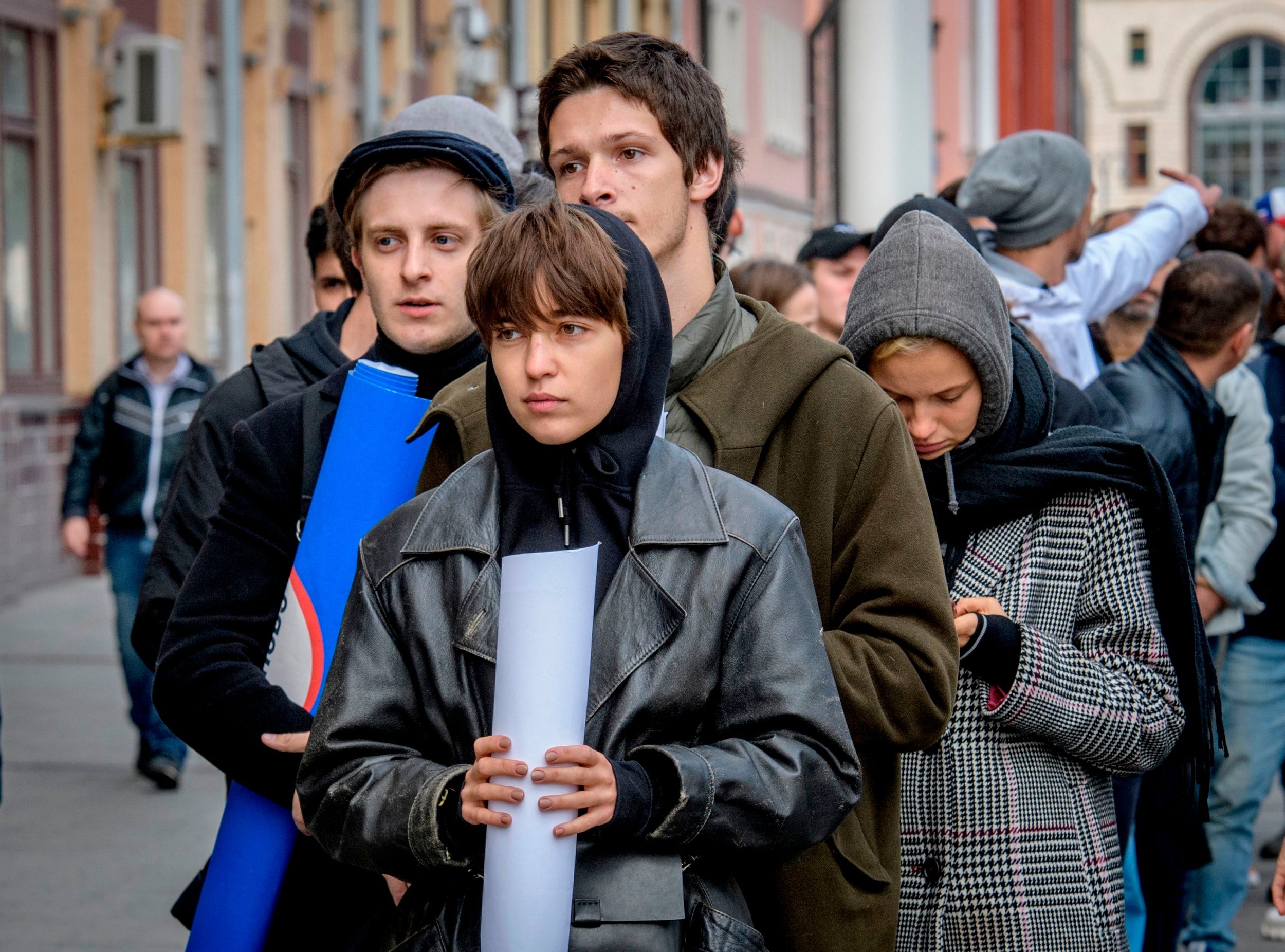 Anti-Kremlin protests took on an unusually colourful turn on Wednesday – but it was less yellow vests and more a motley mix of ankle-length longcoats, frocks, and period costumes.
Actors were perhaps half of the 200 or so demonstrators queueing in central Moscow to picket the offices of the presidential administration. It was a rare show of solidarity in support of one of their own, Pavel Ustinov, a 23-year-old actor sentenced to three and a half years in prison in connection with recent anti-government protests.
On Monday, a judge controversially sided with state prosecutors in concluding Mr Ustinov deliberately injured an arresting officer.
It didn't particularly matter that video evidence showed the contrary: the rookie actor was an accidental bystander; did not offer resistance to arrest; and was more assaulted than the one doing the assaulting.
But none of that mattered, as the judge had ruled that video evidence contradicting the word of an officer was inadmissible.
Moscow protests: hundreds detained by riot police
Show all 20
Mr Ustinov's prison term is one of several harsh sentences handed down in the wake of Russia's summer of protest.
He joined Vladislav Sinitsa (sentenced to five years in a prison colony), Ivan Podkopayev (three years), Daniil Beglets (two years), Kirill Zhukov (three years), Evgeny Kovalenko (three-and-a-half years) and Konstantin Kotov (four years). More such verdicts are expected in the coming days and weeks.
Outside the presidential office on Wednesday, demonstrators unfurled messages in support of the imprisoned men.
Monitored by a group of police officers, protesters were careful to walk the thin line of Russian law. Individual silent pickets are the only legal form of demonstration in Russia that are possible without a permit. Organisers regulated the queue to make sure no one was blocking movement of pedestrians – lest that be interpreted as a mass rally.
The theatre director Alexander Molochnikov, 27, one of the driving forces behind the protest, said he had "no idea" how successful the protest would ultimately be.
"Russia is a wonderland," he told The Independent. "On the one hand, we understand that the Kremlin wants to scare people so that they don't think of coming out on the streets. On the other hand, there is the clear example of Ivan Golunov, which acts as our inspiration."
In June, investigative journalist Ivan Golunov, arrested on supposed drug-dealing charges, was subsequently released following a spirited campaign pointing at his innocence.
It was a rare U-turn from the Russian authorities, secured only after an intervention by the Kremlin.
But equally rare was the show of solidarity, with journalists of all colours coming together to ensure Mr Golunov's release. Wednesday's turnout suggested Russia's artistic community was beginning to respond in a similar fashion.
Many of those attending said they were surprised by the numbers who had turned up. Tatyana Dogilyeva, 62, a star of Soviet cinema, told The Independent that it was "evidence" of her tradesmen "breaking the mould of conformity."
"A decade or four ago, it could never be like this," she said. "We were all too timid, too dependent on government grants, too afraid to speak out."
Displaying a confidence that few of her younger colleagues were ready to express, Ms Dogilyeva said she was "sure" the protest had already won.
"We have biology on our side," she said. "This is a generational conflict that the old men can't win. The Kremlin can put as much propaganda as they want on TV screens, but the kids are already using new technologies."
By Wednesday noon, there were clear signs that part of the establishment was turning – repeating the order of events that led to Mr Golunov's release in June. In the morning, Andrei Turchak, general secretary of the ruling United Russia party, made an unexpected intervention, describing the Ustinov verdict as "an outrageous injustice." A day earlier, dozens of church clerics signed an open letter calling for "mercy."
Kremlin spokesman Dmitry Peskov, while remaining characteristically non-committal, has also hinted at a possible route of securing Mr Ustinov's release.
In a delayed conference call with journalists on Wednesday, Mr Peskov said the Kremlin recognised the "public outcry" that the case had created.
"There is a legal way of disputing a court decision, and that is to appeal," he said.
"We need to wait for that appeal."
Join our commenting forum
Join thought-provoking conversations, follow other Independent readers and see their replies