Mount Etna eruption stuns volcano enthusiasts
Lava and ash spewed from volcano for days, blanketing towns in ash and forcing an airport to close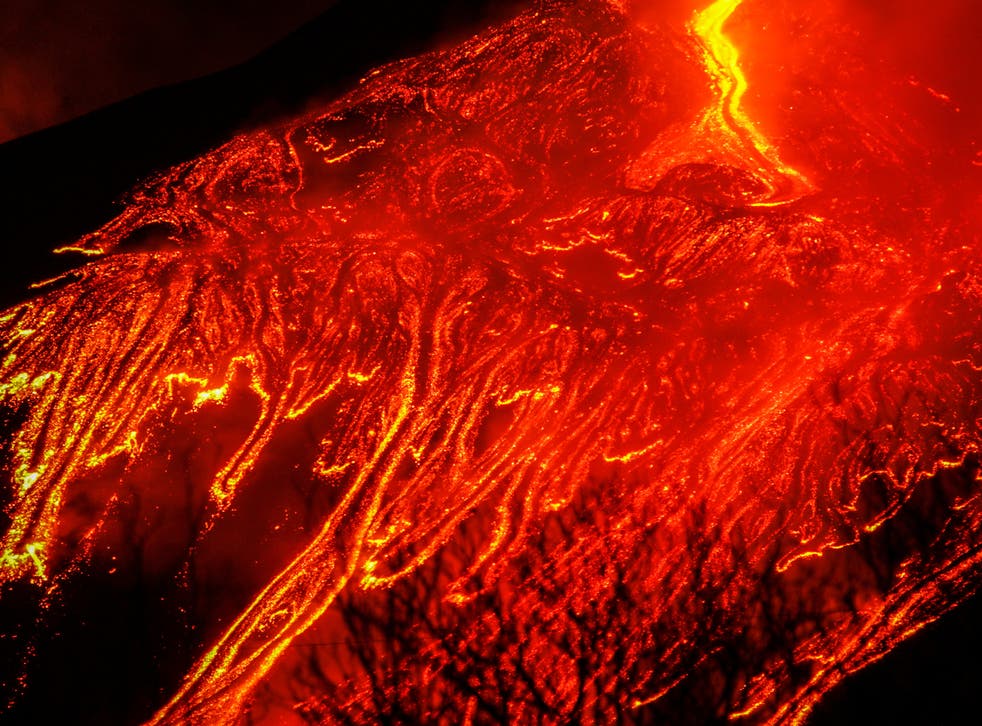 Europe's most active volcano has been erupting for more than a week, creating spectacular images of lava, ash and volcanic rocks lighting up the Sicilian sky at night.
Mount Etna's latest eruption overnight petered out on Tuesday morning, according to Italy's National Institute for Geophysics and Volcanology.
Rivers of lava were seen gushing from the volcano's southeast crater, with clouds of debris rising several kilometres above its summit.
The red and orange glow of the magma resulted in mesmerising photographs. Nearby Catania Airport was forced to close temporarily due to the amount of ash being spewed forth from Mount Etna.
Residents in the town of Pedara said during one day last week, it appeared as though it were raining rocks as a thick blanket of ash covered the town.
A number of Sicilians in view of the volcano and its huge clouds of ash posted photos and videos of the phenomenon, describing it was "majestic" and "spectacular".
Volcanologist Boris Behncke, of the national institute's Etna observation centre, said the volcano had been "gifting us moments of suspense" over the past few nights.
He wrote on the institute's website that Etna's final eruption happened in a way that "those of us who have worked in this for decades have rarely seen".
He tweeted on Tuesday: "Did I call the 20-21 February paroxysm of Etna 'incredibly powerful? Well, its successor, in the night of 22-23 February, was MUCH more powerful."
In a separate tweet, he posted a slow-mo video of Etna's eruption overnight, adding: "Amazingly tall (more than 1,500m) lava fountains and spectacular 'fountain fan' during Etna's violent paroxysm during the night of 22-23 February."
Register for free to continue reading
Registration is a free and easy way to support our truly independent journalism
By registering, you will also enjoy limited access to Premium articles, exclusive newsletters, commenting, and virtual events with our leading journalists
Already have an account? sign in
Register for free to continue reading
Registration is a free and easy way to support our truly independent journalism
By registering, you will also enjoy limited access to Premium articles, exclusive newsletters, commenting, and virtual events with our leading journalists
Already have an account? sign in
Join our new commenting forum
Join thought-provoking conversations, follow other Independent readers and see their replies