Moussa Coulibaly: Three French anti-terror soldiers stabbed on patrol outside Jewish radio station in Nice
Attacker has the same surname as one of the Paris attackers
John Lichfield
Tuesday 03 February 2015 16:51 Comments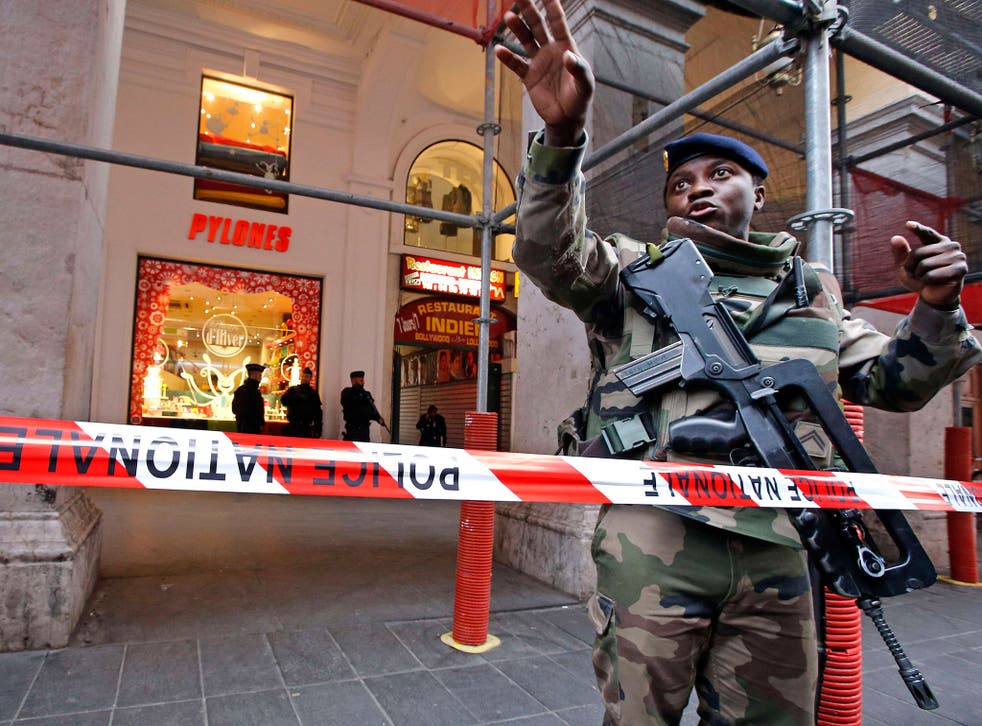 Three French soldiers on anti-terror patrol were stabbed outside the offices of a Jewish radio station in Nice today.
None of the soldiers were seriously hurt. Their attacker was seized by two tram workers and was in custody today.
Police said the man was called Moussa Coulibaly, 31 – the same surname as Amedy Coulibaly, the gunman who killed four people at a Jewish supermarket in Paris on 9 January.
The incident was being treated provisionally as a terrorist attack but Nice police sources said last night that he was "an unbalanced individual" who had a record of violence towards police officers.
They said they did not believe that he was related to the Paris gunman. Coulibaly is common name in Mali in north west Africa.
The three man patrol was part of a force of 10,500 soldiers deployed in shopping areas, railway stations and outside synagogues and mosques since the jihadist attacks which killed 17 people in Paris last month.
The man attacked the soldiers in the Avenue Jean Médecin, in the centre of Nice on the Mediterranean coast. Police said that he tried to stab one soldier in the chest but that his knife was deflected by a bullet-proof vest.
He cut the soldier on the face and slightly wounded the two other soldiers when they came to the aid of their comrade.
One soldier was cut on the cheek, another on the chin and the third was stabbed in the leg, according to the local newspaper, Nice Matin.
The newspaper's website said the attacker had paid a fine for travelling on a tram without a ticket a few minutes before the attack. After leaving the tram, he ran towards the soldiers, dropped a bag at their feet and then attacked them with a knife.
He was wrestled to the ground by two tramway ticket inspectors and a passer-by and was in custody this evening.
It emerged later, however, that the attacker had recently attempted to fly to Turkey but had been turned back at Istanbul airport. He had Turkish lire in his wallet at the time of the attack, Nice police sources said.
Register for free to continue reading
Registration is a free and easy way to support our truly independent journalism
By registering, you will also enjoy limited access to Premium articles, exclusive newsletters, commenting, and virtual events with our leading journalists
Already have an account? sign in
Join our new commenting forum
Join thought-provoking conversations, follow other Independent readers and see their replies