Munich shooting: Gunman Ali Sonboly was 'obsessed' with mass killings, say police
Authorities believe 18-year-old German-Iranian wanted to mark anniversary of Norway massacre carried out by Anders Breivik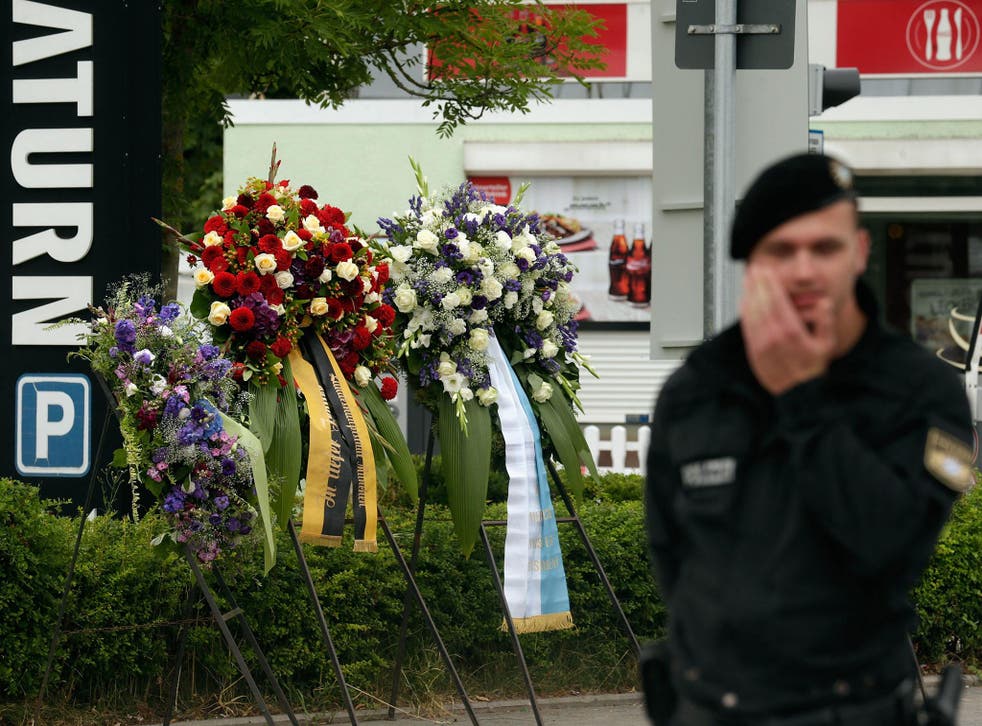 On Friday, after finishing his daily paper round, Ali David Sonboly prepared for what lay ahead. He armed himself with a 9mm Glock 17 pistol, packed 300 rounds of ammunition into a red rucksack and set out from his parents home at Dachauer Street, in the Maxvorstadt district of Munich on a calculated mission of murder.
The killings of nine people, including children, and wounding of 27 others by the 18-year-old German Iranian took place at a shopping centre adjacent to the city's Olympic stadium where, in 1972, 11 Israeli athletes were held hostage and killed, along with a German police officer, by the Palestinian group Black September.
Sonboly's attack also took place on the fifth anniversary of another act of savagery, the massacre of 77 people in Norway carried out by the neo-Nazi Anders Breivik. German police declared that there were "obvious" links between the Norwegian murders and what happened in Munich. Former classmates of Sonboly claimed that he had a photograph of Breivik as his WhatsApp profile photograph: interior minister Thomas de Maiziere disclosed that Sonboly had "researched" the slaughter carried out by Breivik.
In the immediate aftermath of the killings in Munich on Friday evening, right-wing groups in Germany and beyond had charged that it was the consequence of Chancellor Angela Merkel's policy of letting in large numbers of refugees from Syria and other Muslim countries.
Last Monday a 17-year-old refugee, who had claimed to be an Afghan but is believed to be from Pakistan, had injured five people, two of them critically, on a train with an axe near the town of Wuerzburg, in the south of the country. Isis had claimed credit for the attack. Ms Merkel had initially linked the Munich murders to the axe attack and the murders of 84 people in Nice on Bastille Day by an Islamist driving a truck.
But no evidence had been found, stressed Hubertus Andrae, the Munich police chief, to connect Sonboly to Isis or any other Islamist group. Neither was there any link, he added, to the recent refugee crisis.
What has happened in Munch?
What a search of his parents home, two miles from where the shooting took place, had revealed, however, was Sonboly's morbid fascination with mass shootings. One book found was a German translation of Why Kids Kill: Inside the Minds of School Shooters, written by Peter Langman, an American psychologist. Mr De Maiziere said that Sonboly had researched a 2009 school shooting in Germany, as well as Breivik's Utoya massacre.
"There was material found in the apartment of the suspect that showed a particular interest in shooting sprees, (but) there is so far no indication of any connection to international terrorism," Mr de Maiziere said. The crime and perpetrator had "absolutely no" link to the issue of refugees, he added.
Two of those killed were 13, three were 14, one was 17, another 19, the remaining two were 20 and 45. Three were from Kosovo, three from Turkey and one from Greece. Many of the injured were also young. Ms Merkel, who had chaired a meeting of the national security council, said in a message to the families of the victims: "We are in deep mourning ... We share your grief." Dozens of people came to the site of the slaughter, laying flowers and lighting candles – sombre scenes reminiscence of Nice last week. Among the mourners was Naim Zabergja, whose son Dijamant was among those to die. Shohel Chowdhury was there to remember his 18-year-friend Gulliano Kollmann. He said: "He was just a funny guy, a normal guy. No one had anything against him. You hear about Nice, Paris and suddenly it happens in your own city – this is so s*** what happened."
Despite there being no apparent Islamic linked to the killings, some Muslims spoke of their worries about a backlash. David Akhavan, who works in an Iranian restaurant, said: "I have started to get texts from friends asking if I was safe. Then my thoughts [about the killer] was please do not be a Muslim, plesase do not be Middle Eastern, please do not be Afghan. For myself, I want to say, I reject this violence."
Sonboly's parents had come to Germany from Iran in the 1990s.His father is a taxi driver and his mother works at a department store. It has emerged that Ali Sonboly was subjected to systematic bullying at school and had threatened retribution on his tormentors. He had also, said the police, received psychological treatment in the past for acute depression.
But 32-year-old Tovero Evo, who lived in the same block of flats as Sonboly, said: "I didn't think he had mental problems. He was always by himself, a bit lonely I think – I have never seen him with other boys or girls, but that's it. We chatted a bit, how could one possibly know that something like this will happen. Now we are all pretty worried."
In an extraordinary video posted online, a man armed with a pistol, believed to be Sonboly, could be seen and heard engaged in a furious argument with a man on a balcony of an adjoining building. The gunman, dressed in black, wearing his red rucksack, can be heard shouting: "Because of you I was bullied for seven years ... and now I have to buy a gun to shoot you." At one point the man on the balcony is heard to call the gunman a "f***ing foreigner". The gunman responds: "I am German... yeah, I was born here."
Munich gunman I am German
The exchange came after Sonboly had already carried out most of his murders. He is said to have hacked the Facebook account of a young woman, Selina Akim, to send out a message, at around 4pm, enticing young people to the branch McDonald's near the shopping centre offering to provide free food, saying: "I'll give you something if you want, but not too expensive." At about 5.50pm, he burst out of the fast-food restaurant's toilet with firing his pistol.
A woman, who was there with her eight-year-old son described what unfolded. Loretta, who did not want her surname made public, recalled: "I hear, like an alarm, boom, boom, boom. I see he is killing the children; the children are sitting down to eat, so they can't run, and he starts killing them."
Loretta claimed that as he was shooting the young man shouted "Allah hu Akhbar". As he moved out into the Olympia mall, still firing, Lynn Stein thought she heard him shout "insults against foreigners". Hueseyin Bayri also thought he had heard the gunman threatening foreigners: "I think he said I will kill you all",
As reports of the murders spread, so did panic through the city. There were reports of more attacks, with a team of terrorists, it was said, armed with assault rifles. The killer from the shopping centre, meanwhile, was said to be on the loose in the U-Bahn underground network. But, in reality, say the police, Sonboly was a lone gunman. And, having completed his murderous rampage, he had turned his gun on himself, lying dead on a side street; leaving a nation in a state shock and investigators trying to untangle his motive for murder.
Register for free to continue reading
Registration is a free and easy way to support our truly independent journalism
By registering, you will also enjoy limited access to Premium articles, exclusive newsletters, commenting, and virtual events with our leading journalists
Already have an account? sign in
Register for free to continue reading
Registration is a free and easy way to support our truly independent journalism
By registering, you will also enjoy limited access to Premium articles, exclusive newsletters, commenting, and virtual events with our leading journalists
Already have an account? sign in
Join our new commenting forum
Join thought-provoking conversations, follow other Independent readers and see their replies