Muslim refugees are converting to Christianity in Germany
Some converts are introduced to Christianity on the way to Europe, while others were repressed in their home countries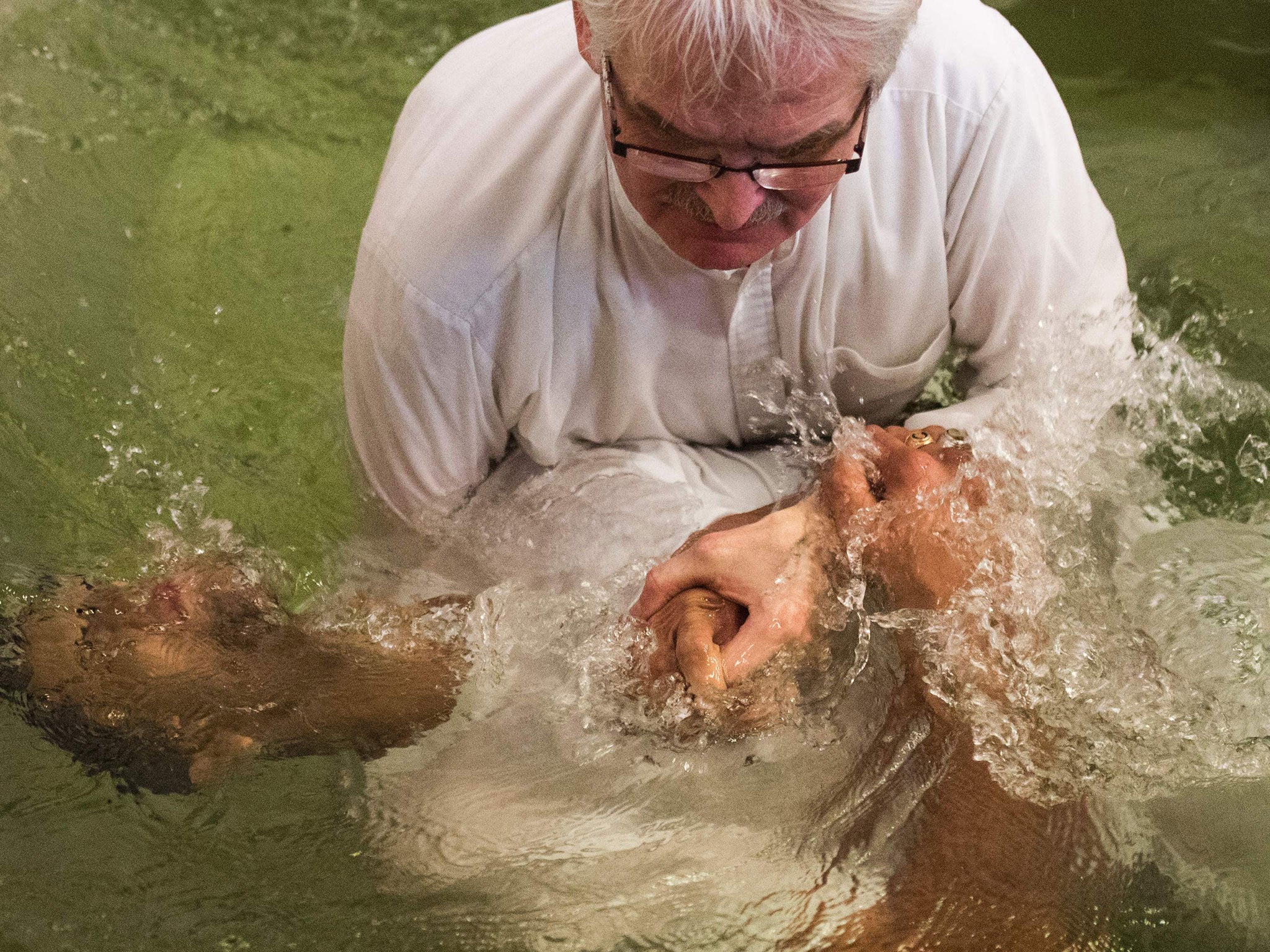 More and more refugees are converting from Islam to Christianity as they settle in Germany, churches have said.
Footage showed three refugees recently being baptised at the Evangelical-Freikirchlichen Gemeinde in Berlin.
Matthias Linke, the priest, asked them: "Do you believe from the bottom of your heart that Jesus Christ is your Lord and saviour, and will you follow him every day of your life?"
They all answered "yes" in German, the AFP news agency reported, and were plunged into a baptism basin. Afterwards members of the congregation sang, applauded and hugged their new members.
"A lot of them come to Germany and think, here I can choose my religion and I want to choose a religion of freedom," Mr Linke said.
"For many Iranians that I've baptised, Christianity is the religion of freedom."
Felix Goldinger, a Catholic priest in Speyer, said many of the refugees he has baptised come from Iran and Afghanistan, as well as from Syria or Eritrea.
Adel, a 25-year-old Iraqi refugee, said he feared the reaction of other Muslim refugees and that his own brother attempted to prevent him contacting Christian friends.
After converting to Christianity in Spandau in January, he told the Berliner Morgenpost it was the "happiest day of my life".
Refugees settle in Germany
Show all 12
The number of conversions has not been officially counted but the phenomenon dates back at least to 2013, when a handbook on baptising asylum seekers was released by Germany's evangelical church (EKD).
"In recent years asylum seekers - either alone or as a family - have increasingly turned to the Christian faith and asked church communities whether they could be baptised," its introduction reads.
"This is a special challenge, not only for asylum seekers, but also for parish priests, parishioners and parishes, who guide those being baptised for many hours, sensitively and responsibly."
Refugees rescued and brought to shore in the Mediterranean
Some of the new converts were first introduced to Christianity in Germany or en route to Europe, while others had previously attempted to follow the religion in countries like Iran, where the faith is restricted or persecuted.
There is concern that some conversions could be motivated by the belief that it will increase the chance of being granted asylum in Germany, where Christianity is the dominant religion.
Isis is among the jihadist groups killing Christians in Iraq and Syria, while the faith can be persecuted using apostasy or blasphemy laws including Iran, Saudi Arabia and Afghanistan.
Almost 900,000 asylum seekers arrived in Germany last year, mostly from Syria, Iraq and Afghanistan, when Angela Merkel opened the borders to those risking their lives to reach Europe in deadly sea crossings.
Join our commenting forum
Join thought-provoking conversations, follow other Independent readers and see their replies