Muslims stage mass prayer in protest over closure of mosques in Italy
'To pray for us is like breathing air. If we can't do it, we die,' says demonstrator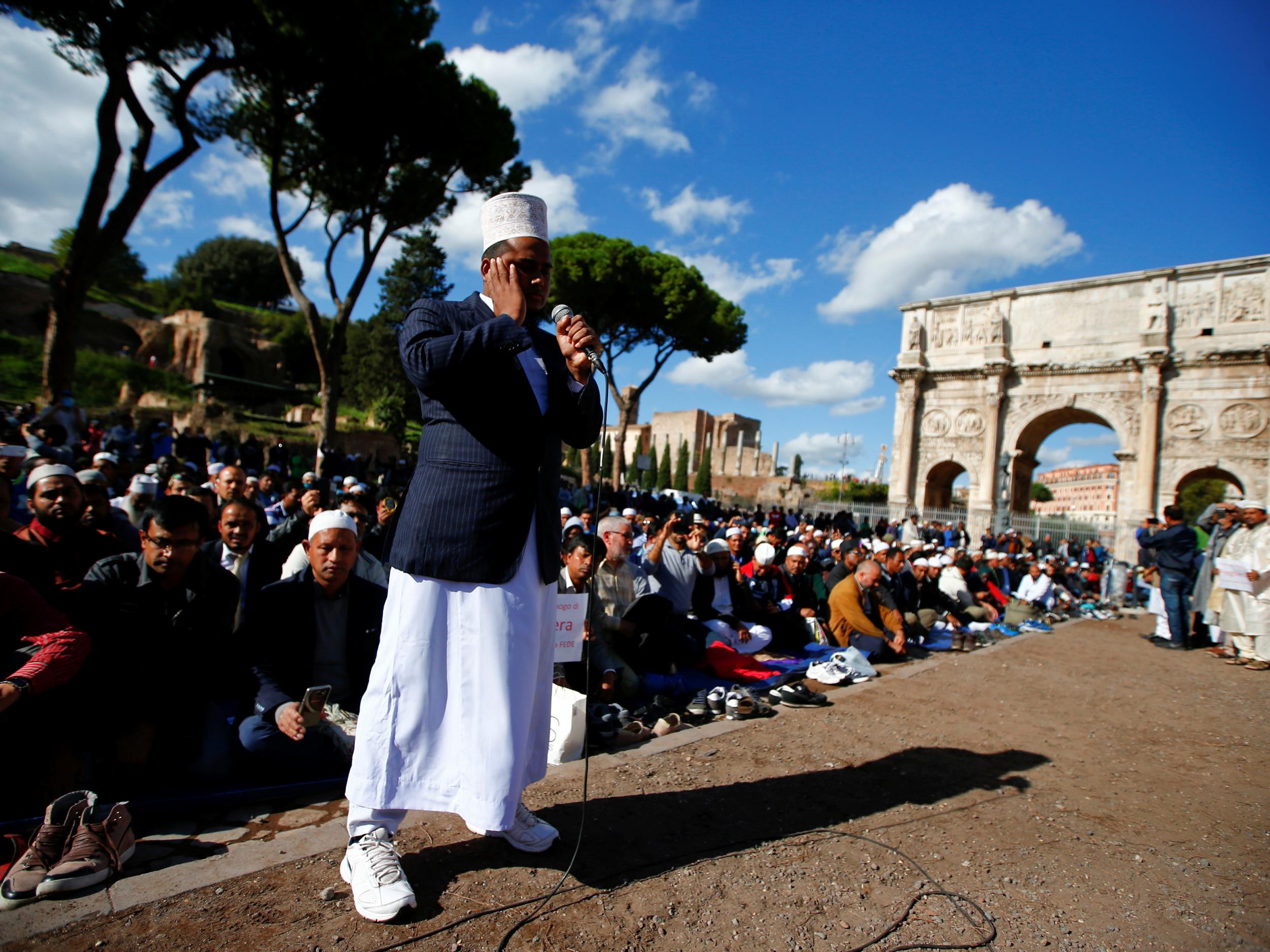 Hundreds of Muslims have staged a mass prayer outside the Rome's Colosseum in protest against the closure of mosques in Italy.
Children attended the demonstration holding signs saying, "peace", "love" and "open the mosques".
Organisers called for the peaceful protest following the recent closure on of five makeshift mosques on administrative grounds.
Many in Italy's Muslim community believe the closures were a response to attacks by Islamic extremists in Europe.
According to the demonstrators, some of the reasons cited for closing the mosques – such as the number of toilets on a premises – could have been easily resolved.
"We feel people are pointing the finger at us," Francesco Tieri, a convert to Islam told AFP.
"There is no political will to recognise that we are here and that we are a peaceful community.
"We are forced to rent places to pray – which for us is like breathing air. If we can't do it, we die."
An estimated 1.6 million Muslims live in Italy, meaning it has the fourth largest Muslim population in Europe. Yet there are only eight official mosques in the country.
It is thought to be the second most followed faith in the Roman Catholic country. But it is not recognised as an official religion, unlike Judaism and Mormonism.
State recognition affords protection to places of worship, access to opening schools and observance of religious holidays.
Police confirmed the closure of some places of prayer in a statement and said the authorities would guarantee freedom of thought, but only within a certain legal framework.
Italian local councils can oppose new builds for reasons ranging from the proposed parking facilities to how well they think it would fit in with the architectural aesthetic of a neighbourhood. They have repeatedly opposed proposals to construct traditional mosques.
Right-wing parties have also called for a blanket ban on any mosques built with foreign money.
World news in pictures
Show all 50
With few official places of worship, many pray in houses and some 800 cultural centres and prayer rooms in the country, but right wing parties have claimed this makes religious sites hard to monitor and increases the risk of "radicalisation".
Interior Minister Angelino Alfano said in August that "mini mosques in garages" should be banned.
Barbara Saltamartini, of the anti-immigration Northern League, said the peaceful demonstration was Friday's "an unacceptable provocation" which should not have been allowed to take place.
Join our commenting forum
Join thought-provoking conversations, follow other Independent readers and see their replies