NATO releases satellite images showing Russian military build-up on Ukraine's border
Moscow accused the Western alliance of creating an imaginary threat
Antonia Molloy
Friday 11 April 2014 09:41 Comments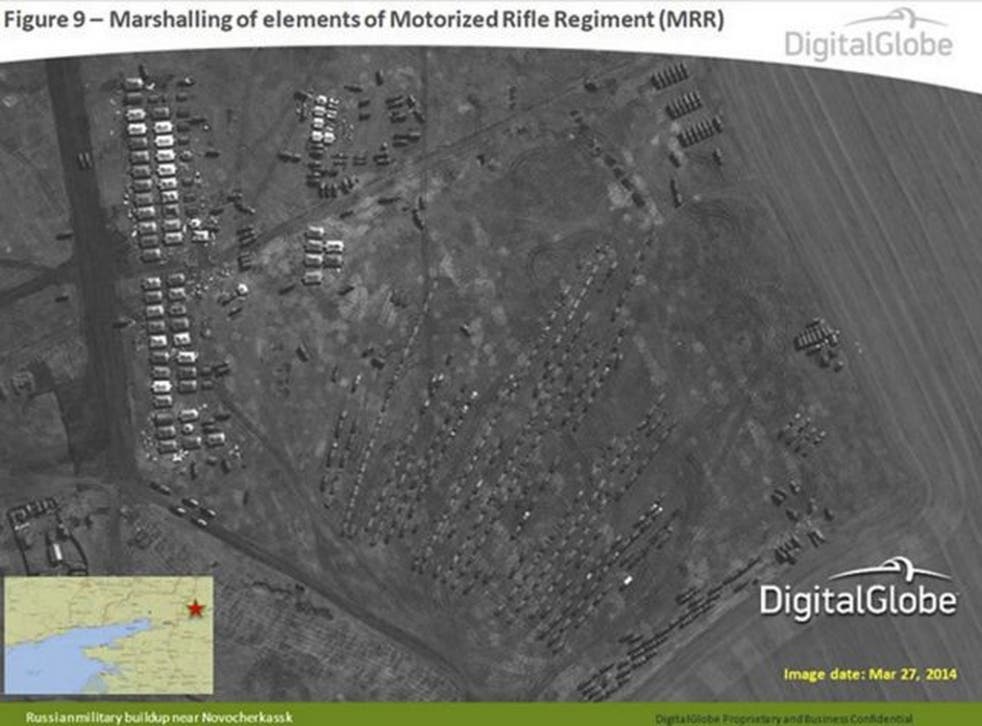 NATO has published satellite images it said revealed Russian deployments of some 40,000 troops near the Ukrainian border, along with long lines of tanks, armoured vehicles, artillery and aircraft ready for action.
But Moscow immediately dismissed the pictures on Thursday, saying they were from last August.
NATO has spotted Russian forces at more than 100 different sites close to the Ukraine border, British Brigadier Gary Deakin said at a briefing at NATO military headquarters at Mons in southern Belgium.
"This is a force that is very capable, at high readiness, and, as we have illustrated through the imagery, is close to routes and lines of communication," he said.
"It has the resources to be able to move quickly into Ukraine if it was ordered to do so. If Russian political leaders took a decision to send forces into Ukraine, the first Russian forces could be on the move within 12 hours."
Clashes in eastern Ukraine

Show all 126
NATO Secretary General Anders Fogh Rasmussen urged Moscow to pull its troops back from the Ukraine border: "We have seen the satellite images day after day.
"Russia is stirring up ethnic tensions in eastern Ukraine and provoking unrest. And Russia is using its military might to dictate that Ukraine should become a federal, neutral state. That is a decision which only Ukraine as a sovereign state can make," Rasmussen told a news conference in Prague.
But Moscow accused the alliance of using the Ukraine crisis to justify its existence by creating an imaginary threat and dismissed the Western concerns as "groundless". It said Rasmussen was being confrontational and not offering "any constructive agenda" for Ukraine.
"The constant accusations against us by the secretary general convince us that the alliance is trying to use the crisis in Ukraine to rally its ranks in the face of an imaginary external threat to NATO members and to strengthen demand for the alliance ... in the 21st century," the Russian Foreign Ministry said in a statement.
Moscow has proposed that Ukraine's neutrality should be enshrined in law, meaning it would not be able to join NATO or the European Union – but this motion is unacceptable for the new pro-Western authorities in Kiev.
NATO and the West accuse Russia of stirring unrest in eastern parts of the country, where Moscow says it has the right to protect Russian-speakers from the new authorities in Kiev it deems illegitimate.
Rasmussen reiterated his call on Moscow to pull back its troops.
"I have this message to Russia: You have a choice to stop blaming others for your own actions, to stop massing your troops, to stop escalating this crisis and start engaging in a genuine dialogue," he said.
"If Russia is serious about a dialogue, the first step should be to pull back its troops."
NATO has responded to the crisis by promising an increased presence in its central and eastern European members - firmly in Moscow's orbit until the 1991 Soviet Union collapse - including in Ukraine's neighbour Poland.
Russian Foreign Minister Sergei Lavrov said deployment of NATO forces in eastern European countries close to Russia would violate the 1997 Founding Act, a cooperation agreement between Moscow and the alliance.
"The fact that now, under the pressure (of eastern NATO members) NATO is forced to consider deploying troops and installations on territories closely adjacent to Russia, this is a violation of the Founding Act," Lavrov said.
In a build-up that began in early March, the satellite images showed that Russia has amassed not only infantry and artillery but electronic warfare units, helicopters and aircraft, said another NATO officer, speaking on condition of anonymity.
The pictures were taken between 22 March 2 and April. NATO's assessment is that troop numbers have remained at about the same level since then.
Additional reporting by Reuters
Register for free to continue reading
Registration is a free and easy way to support our truly independent journalism
By registering, you will also enjoy limited access to Premium articles, exclusive newsletters, commenting, and virtual events with our leading journalists
Already have an account? sign in
Join our new commenting forum
Join thought-provoking conversations, follow other Independent readers and see their replies