Navajo tribe buys back ancient masks after failing to stop their sale
Navajo nation had failed in a legal challenge to the auction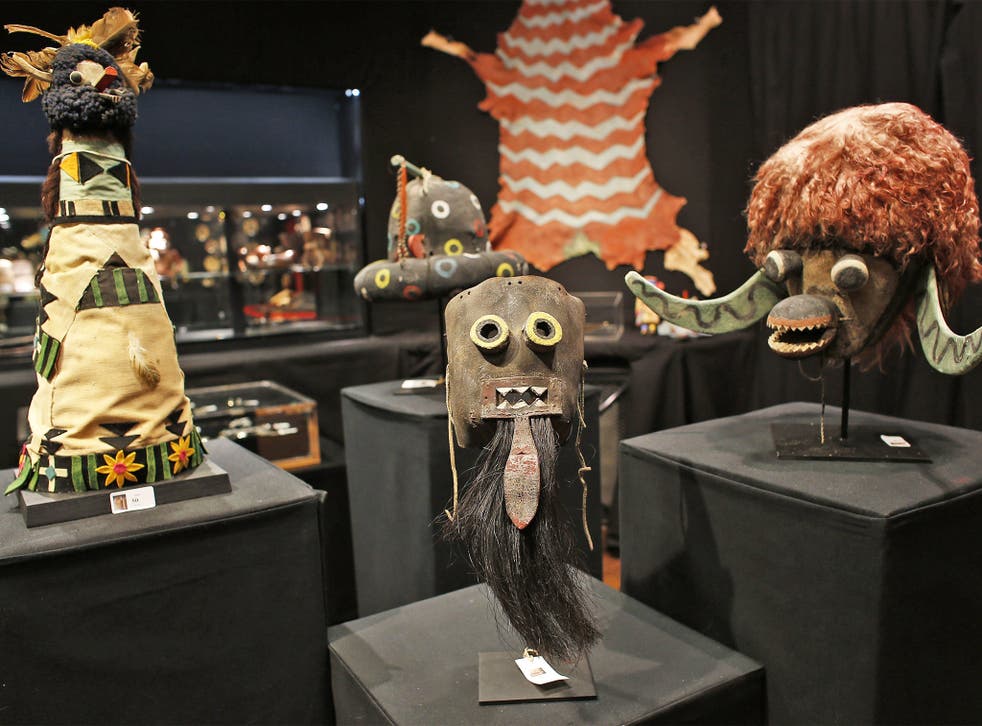 Native Americans from Arizona carried out a peaceful "raid" 5,000 miles from their homeland, bidding successfully for seven sacred masks at a disputed auction of tribal artefacts in Paris.
The masks – believed to have been used during Navajo religious and "healing" ceremonies in the late 19th century – are regarded by the tribe as living beings.
After the Navajo nation had failed in a legal challenge to the auction, tribal representatives bid €8,000 (£6,360) for the masks on Monday night. They will be returned to Arizona and may eventually be dismantled and buried, following Navajo tradition. The auction was the latest in a series of sales of ancient North American artefacts by Eve, a French auction house, which have infuriated the Navajo and their near-neighbours, the Hopi. The US government appealed unsuccessfully last week for the sale to be postponed until the provenance and possible religious significance of some of the lots could be established.
The French government and the auctioneer rejected the appeals on the grounds that French courts had approved a similar sale 12 months ago. Hopi religious artefacts auctioned in that sale were bought by the Annenberg Foundation and returned to the tribe.
Dozens of ceremonial Hopi "kachina" dolls were also sold on Monday night but it is not yet known who bid for them. Unlike the Navajo, the tribe refuses to buy back artefacts, on the grounds that the auctions themselves are acts of sacrilege. Rex Lee Jim, vice-president of the 300,000-strong Navajo nation – the largest Native American ethnic group – travelled to Paris for the sale.
Mr Jim said that the masks were "living and breathing beings", not works of art to be displayed or sold. He said that the Navajo nation could not be sure how the masks came to belong to an unknown European collector – whether they were stolen from the tribe or illegally sold in the late 19th or early 20th century. Either way, he said, they should not be considered as commodities. "They are sacred masks, and unfortunately they end up here. Whether that is legal or illegal... we don't know. What we do know is that they are for sale," Mr Jim told the Associated Press.
A French art collector, Armand Hui, also began to bid for the Navajo masks but stopped when he saw that the tribal leaders had flown 5,000 miles to buy them. "I wanted to respect that," he said.
The official spokesman of the Navajo nation, Deswood Tome, said that the tribe had "set a precedent" by buying the masks.
"If there are religious items that are sacred [on sale] in the future, the leadership will have to determine what steps they will take," Mr Tome said.
Register for free to continue reading
Registration is a free and easy way to support our truly independent journalism
By registering, you will also enjoy limited access to Premium articles, exclusive newsletters, commenting, and virtual events with our leading journalists
Already have an account? sign in
Register for free to continue reading
Registration is a free and easy way to support our truly independent journalism
By registering, you will also enjoy limited access to Premium articles, exclusive newsletters, commenting, and virtual events with our leading journalists
Already have an account? sign in
Join our new commenting forum
Join thought-provoking conversations, follow other Independent readers and see their replies