Netherlands heatwave in July led to hundreds of extra deaths, statistics suggest
Three quarters of the fatalities were among people aged 80 years and older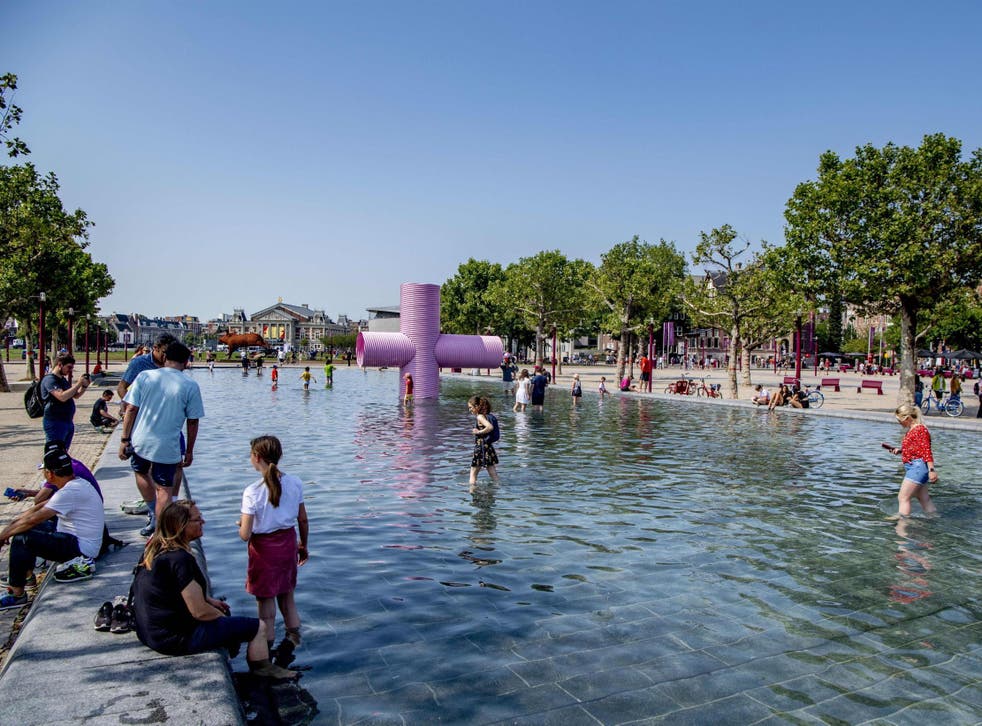 Almost 400 more people died than usual during a single week in the Netherlands during the recent record-breaking heatwave.
In total, 2,964 people died during the week starting 22 July, Dutch national statistics agency CBS reported on Friday.
This is around 15 per cent more deaths than average for a summer week in the country.
About 300 of the additional fatalities were among people aged 80 years and older.
Temperature records tumbled across Europe during late July's heatwave, with the UK, France, Belgium, Germany, Luxembourg and the Netherlands sweltering under their highest temperatures ever recorded.
Temperatures hit 42.6C in Germany and 40.6C in Belgium, the Met Office said.
UK heatwave rolls in as temperatures soar

Show all 44
The Netherlands' 75-year-old record was broken several times. The Gilze-Rijen airbase near Breda first reached 39.2C, then the southern city of Eindhoven hit 0.1C higher.
On 25 July, Gilze-Rijen recorded 40.7C, which stands as the current national heat record according to Dutch meteorological service KNMI.
Most of the deaths occurred in the east of the Netherlands, where temperatures were higher and the heatwave lasted longer than in other parts of the country. The Netherlands has a total population of around 17 million.
The death toll in the country during that week was comparable to the rate during two heatwaves in 2006, which were among the longest ever in the country, the researchers said.
The KNMI issued an official warning advising Amsterdam residents to stay inside during the heatwave for their safety.
Residents and tourists were caught bathing in fountains throughout the city as they tried to cool off. One group was even photographed with their feet in an inflatable paddling pool at a bar.
A large bridge at Rotterdam port had to be sprayed over fears the metal would expand in the extreme heat.
Twenty children fell sick at a summer camp in Leusden at the height of the July heatwave; some of them were taken to hospital, local media said.
The heatwave was the second to hit Europe in a month, and climate specialists warn such bursts of heat may become more common as the planet warms up due to greenhouse gas emissions.
Reuters
Register for free to continue reading
Registration is a free and easy way to support our truly independent journalism
By registering, you will also enjoy limited access to Premium articles, exclusive newsletters, commenting, and virtual events with our leading journalists
Already have an account? sign in
Register for free to continue reading
Registration is a free and easy way to support our truly independent journalism
By registering, you will also enjoy limited access to Premium articles, exclusive newsletters, commenting, and virtual events with our leading journalists
Already have an account? sign in
Join our new commenting forum
Join thought-provoking conversations, follow other Independent readers and see their replies